Weekly Roundup for 12/16/2018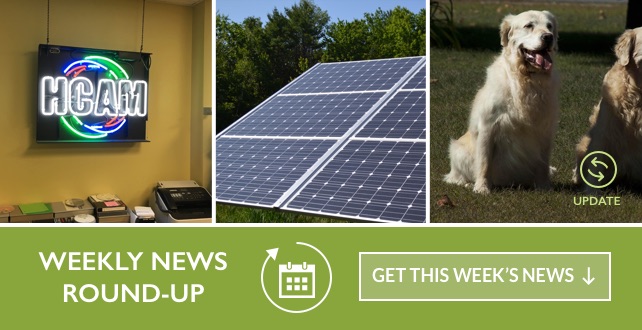 eHop in support of Community TV  •  Hopkinton hires Amy Beck as new senior services director  •  Developer appeals Hopkinton solar power facility denial  •  Hopkinton Parks and Recreation moved dog park to Fruit Street (UPDATE) 
eHop voices support for Community TV after FCC's proposed law to redefine cable tv franchise obligations
The FCC has proposed a new rule that could drastically cut funding for community cable TV stations, including Hopkinton's own, HCAM-TV. HCAM is our only source of live broadcasting of government meetings and holds the only video archive of these meetings. Without them, we would have no video record of town policy and budget discussions and votes. Thank you, HCAM Television, for everything that you do for our community! Here is eHop's letter to the Chairman of the FCC urging him to continue to support community television.
View eHop's letter to the Chairman of the FCC
Related article: Proposed FCC rule threatens community television programs
Hopkinton hires Amy Beck as new senior services director
Town Manager Norman Khumalo nominated her for the position during the Dec. 4 selectmen's meeting, and received unanimous support from the board.
Beck will take over for longtime Director Cindy Chesmore, who died in April from chronic obstructive pulmonary disease (COPD) at 68. Chesmore held the position for more than 30 years.
http://hopkinton.wickedlocal.com/news/20181212/hopkinton-hires-amy-beck-as-new-senior-services-director
Developer appeals Hopkinton solar power facility denial
On Oct. 1, after a public hearing process that lasted over six months, a motion to approve the project with 25 conditions was denied. Five members voted "no," one voted "yes" and two abstained, according to the decision. Kramer abstained from the vote.
The plan called for a 6-acre array to be built off Wilson Street and a 2-acre array off Cedar Street.
http://hopkinton.wickedlocal.com/news/20181211/developer-appeals-hopkinton-solar-power-facility-denial
Hopkinton Parks & Recreation moves dog park to Fruit Street
The commission hopes to secure $150,000 in Community Preservation Act money to build the park. The other sites included the front portion of 192 Hayden Rowe St. (Hughes property), EMC Park and Center School.
Town Meeting last year rejected a plan to build the park on the Hughes property after neighbors rallied against the location. Neighbors say it will have a detrimental impact on their neighborhood, including well water safety, property values and quality of life.
Fruit Street has two or three viable spots for a dog park, said Jay Guelfi, parks and recreation director, at the commission's meeting Monday night.
http://hopkinton.wickedlocal.com/news/20181211/hopkinton-parks-amp-recreation-moves-dog-park-to-fruit-street
Last Week: Hopkinton weighs 4 spots for dog park, neighbors oppose Hayden Rowe Street
---