Weekly Roundup for 1/19/2019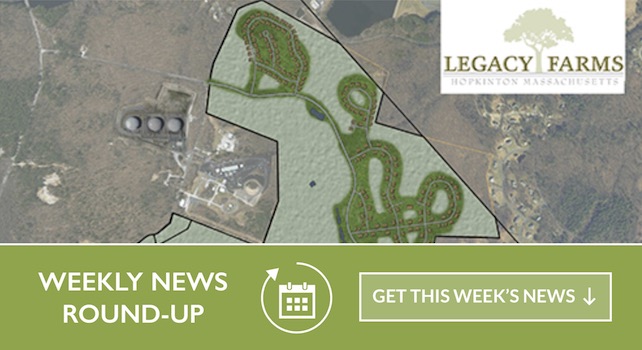 Home builders buy Hopkinton land for $9.1M for Legacy Farms buildout  •  MLK Day of Service • Islamic Masumeen Center MLK Day Event  •  Hopkinton School Committee Votes FY 2020 Budget • Hopkinton one of the state's top 25 fastest-growing municipalities
Home builders buy Hopkinton land for $9.1M for Legacy Farms buildout
As the ongoing planned development of Legacy Farms continues, it was announced recently that a home construction firm based in Atlanta has purchased more than 17 acres for $9.1 million for the further planned construction of a housing development in Hopkinton. According to Putle Group of Atlanta, the firm is planning 48 single-family homes and 33 attached duplex homes on the parcel. The quantity of homes to be built is included in the Legacy Farms Host Community Agreement with the town.
Annual Martin Luther King Jr Day of Service
The Annual Hopkinton Youth Commission Martin Luther King day events will take place at Hopkinton Middle School on Monday, January 21, 2019.
Click to view the program schedule.
Islamic Masumeen Center MLK Day Event
DATE CHANGE DUE TO STORM: On Sunday, January 27, the Islamic Masumeen Center invites the public to attend their Martin Luther King Jr. Day celebration at 1:15pm. Speakers will include Massachusetts State Representative, Carolyn Dykema and Town officials.
http://www.hcam.tv/news/islamic-masumeen-center-mlk-day-event-sunday-january-20th
Hopkinton School Committee Votes FY 2020 Budget
After months of planning, presentations, and a public hearing last week, the School Committee voted on their FY20 budget Thursday, January 17 at their regularly scheduled meeting. To see where we are in the Town budget process and what comes next, check out this article.
https://ehop.org/2018/11/the-fy20-process-how-to-follow-and-get-involved/
Hopkinton one of the state's top 25 fastest-growing municipalities
Between 2000 and 2017, the top 25 fastest-growing municipalities — based on population growth as a percentage — included Boxborough (28.1 percent), Hopkinton (20.8 percent), Littleton (13.3 percent), Cohasset (12.9 percent) and Watertown (12 percent).
https://www.metrowestdailynews.com/news/20190113/accuracy-citizenship-politics-to-play-role-in-2020-census-in-massachusetts
---