Weekly Roundup for 02/03/2019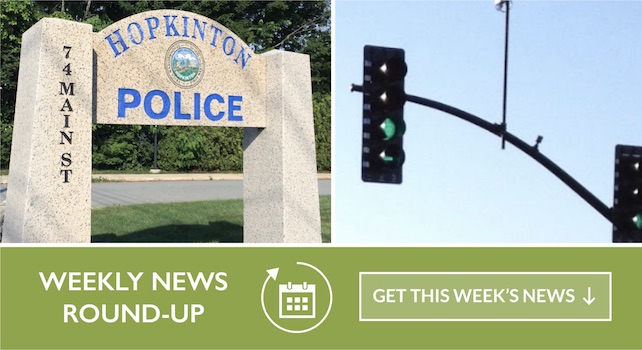 Hopkinton Chamber Endorses HPD Initiative: Hopkinton Business Camera Registry • FY 2020 Comprehensive Budget Transmittal Letter • Lykan deal gets support from Hopkinton selectmen • 2019 Annual Town Meeting Warrant Now Open • Traffic light planned for Legacy Farms in Hopkinton • Fire closes Start Line Brewing Company in Hopkinton for a week • Traffic light installation delayed on Chestnut and Hayden Rowe • Resident sand pile location
Hopkinton Chamber Endorses HPD Initiative: Hopkinton Business Camera Registry
In furtherance of the concept of community partnerships, the Hopkinton Police Department is requesting businesses and organizations that have security cameras in place on their property to complete a short registration form.
http://www.hcam.tv/news/hopkinton-chamber-endorses-hpd-initiative-hopkinton-business-camera-registry
FY 2020 Comprehensive Budget Transmittal Letter
FY 2020 Comprehensive Budget Transmittal Letter from Town Manager to Board of Selectmen, dated January 28, 2019.
The Town Manager recommended budget totals $93,840,941 including an operating budget of $79,022,920, a $250,000 transfer to the General Stabilization fund, a $500,000 transfer to the OPEB trust, debt service of $8,439,226, and a proposed capital budget of $5,628,795. Of the total capital budget $4,042,000 will be bonded and $1,586,795 will be Pay-As-You-Go.
http://www.hopkintonma.gov/FY2020_ComprehensiveBudgetTransmittalLetter_20190128.pdf
Lykan deal gets support from Hopkinton selectmen
Selectmen unanimously support a $400,000 property tax break over the next 10 years for Lykan Bioscience which plans to move into a vacant South Street building.
The deal, known as tax increment financing (TIF), must be approved by Special Town Meeting at 7 p.m. Monday, Feb. 11, at Hopkinton Middle School, 88 Hayden Rowe St.
https://hopkinton.wickedlocal.com/news/20190131/lykan-deal-gets-support-from-hopkinton-selectmen
2019 Annual Town Meeting Warrant Now Open
2019 Annual Town Meeting Warrant Now Open; Closes 2-5-19, if you have a Citizens Petition be sure to submit by 2/5/19
The 2019 Annual Town Meeting will commence on Monday, May 6, 2019
Town Election Candidate Update
Board of Selectmen is now a contested race! Updated list of candidates for the May 2019 Town Election as of Tuesday evening 1/29. Several offices have no candidates yet.
https://ehop.org/2019/01/town-election-candidates-needed-2019/
Support eHop's 2019 Marathon Runner, Chris Hart!
The cold is no match for our marathoner! If eHop is helping you stay on top of town news and you appreciate the work that we do, please consider donating to Chris Hart's Boston Marathon GoFundMe. Any donation is greatly appreciated and will be put towards expanding our programs to increase government transparency and encourage informed civic engagement. Thank you!
https://www.gofundme.com/chris-hart039s-and-ehop-2019-boston-marathon-run
Traffic light planned for Legacy Farms in Hopkinton
MacDowell has six months to install the lights, according to a condition of the master plan special permit for the project. VHB will design the lights, which need Planning Board approval before being installed.
Several board members asked if the lights could blink yellow during the evening.
"Typically, they run on cycle. Rte. 135 will be the dominant light," MacDowell said. "It all goes by traffic flow. We already have the traffic studies, so they know the traffic on each road. They also know the left and right turns and all that data will go into the design of the lights."
https://www.milforddailynews.com/news/20190131/traffic-light-planned-for-legacy-farms-in-hopkinton
Fire closes Start Line Brewing Company in Hopkinton for a week
Start Line Brewing Company will be closed for about a week following a two-alarm fire caused by a malfunctioning gas heater late Monday night in the barn that houses the brewery, the brewery's owner said Tuesday.
"The brewery is mostly unaffected," said owner Ted Twinney. "We're going to be closed for a week or so while we clean up. We're located on the south side of the property, and the fire was on the north side."
https://hopkinton.wickedlocal.com/news/20190129/fire-closes-start-line-brewing-company-in-hopkinton-for-week
Traffic light installation delayed on Chestnut and Hayden Rowe
New traffic lights have arrived at Chestnut Street and Hayden Rowe, but work continues to be delayed waiting for Verizon to install the new utility poles and relocate the overhead wires.
https://www.instagram.com/p/BtPUAdshYnB/?utm_source=ig_twitter_share&igshid=zqwt0yqfacb3
Resident sand pile location
The resident sand pile is now located at 66 Fruit St.
http://www.hopkintonma.gov/newslist.php
Open Burning Season 2019
Massachusetts allows residents to burn brush between January 15 and May 1, depending on weather conditions and air quality. You must obtain permission from the Hopkinton Fire Department if you plan to burn brush.
---