Weekly Roundup for 02/10/2019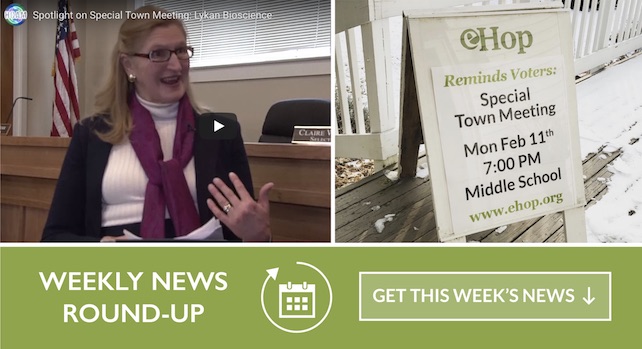 Spread the Word about Town Meeting to help us meet the Quorum  •  Video: Selectmen Discuss Special Town Meeting on February 11th  •  Schools grapple with rising health costs  •  Why LakePharma left a Worcester project for Hopkinton, allowing a Chinese competitor to take its place  •  MetroWest YMCA Receives Land Donation For New Regional YMCA Facility
Spread the Word about Town Meeting to help us meet the Quorum
Try one of our new temporary Facebook profile frames to spread awareness about Special Town Meeting on Monday! A quorum of 117 voters is needed.
https://www.facebook.com/profilepicframes/?selected_overlay_id=344312729743412
Video: Selectmen Discuss Special Town Meeting on February 11th
On February 11th, a Special Town Meeting will take place at Hopkinton Middle School starting at 7pm. Residents are encouraged to attend and vote on the six articles. In the video below, Selectmen discuss the articles on the warrant.
http://www.hcam.tv/news/video-selectmen-discuss-special-town-meeting-february-11th
RELATED ARTICLE & VIDEO:
SPECIAL TOWN MEETING 2019
Are you new to Town Meeting?  Not sure what to expect? Stop by eHop's information table at Special Town Meeting to say hello, meet other newcomers, and get answers to your questions.
https://ehop.org/town-meeting/
VIDEO: AN INTERVIEW WITH CLAIRE WRIGHT, CHAIRMAN OF THE BOARD OF SELECTMEN
"The Board of Selectmen is in support of this Lykan TIF because we see that it provides a very strong potential for significant economic benefits to the town at low risk." — Claire Wright, Chairman of the Board of Selectmen
https://ehop.org/2019/02/special-town-meeting-an-interview-with-claire-wright-chairman-of-the-board-of-selectmen/
Schools grapple with rising health costs
In 2017, health insurance for active and retired school employees cost $1.9 billion, accounting for 12 percent of the $15.7 billion spent overall on schools. The costs increased 12.2 percent from 2013, growing at a faster clip than salaries for classroom teachers (11.8 percent).
https://hopkinton.wickedlocal.com/news/20190204/schools-grapple-with-rising-health-costs
Why LakePharma left a Worcester project for Hopkinton, allowing a Chinese competitor to take its place
The timeline for construction for a facility that LakePharma wouldn't own, a projected two years, was too long.
When decision-making time came for LakePharma, demolition hadn't even started at the WBDC site. Demolition eventually began in 2018 after a $15-million state grant was awarded for the project in October.
"That two years can turn into three or four years," Tu said. "It was out of our control."
A shell building outfitted for a biologics company like LakePharma should have been built in advance, said the 10-year CEO and 21-year biotech expert.
http://m.wbjournal.com/article/20190204/PRINTEDITION/302019998/why-lakepharma-left-a-worcester-project-for-hopkinton-allowing-a-chinese-competitor-to-take-its-place
MetroWest YMCA Receives Land Donation For New Regional YMCA Facility
ASHLAND – Thanks to a generous 12.5 acre donation of land by Bob Gayner, the MetroWest YMCA now has the land needed to build a new regional full-service facility YMCA.
The future home of the new YMCA facility is located in a beautiful wooded area directly off Route 135 overlooking the Boston Marathon route.
https://framinghamsource.com/index.php/2019/02/04/metrowest-ymca-receives-land-donation-for-new-regional-ymca-facility/
---