Weekly Roundup for 02/17/2019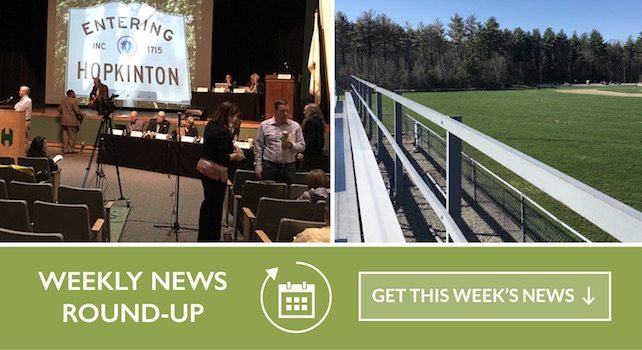 Southborough land eyed for soccer stadium  •  Hopkinton developer to bring self-storage facility plan to voters  •  A breakdown of 40B affordable housing  •  Hopkinton kennel bylaw changes proposed  •  Town election update on contested races  •  The Town of Hopkinton seeks a FT Children's Librarian  •  Hopkinton Town Meeting OKs Lykan Bioscience tax break  •  Special Town Meeting results 2-11-19
Southborough land eyed for soccer stadium
At least three Southborough officials met with the New England Sports for Women to discuss the possibility of constructing a 13,000-seat soccer stadium to be used for professional and semi-professional women's soccer games.
A newly-formed Newton nonprofit is eyeing land off Interstate 495 to build a 13,000-seat stadium that would host professional and semi-professional women's soccer games.
https://www.metrowestdailynews.com/news/20190215/southborough-land-eyed-for-soccer-stadium
Hopkinton developer to bring self-storage facility plan to voters
A local developer will bring his plan to build a self-storage facility on South Street straight to Town Meeting voters.
In December, the Zoning Advisory Committee rejected Paul Mastroianni's request to bring a zoning bylaw amendment to Town Meeting to allow such a business by right in the industrial district. However, Mastroianni, who lives on South Barn Road, filed a citizen's petition to include the Town Meeting warrant article.
https://www.metrowestdailynews.com/news/20190214/hopkinton-developer-to-bring-self-storage-facility-plan-to-voters
A breakdown of 40B affordable housing
Chapter 40B is an affordable-housing program that allows developers to bypass some local planning and zoning regulations if at least 20 percent of the units in the development are deemed affordable.
Cities and towns have little power to deny 40B developments if fewer than 10 percent of homes in the community are not designated affordable. In Massachusetts, more than 80 percent of cities and towns do not exceed 10 percent.
https://hopkinton.wickedlocal.com/news/20190212/breakdown-of-40b-affordable-housing
Hopkinton kennel bylaw changes proposed
The town once again is looking to tighten its rules for kennels after inspectors shut down Greyhound Friends two years ago.
"If a kennel has previously had its kennel license suspended or revoked, it shall not pass inspection unless the license authority makes a determination that the reasons for the suspension or revocation have been adequately addressed and that the proposed kennel has been brought into compliance," the draft bylaw change reads.
https://hopkinton.wickedlocal.com/news/20190214/hopkinton-kennel-bylaw-changes-proposed
Town Election Update: Board of Selectmen, and Board of Library Trustees are now contested races. No candidates yet for Board of Assessors.
To become a candidate a person must either obtain and submit nomination papers by securing the signatures of 50 Hopkinton registered voters by Monday, April 1; or a person may qualify by being the top vote-getter in one of the town political party caucuses.
https://ehop.org/2019/02/town-election-update-2/
The Town of Hopkinton seeks a FT Children's Librarian
The Town of Hopkinton is seeking a full-time Children's Librarian to provide exceptional customer service in our busy public library serving an expanding, dynamic town.
https://groups.google.com/a/hopkintonma.gov/forum/m/#!msg/jobs/Kg4GP4E7KgI/CJLYWnj0AAAJ
Hopkinton Town Meeting OKs Lykan Bioscience tax break
Town Meeting voters overwhelmingly approved a tax break for a Phoenix biotech company looking to move to town.
Lykan Bioscience sought $400,000 in property tax break over the next 10 years, which is known as a tax increment financing (TIF) deal. The company and building owner, Southfield Properties I LLC, are expected to invest $10 million to renovate the 63,600-square-foot building at 97 South St.
https://hopkinton.wickedlocal.com/news/20190211/hopkinton-town-meeting-oks-lykan-bioscience-tax-break
RELATED VIDEO:
Special Town Meeting Approves TIF Agreement with Lykan Bioscience
http://www.hcam.tv/news/video-special-town-meeting-approves-tif-agreement-lykan-bioscience
SPECIAL TOWN MEETING RESULTS 2-11-19
Several articles were voted on during the STM on February 11th, 2019, including approval of Tax Increment Financing Agreement for Lykan Bioscience. All articles passed the vote.
https://ehop.org/2019/02/special-town-meeting-results-2-11-19/
---