Weekly Roundup 04/21/2019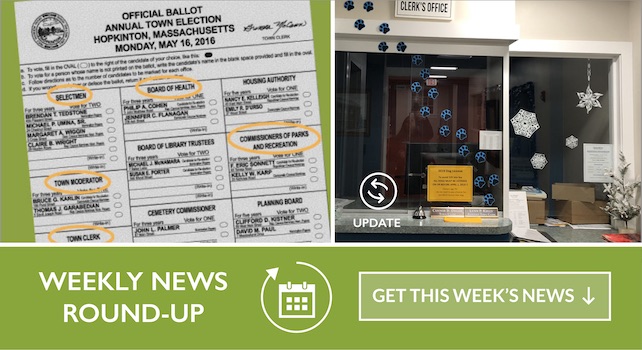 Board of Selectmen Approve 3 Ballot Questions for 2019 Town Election • Developer offers to sell historic Hopkinton home for $1 if moved • Ashland residents decry pipe plan at hearing • Town Election Update After the Caucuses • Chestnut Street Traffic-Water Advisory
Board of Selectmen Approve 3 Ballot Questions for 2019 Town Election
The Board of Selectmen approved 3 ballot questions for this years Annual Town Election. The ballot questions include:
1) Under-ride in the amount of $1,180,568, 2) Purchase of a Ladder Truck for the Fire Department and 3) Municipal Parking in the downtown and/or adjacent at Town Hall.
http://www.hcam.tv/news/video-board-selectmen-approve-3-ballot-questions-2019-town-election
Developer offers to sell historic Hopkinton home for $1 if moved
A developer who hopes to tear down a historic downtown home and redevelop the property for mixed use says efforts by town committees to stop the demolition obstruct his rights as a property owner.
But owner Paul Mastroianni is offering to sell the home for $1 if the town or someone else agrees to move it.
https://www.metrowestdailynews.com/news/20190418/developer-offers-to-sell-historic-hopkinton-home-for-1-if-moved
Ashland residents decry pipe plan at hearing
Regional News: Ashland residents decry pipe plan at hearing – The gas line runs through Hopkinton and Ashland, with much of it cutting through more than 80 residential Ashland properties.
https://www.milforddailynews.com/news/20190417/ashland-residents-decry-pipe-plan-at-hearing
Town Election Update After the Caucuses
Board of Selectmen, Planning Board (2-year), Parks & Recreation, Town Moderator and Commissioners of Trust Funds are all contested races. The name of the 3rd Parks & Rec Candidate now posted.
Chestnut Street Traffic-Water Advisory
Please be advised that weather pending on Wednesday April 17th , work on the water lines at the intersection of  Hayden Rowe and Chestnut Street will take place. Due to the nature of the work, water will need to be turned off from approximately 8:00 AM to 4 PM, barring any difficulties. The areas affected will be Hayden Rowe from Teresa Road to approximately number 204 and Chestnut Street from Hayden Rowe to Wild Road.
Also during the construction it will be necessary to close Chestnut Street from Hayden Rowe to Wild Road. Please seek alternate routes that day. After the water is restored, you may notice some air and discoloration. Please run your cold water line to help clear your pipes.
https://groups.google.com/a/hopkintonma.gov/forum/m/#!topic/hopnotices/-JZMP9mSMqo
---