Weekly Roundup 04/28/2019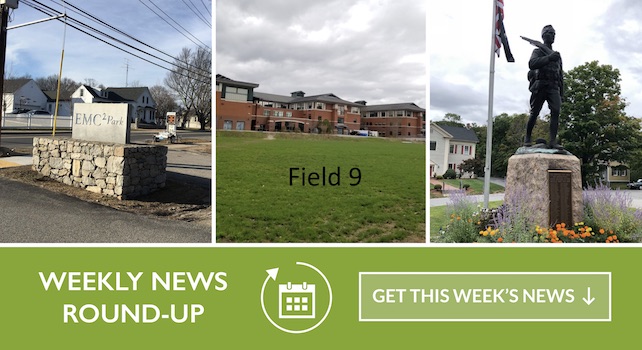 UPCOMING EVENTS: Know Your Vote 2019, Hopkinton Chamber of Commerce Town Update 2019, Hopkinton Trails Club Forum, Indigenous Ceremonial Stone Landscape • TOWN ARTICLES RESOURCES & CANDIDATES INFO: Article 10: Fiscal 2020 Operating budget • Article 23: Sidewalk Master Plan Phase II • Article 46: 76 Main Street Historic District • Articles 5,6,7,8 BRAVE Act • Article 24: School Bus Parking Lot • Dog related articles • Article 31: Community Preservation Recommendations • Meet the Candidates 2019 • OTHER NEWS: Gun license hearing for three Hopkinton cops moved • Earth Day climate change grants flow to 27 communities
UPCOMING EVENTS:
Know Your Vote 2019
In preparation for Annual Town Meeting, eHop in conjunction with the Town of Hopkinton, will hold its 7th Annual "Know Your Vote" forum on:
Monday, April 29 at 6:30-8:30 pm in the Hopkinton High School library.
The forum will be broadcast on HCAM-TV (Comcast 8/Verizon 30) and streamed on Facebook Live at facebook.com/eHop01748. This is your chance to get the answers you need from town officials before Town Meeting.
This year, Town Meeting will vote on an FY2020 budget with a projected net tax impact of 2.5% as well as many other issues including:
A dog park
New and improved sidewalks
Preserving historic buildings
A feasibility study to add a fire station
A school capacity study
Restricting residential growth
New kennel licensing regulations
Refurbishing EMC playground
A tax underride
And more…
https://ehop.org/town-meeting/
Bring your questions to the microphone at the forum of submit them to eHop before and during the event via social media and email, knowyourvote@ehop.org.
Our panel will include the Town Moderator, Town Manager, Director of Land Use and Town Operations, Superintendent, Chair of the Selectmen, Planning Board, School Committee, Parks & Recreation and the Historical Commission. Many other community leaders will be in the room.
RELATED RESOURCES:
Annual Town Meeting Warrant, May 6, 2019
Appropriations Committee Report with Recommendations, May 6, 2019
Town of Hopkinton Underride Issue Paper, March 14, 2019
Hopkinton Chamber of Commerce Presents Town Update 2019
The Hopkinton Chamber of Commerce will be hosting a briefing focusing on the upcoming Annual Town Meeting in May. Featured will be presentations about the overall town budget and warrant articles of importance to the Hopkinton business community.
Coffee and Conversation @ 7:30 am
Briefing Begins @ 8:00 am
May 2, 2019
Faith Community Church
http://www.hcam.tv/news/hopkinton-chamber-commerce-presents-town-update-2019-may-2nd
Hopkinton Trails Club Forum
The Hopkinton Trails Club will host the third annual trails forum on:
Thursday, May 2, from 7:00 – 9:00 PM
Hopkinton Senior Center (28 Mayhew Street)
Based on surveys, trails remain a key desire of town residents, and we feel that as a result of increased distracted driving, places for folks to recreate off road is becoming increasingly important.  The forum is an opportunity to hear about trail related activities, and to get information about the town's trails.
Shawn McAliffe, the Hopkinton Public Health Director will speak about the town's tick management program.
Marjorie Turner Hollman, author of Easy Walks in Massachusetts will present a talk on finding easy walks in unfamiliar area.
The Trails Club will provide information on the trails and the club's activities and an update on trail construction projects, and will answer comments and concerns from residents.
Protecting & Preserving Hopkinton's Indigenous Ceremonial Stone Landscape
May 11, 2019 | 1-3 pm
Hopkinton Public Library
This participatory workshop focuses on how to actively protect Indigenous Ceremonial Stone Landscapes (CSLs) in recognition of their cultural significance to the land and Tribes of the Northeast. Doug Harris, Deputy Tribal Historic Preservation Officer for the Narragansett Indian Tribal Historic Preservation Office, will lead the process. The workshop builds on the 2018 Let the Landscape Speak presentation, which introduced many townspeople to CSLs and how to identify them. The 2019 program will address how to protect and preserve identified sites with formal agreements.
More Event info:
https://www.facebook.com/events/369687780307623/ 
TOWN ARTICLES RESOURCES AND CANDIDATES INFO: 
Article 10: Fiscal 2020 Operating budget
Article 10 includes: 1) Fiscal 2020 Operating Budget: $90,025,252, and 2) an underride. This means that these two issues are wrapped up into one vote. The underride will require a second vote on the ballot at the election on May 20th.
RELATED RESOURCE: Underride Issue Paper
Article 46: 76 Main Street Historic District
This article would designate 76 Main Street as the Aaron and Lucy Claflin House Historic District.
Article 23: Sidewalk Master Plan Phase II
$1,060,000 for the design and construction of the second phase of the five year sidewalk plan on West Main Street and Wood Street.
Article 24: School Bus Parking Lot
$300,000 to supplement a prior appropriation ($400,000) authorized under Article 21 of the 2018 Annual Town Meeting for the construction of a school bus parking lot on Town-owned property at 90 Hayden Rowe (Field 9).
Articles 5,6,7,8 BRAVE Act
Tax exemptions for veterans (An Act Relative to Veterans Benefits, Rights, Appreciation, Validation and Enforcement)
Dog related articles
ARTICLE 31D: Community Preservation funds for a dog park on Fruit Street
ARTICLE 45: Kennel Licensing Bylaw.
Article 31: Community Preservation Recommendations
$20,000 for the preservation of land records in Town Hall basement.
$3,750 for the preservation of historical photographs by digitizing the photograph and uploading them onto a publicly accessible website.
$10,000 for preservation and rehabilitation of the most at-risk headstones at Mt Auburn, East Hopkinton, Hayden Rowe, Bear Hill, a

nd Evergreen cemeteries, as well as the Main Street cemetery and Valentine Tombs if the funds allow.

$20,0000 for engineering a dog park at 66B Fruit Street and $130,000 for the construction of the dog park, provided, however, that said $130,000 shall be contingent on the receipt of a $250,000 grant from the Stanton Foundation to the Parks & Rec Department.

$25,000 for the design and installation of a lacrosse wall at the Fruit Street fields located at 66B Fruit Street.

$25,000 for the engineering, materials, and installation of an irrigation system at Pyne Field located at 66 Fruit Street.

$50,000 to design a wetland crossing at 0 Wilson Street, which will allow the public to access other recreational lands.

$260,000 to replace all existing equipment at the EMC Playground located at 113 Haden Rowe 
Meet the 2019 Candidates
The full replay is now available from this week's "Meet the Candidates Night" at HCAM, sponsored by the Hopkinton Women's Club. A great way to find out more about the candidates, especially if you couldn't catch the live event.
List of Candidates for offices on the May 2019 ballot
Town Election update after the caucuses
OTHER NEWS:
Gun license hearing for three Hopkinton cops moved
A hearing for three Hopkinton police officers who are suing the town and Police Chief Edward Lee has been moved to next month.
The officers – Peter Booth, Linda Higgins and John Moran – have been on "injured on duty" leave for a year and a half and not working shifts, according to town officials.
https://hopkinton.wickedlocal.com/news/20190423/gun-license-hearing-for-three-hopkinton-cops-moved
RELATED ARTICLE:
https://www.metrowestdailynews.com/news/20190402/hopkinton-police-chief-pulls-gun-licenses-from-three-officers
Earth Day climate change grants flow to 27 communities
More than half of the state's 351 cities and towns are participating in a climate change preparedness program, after the Baker administration on Monday marked Earth Day by announcing $725,000 in grants to 27 communities, including Hopkinton.
A total of 184 communities are now participating in the Municipal Vulnerability Preparedness program, which provides municipalities with technical support, climate change data and planning tools to help them identify potential hazards and develop strategies to become more resilient.
http://www.wbjournal.com/article/20190423/NEWS01/190429989/earth-day-climate-change-grants-flow-to-27-communities
---