Weekly Roundup – Town Meeting Edition – 05/10/2019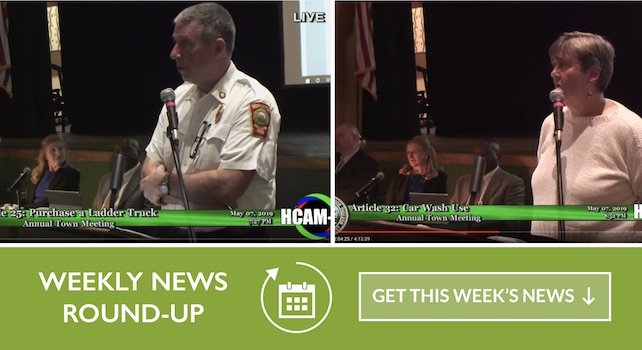 Annual Town Meeting 2019 took place from May 6-8 • 2019 Annual Town Meeting Results – Day 1, 2 and 3 • Downtown parking in Hopkinton gets a boost • Hopkinton Town Meeting approves saving Claflin Home • Hopkinton voters reject self-storage business, OK $150K for dog park • Hopkinton makes switch to Select Board from Board of Selectmen
Annual Town Meeting 2019 took place from May 6-8
The 2019 Annual Town Meeting took place over 3 days from May6th to 8th at Hopkinton Middle School Auditorium. 55 articles were voted on in the warrant this year. 
eHop covered the Town Meeting live on social media to let you know the results of each vote. To view results of each article, you may go to @eHop01748 and look for the hashtag #HopTM19. A summary of the results are also listed below in the article '2019 Annual Town Meeting Results'.
Related Annual Town Meeting Warrant, May 6, 2019
Related Annual Town Meeting Video Recording
2019 Annual Town Meeting Results – Day 1, 2 and 3
Town Meeting Results Day 1 (5/6/2019)
Town Meeting Results Day 2 (5/7/2019)
Town Meeting Results Day 3 (5/8/2019)
Downtown parking in Hopkinton gets a boost
Plans to build more public parking downtown got approved at Town Meeting, but will need a final OK at the town election on May 20.
Voters on the third night of Town Meeting approved two measures to start the process to build two parking lots downtown, an issue that has been talked about for years.
https://www.metrowestdailynews.com/news/20190511/downtown-parking-in-hopkinton-gets-boost
Hopkinton Town Meeting approves saving Claflin Home
Town Meeting voters took a drastic step this week to try and save a historic home from being torn down for a mixed-use building with shops and apartments.
But the owner questions the legality of the move.
In a 287-70 vote on Wednesday night, residents approved creating a single-property historic district for what is being called the Aaron and Lucy Claflin home at 76 Main St., which once was an inn and the headquarters for Hopkinton's militia.
"It is a way to protect a historic structure that otherwise would not be protected," said Michael Roughan, chairman of the Historical Commission. The home was built in the 1790s and is the fourth-oldest in downtown Hopkinton.
https://www.metrowestdailynews.com/news/20190510/hopkinton-tm-approves-saving-claflin-home
Hopkinton voters reject self-storage business, OK $150K for dog park
Town Meeting voters rejected a developer's pitch to build a self-storage facility on South Street and approved spending $150,000 in Community Preservation Act money for a dog park.
About 350 residents voted on articles 25 through 38 out of the 55 articles during the second session of Town Meeting Tuesday night.
https://hopkinton.wickedlocal.com/news/20190507/hopkinton-voters-reject-self-storage-business-ok-150k-for-dog-park
Hopkinton makes switch to Select Board from Board of Selectmen
The Board of Selectmen will now be called the Select Board.
Voters overwhelmingly approved the switch petitioned by College Street resident Amy Groves in the final night of Town Meeting on Wednesday. The measure passed, 258-53.
Changes will eventually need to be made to the town charter during its next review.
Groves proposed the change, which is being made by towns across the state, to be more inclusive. The gender-neutral, all-gender wording is consistent with everyday language, she said.
https://www.metrowestdailynews.com/news/20190509/hopkinton-makes-switch-to-select-board-from-board-of-selectmen
---