Weekly Roundup – 06/02/2019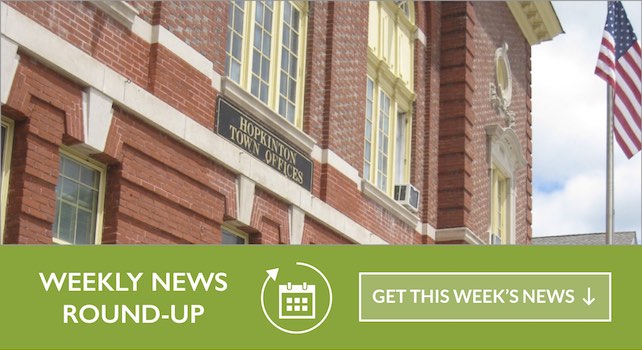 Openings on Town Boards & Committees • Chair and Vice Chair selections at Board meetings • Attention All Organizations Who Wish to Participate in Hopkinton Family Day • Annual Water Quality Report • Leaning Utility Pole • Hopkinton is the 2nd Fastest Growing Town
Hopkinton's annual water quality report has been issued.
Our water is monitored for many different kinds of substances on a very strict sampling schedule, and the water we deliver must meet specific health standards.
The report can be viewed on the department's website at:
http://www.hopkintonma.gov/2018%20Water%20Quality%20Report%20final.pdf
Hopkinton opposes utility anchor wire for leaning pole
Town officials agree a utility pole on Cedar Street that looks like it's about to topple needs to be replaced, but they don't support a plan to anchor it to another pole across the street. The Select Board sent a Verizon representative back to the drawing board to come up with another solution. The pole is jointly owned by Eversource and Verizon.
The plan calls for replacing the leaning pole and install another one across the street to anchor it.
https://www.milforddailynews.com/news/20190531/hopkinton-opposes-utility-anchor-wire-for-leaning-pole
Openings on Town Boards & Committees
Boards & Committees will have vacancies on June 30, 2019 or sooner. Interested residents should apply via the online volunteer form online. View information related to the boards and committees here:
Information on available openings
Get involved! Make a difference in Hopkinton!
Chair and Vice Chair selections at Board meetings
At the Select Board meeting on May 28, Brendan Tedstone was selected as Chair and John Coutinho was selected as Vice Chair.
At the Planning Board meeting on May 29, Muriel Kramer was selected as Chair and Gary Trendel as Vice Chair.
Attention All Organizations Who Wish to Participate in Hopkinton Family Day
This year Family Day is on Sept. 14th starting at 3 pm. Sign up form and other information is available below:
http://www.hcam.tv/news/attention-all-organizations-who-wish-participate-hopkinton-family-day
Hopkinton is the Second Fastest Growing Town in the State
By percent change, the largest gains in population from 2010 to 2017 were estimated in Boxborough (28.1%), Hopkinton (20.8%), Chelsea (14.4%), Salisbury (13.4%), and Littleton (13.3%).
---