Weekly News Roundup – 07/28/2019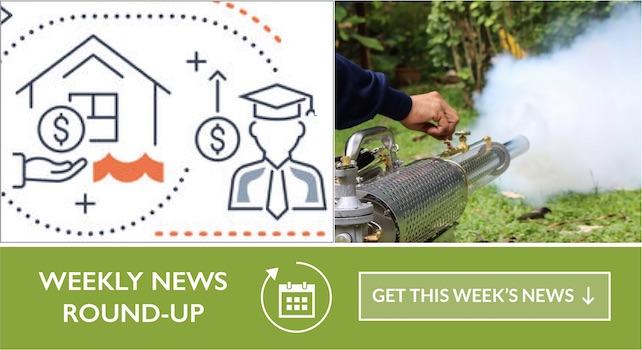 Is there an end in sight to Massachusetts' housing crisis? • Central Mass Mosquito Control Project • Zoning Advisory Committee (ZAC) vacancies • State budget: What is your city or town expected to get • State officials unveil preferred design for overhaul of I-495-Mass Pike interchange • NIMBY? Not in these cities and towns • Legislature Passes Balanced Budget with Targeted Investments in Education, Housing, Environment • Hopkinton Public Schools seeks an Athletic Director – Athletic Director job in Hopkinton, Massachusetts • Hopkinton athletic director Dee King resigns • Two officers drop Hopkinton gun appeal suit • City and town water bans designed for education, not for fines
---
Is there an end in sight to Massachusetts' housing crisis?
Gov. Charlie Baker declared a housing crisis in Massachusetts in 2018, but residents have been feeling the effects for more than a decade. While speaking to a group of lawmakers in late May, Baker said that while the issue may have been confined to Boston or other urban areas 12 to 14 years ago, it has, "since become a problem in every part of the commonwealth."
https://hopkinton.wickedlocal.com/news/20190726/is-there-end-in-sight-to-massachusetts-housing-crisis
Central Mass Mosquito Control Project
Central Massachusetts Mosquito Control Project personnel will be in your community to respond to residents' concerns about mosquitoes in their area on the following dates in July or August:
July 30, 31, August 6, 7, 13, 14, 20, 21, 27, 28
http://www.hcam.tv/news/central-mass-mosquito-control-project
Zoning Advisory Committee (ZAC) vacancies
The Planning Board is seeking individuals interested in serving on the Zoning Advisory Committee (ZAC) in varying capacities as outlined below. Apply by 8/9/19 at 12:00 PM, details below.
State budget: What is your city or town expected to get
If Gov. Charlie Baker approves the budget lawmakers sent to his desk this week, local cities and towns will see a significant bump in education funds.
"Education is a top Senate priority, and I am therefore proud of the significant investments we make in K-12 education in the final FY2020 budget," Senate President Karen E. Spilka said in the release, calling the education increase the largest in two decades.
https://hopkinton.wickedlocal.com/news/20190725/state-budget-what-is-your-city-or-town-expected-to-get
State officials unveil preferred design for overhaul of I-495-Mass Pike interchange
The state's preferred design for the reconstruction of the troublesome Interstate 495-Mass Pike interchange eliminates weaving that often causes bottlenecks and crashes at the existing junction.
State transportation leaders unveiled the preferred project design at the first of four public information meetings at Hopkinton Town Hall on Thursday. The design includes designated ramps and lanes for each traffic maneuver to make getting off the highway and merging much safer.
https://hopkinton.wickedlocal.com/news/20190725/state-officials-unveil-preferred-design-for-overhaul-of-i-495-mass-pike-interchange
NIMBY? Not in these cities and towns
As state policy makers and advocates warn that Greater Boston cities and towns need to do much more to meet the region's growing housing needs, several communities are helping demonstrate how the challenge might be met.
A recent report highlighting the need for more local housing production found that from 2013 to 2017, 15 municipalities issued more than half the building permits in the state. Boston led the way, followed by Cambridge, Plymouth, Watertown, Everett, Weymouth, Somerville, Burlington, Chelsea, Framingham, Hopkinton, Middleborough, Quincy, Arlington, and Canton.
https://www.bostonglobe.com/metro/globelocal/2019/07/24/nimby-not-these-cities-and-towns/yJmuUK7QvzhcMmMbYNmFjK/story.html
Legislature Passes Balanced Budget with Targeted Investments in Education, Housing, Environment
Today the Massachusetts Legislature passed its Fiscal Year 2020 (FY20) budget, which invests in programs and services across the Commonwealth. Funded at $43.1 billion, the budget makes major investments in education, housing, substance use disorder services, health care, and other areas while projecting a more than $476 million deposit into the Stabilization Fund – bringing the fund's balance to more than $3 billion to safeguard the future of vital programs and services.
http://www.hcam.tv/news/legislature-passes-balanced-budget-targeted-investments-education-housing-environment
Hopkinton Public Schools seeks an Athletic Director – Athletic Director job in Hopkinton, Massachusetts
TITLE: Athletic Director
TYPE OF POSITION: Full-time; start date late August 2019; salary range $95,000 – $110,000/year, commensurate with experience and education
LOCATION: High School; Hopkinton, Massachusetts
AREA OF CONSIDERATION: All qualified candidates
Click link for more info.
https://www.schoolspring.com/job.cfm?jid=3142541

RELATED NEWS:
Hopkinton athletic director Dee King resigns
Dee King, a former Framingham High star basketball player, stepped down from her position with Hopkinton due to family reasons.
https://www.metrowestdailynews.com/sports/20190724/hopkinton-athletic-director-dee-king-resigns
Two officers drop Hopkinton gun appeal suit
Two police officers who sued the town and Police Chief Edward Lee after he suspended their licenses to carry guns have agreed to drop their cases.
The cases filed by Peter Booth and Linda Higgins have been officially dismissed, while a third case filed by Officer John Moran has a hearing scheduled for Oct. 24 in Framingham District Court.
https://hopkinton.wickedlocal.com/news/20190722/two-officers-drop-hopkinton-gun-appeal-suit
City and town water bans designed for education, not for fines
Many communities in the Milford and MetroWest area institute annual water restrictions in the summer. Bylaws vary from town to town, but most start off with a warning, then move to escalating fines, and a few will shut off a violator's water.
Local public works directors said they're focused on getting people to conserve water, and that education works better than punitive measures.
https://hopkinton.wickedlocal.com/news/20190722/interactive-map-city-and-town-water-bans-designed-for-education-not-for-fines
---