Weekly Roundup – 09/29/2019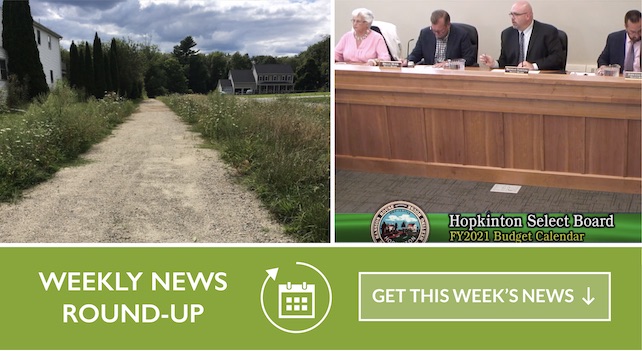 Planning Board Actions taken on 09/23/2019 • Select Board Actions taken on 09/10/2019 • Superintendent UPDATE: School budget and enrollment update • Campus Trail Connector Forum Wed., Oct 2
---
Planning Board Actions taken on 09/23/2019
HIGHLIGHTS
New Appointments – Open Space Preservation Commission Liaison – Jane Moran appointed
Discussion of Main Street Corridor – discussed that this would be on the Select Board agenda for 9/24/19 at 7:45 PM and a Public Hearing would be held by the Historic District Commission on 10/10/19 at 7:00 PM. Residents may also send comment to MEPA by 10/1/19.
Legacy Farms North – Traffic Signal – Roy MacDowell/Baystone Development – Granted a 6-month extension
Continued Public Hearing – 57 Hayden Rowe – Major Site Plan Review – Chesmore Funeral Home and Cremation Services, Inc. – Approved
Select Board Actions taken on 09/10/2019
HIGHLIGHTS
FY2021 BUDGET CALENDAR (ACTION) – Approved
AMBULANCE FUND GIFTS – Approved
PARADE PERMIT – CYSTIC FIBROSIS FOUNDATION 2019 CF CYCLE FOR LIFE – Approved
SPECIAL TEMPORARY ALCOHOL LICENSE – KNIGHTS OF COLUMBUS BISHOP RICE COUNCIL – Approved
SPECIAL TEMPORARY ALCOHOL LICENSE – HOUSE OF DANCE – DANCE PERFORMANCE 9 AT HOPKINTON CENTER FOR THE ARTS – Approved
JOINT PLANNING BOARD/SELECT BOARD MEETING – PLANNING BOARD APPOINTMENT – Jane Moran appointed to the Planning Board, to a term expiring at the 2020 annual town election.
REVOCATION OF KENNEL LICENSE, GREYHOUND FRIENDS, 167 SADDLE HILL ROAD – Pursuant to Section 62-7.G.B(2)d of the Town General Bylaws, the Select Board ordered that the Greyhound Friends, Inc. kennel license be amended.
LEGACY FARMS HOST COMMUNITY AGREEMENT AMENDMENT VI – Approved
ANNUAL APPOINTMENTS BY SELECT BOARD

Cynthia Esthimer, appointed to the Trails Coordination and Management Committee to a term expiring 6/30/2020
Ken Weismantel appointed as an At-Large member of the Community Preservation Committee, to a term expiring 6/30/2022
Edwin Harrow, appointed as Conservation Commission representative, to the Open Space Preservation Commission, to a term expiring 11/17/2020.

NOTICE OF TAKING – STREET ACCEPTANCE – Signed
Town Manager Report – Main Street Corridor Project Update
The meeting video is available on the HCAM YouTube Channel
Superintendent UPDATE: School budget and enrollment update
School Superintendent, Dr. Carol Cavanaugh stopped by the HCAM studios to give an update regarding the School budget and enrollment.
Campus Trail Connector Forum – 10/2/19 at 6:00 PM at the Library 
A connecting path is proposed for the Hopkinton High School, Middle School and the new Marathon Elementary School. The "Campus Trail Connector" will allow students, runners, cyclists and others easy passage between the three schools, as well as the downtown area, for a total length of about 2.5 miles. A public forum will be held on Wednesday October 2, 2019 from 6:00-7:45 PM at the Hopkinton Public Library.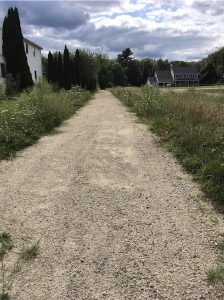 A section of the trail has been cleared and graded.
---