Weekly Roundup – 10/06/2019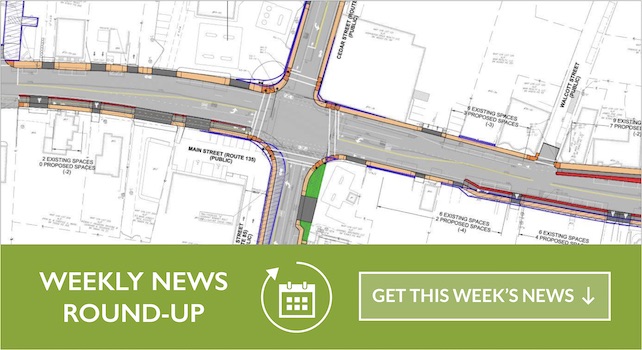 Upcoming School Committee Office hours • Ashland Revitalizing Downtown and Improving the Riverwalk Trail • New enrollment hits 254, as schools grapple with budget impact • Ashland residents rally against Eversource natural gas pipeline project • Emergency Select Board Meeting Agenda • Select Board hearing on Main Street Corridor Project • Select Board – FY21 Budget Calendar Joint Meeting
---
Upcoming School Committee Office hours
When: Sunday, October 13th | 2:00pm – 4:00pm
Location: Farmer's Market at the Hopkinton Common
Office hours offers an opportunity to meet with members of the School Committee to discuss any issues, questions or interests you may have.
Ashland Revitalizing Downtown and Improving the Riverwalk Trail
ASHLAND – Though currently lined with orange construction barrels and torn up pipes, the streets of Ashland will eventually be home to wider sidewalks, beautiful landscaping, and street trees once the project is complete. In addition, there will soon be a bridge added to the Riverwalk trail that connects to downtown.
The town is a few weeks into its downtown revitalization project and riverwalk long-span bridge project.
New enrollment hits 254, as schools grapple with budget impact
In her report to the School Committee last night Superintendent Carol Cavanaugh said that the 5.54 percent increase in the 2021 budget requested last week by Town Manager Norman Khumalo "is not going to be enough money to run our schools next year."
New article on the School Committee meeting and the school budget available on HopNews
Ashland residents rally against Eversource natural gas pipeline project
ASHLAND- Deeply troubled over Eversource's plan to replace a 3.7-mile natural gas line that runs through town, Joel Arbeitman can't help but feel that the state's review system has taken away residents' power to decide what should happen in their town.
The company is looking to decommission a six-inch 3.7-mile gas line that runs through Ashland and Hopkinton and place new 12-inch pipes alongside them. The company said the project is needed to improve line pressure and better serve customers in Greater Framingham. The easement intersects through the property of more than 80 Ashland homes, two parcels owned by the town, the Chestnut Street Apartments and a number of environmentally sensitive areas, including portions of the wetlands and the conservation-restricted Great Bend Farm Trust.
The state siting board, which examines large-scale utility projects, is reviewing the Ashland plan.
https://www.metrowestdailynews.com/news/20191003/ashland-residents-rally-against-eversource-natural-gas-pipeline-project
Emergency Select Board Meeting Agenda
EVERSOURCE MAIN STREET GAS PROJECT – NIGHT WORK REQUEST
This is an emergency meeting because the construction work needs to be performed on October 1, 2019 and the Chair could not reasonably have known about this deadline 48 hours before the scheduled work.
Select Board hearing on Main Street Corridor Project
On September 24 the Select Board heard from affected property owners within the Main Street Corridor Project area, in a discussion that last more than an hour and a half.
Select Board – FY21 Budget Calendar Joint Meeting
On September 24 the Select Board held a joint meeting with the School Committee and Appropriation Committee to discuss the FY21 Budget Schedule, and Budget Message or Policy Statement. The discussion includes the impact of new growth on future budgets.
---