Weekly Roundup – 10/20/2019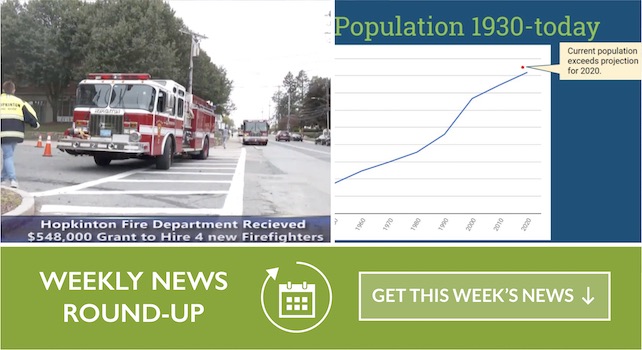 Community Notice: Smoke Testing of the Sanitary Sewers In October and November • Hopkinton Growth Study Committee Workshop • Hopkinton Fire Department Receives Grant • Senate Passes Legislation Promoting the Safety, Health and Wellness of Children and Persons with Disabilities • Panel Discussion on well-being of animals • Petition calling for Special Town Meeting about the Downtown Corridor Project • HCAM's Connections Week! • Public forum for Zoning Bylaw and/or the Zoning Map proposals • Town Hall Parking Reminder
---
Community Notice: Smoke Testing of the Sanitary Sewers In October and November
In order to improve the sewer service in your area, on behalf of the Town of Hopkinton, Weston & Sampson will be conducting smoke testing of the sanitary sewers Monday through Friday from 7:30 a.m. to 5:00 p.m. during the months of October and November 2019.
During the test, white smoke is introduced to the sanitary sewer system via a smoke-generating machine. During this procedure, white smoke will be venting from holes in manhole covers located in the street and from plumbing vent pipes located on or near your roof surface. THIS IS NORMAL AND SHOULD NOT CAUSE ALARM.
http://www.hcam.tv/news/community-notice-smoke-testing-sanitary-sewers-october-and-november
Mass Dot  I-495 / I-90 Interchange Improvements Project Meeting
The Massachusetts Department of Transportation Invites you to the Executive Office of Energy and Environmental Affairs Meeting for the I-495 / I-90 Interchange Improvements Project on Wednesday, October 30, 2019
http://www.hcam.tv/news/mass-dot-invites-you-executive-office-energy-and-environmental-affairs-meeting-i-495-i-90

Celebrating Hopkinton's Fitch Family: How One Family Influenced Our Town & America
Hopkinton Historical Society's History Center celebrates this remarkable family with an on-going exhibit of the family's artifacts, letters and other materials along with a program series of four events during the coming months. The first event features descendant Jeremy Wyant on "The Fitch Family Through Pictures" on Sunday, Oct. 20 at 2:00 pm at 168 Hayden Rowe. (The family home, the Elmwood Farm on Ash Street was part of a CPA purchase at Town Meeting 2012).
http://www.hcam.tv/news/hopkinton-historical-society-celebrating-hopkintons-fitch-family-how-one-family-influenced-our
Hopkinton Growth Study Committee Workshop
The public is invited on Wednesday, November 20 at 7:00 PM in the Hopkinton High School Cafeteria. Come see what the Growth Committee has been up to this fall.
Hopkinton Fire Department Receives Grant
The Hopkinton Fire Department received a grant that will allow them to hire 4 new Fire Fighters.
Senate Passes Legislation Promoting the Safety, Health and Wellness of Children and Persons with Disabilities
State News: The Massachusetts State Senate last week passed An Act to protect persons with intellectual or developmental disability from abuse, also known as "Nicky's Law," and An Act Relative to Children's Health and Wellness.
http://www.hcam.tv/news/senate-passes-legislation-promoting-safety-health-and-wellness-children-and-persons
Panel Discussion on well-being of animals
A panel of town officials (Animal Inspector, Health Director, and Police Officers) will talk about how our town can ensure the well-being of animals throughout the community.
Oct 24 at 7:00 PM at the Hopkinton Public Library. Submit questions in advance to hbackman@hopkintonma.gov.
Petition calling for Special Town Meeting about the Downtown Corridor Project
A group of residents has started a Petition calling for a Special Town Meeting about the Downtown Corridor Project. Special Town Meetings may be held on the petition of two hundred (200) or more voters, in the manner provided by MGL or Town Bylaw.
HCAM's Connections Week!
Head on over to the HCAM Facebook page for a chance to win a water bottle…Welcome to HCAM's Connections Week!…Click here for all the info…
Public forum for Zoning Bylaw and/or the Zoning Map proposals
The Zoning Advisory Committee (ZAC) will hold a public forum on Monday, October 21 at 7:00 PM at Town Hall (2nd Floor). ZAC would like to hear ideas and proposals for changes to the Zoning Bylaw and/or the Zoning Map.
Town Hall Parking Reminder
If attending a meeting or doing business at Town Hall, please remember NOT to park behind Bill's Pizza. Parking is available on Main Street, Walcott Street, behind the Library, at St John's Church or around the Common.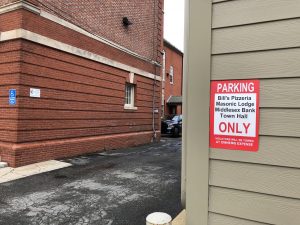 ---