Weekly Roundup – 10/13/2019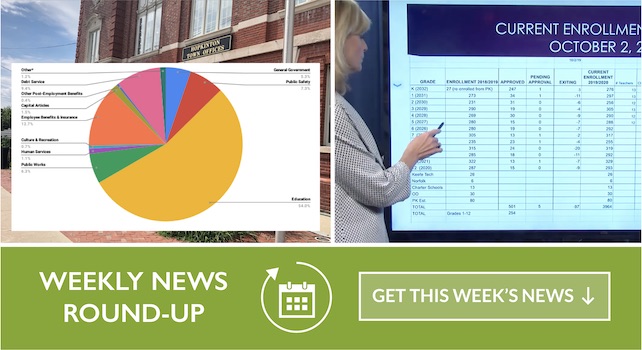 Superintendent Dr. Cavanaugh gave an update and background on the FY21 school budget • Zoning Public Forum 10/21 • eHop Board President, Nanda Barker-Hook, participating in the Metrowest Leadership Academy • The FY21 Budget Process: How to Follow & Get Involved • Zoning Advisory Committee Reorganizes, Discusses Upcoming Tasks • Planning Board Actions Taken 10-7-19 • Select Board Agenda Meeting Packet 10-8-2019
---
Superintendent Dr. Cavanaugh gave an update and background on the FY21 school budget
On October 4th, Superintendent Dr. Cavanaugh gave an update and background on the FY21 school budget. During the 16 minute video, Dr. Cavanaugh described the ongoing impact of rising student enrollment on the school budget.
Zoning Advisory Committee Public Forum 10/21
The Zoning Advisory Committee (ZAC) will hold a public forum on Monday, October 21 at 7:00 PM at Town Hall (2nd Floor). ZAC would like to hear ideas and proposals for changes to the Zoning Bylaw and/or the Zoning Map. Reminder: Do not park behind Bill's Pizza. Parking is available on Main Street, Walcott Street, behind the Library, at St John's Church or around the Common.
eHop Board President, Nanda Barker-Hook, participating in the Metrowest Leadership Academy
eHop Board President, Nanda Barker-Hook, is honored to be participating in the Metrowest Leadership Academy this fall along with a group of other Hopkinton and Metrowest residents.
The FY21 Budget Process: How to Follow & Get Involved
The FY21 budget cycle is underway and over the next few months important decisions will be made about what items will and will not be included.  If you want to have a say in the process, now is the time to listen, learn, and share input.  As our town continues to grow voters will face some difficult choices about how we spend our tax dollars.
The town estimates an FY21 revenue increase from two primary sources:
2.5% Tax Increase = $1,700,106
New Growth = $2,393,445
+_____________________________________________________________
$4.1 Million dollar revenue increase is expected in FY21
Zoning Advisory Committee Reorganizes, Discusses Upcoming Tasks
The Zoning Advisory Committee reorganized this past week. Mary Larson-Marlowe was re-elected Chair and John Coutinho was voted as the Vice-Chair. The Committee also discussed some of their upcoming tasks including Stone Wall policy.
Planning Board Actions Taken 10-7-2019
New sidewalk survey to be drafted. Several projects discussed and continued to a future meeting, including Bucklin Street, Maspenock Woods Amendments, Lumber Street Tennis Club, Wood Street Solar Facility and the Eversource Transfer Line Replacement.
Select Board Agenda Meeting Packet 10-8-2019
Meeting was on Tuesday 10/8 at 6:30 PM at Town Hall
---