Weekly Roundup – 11/24/2019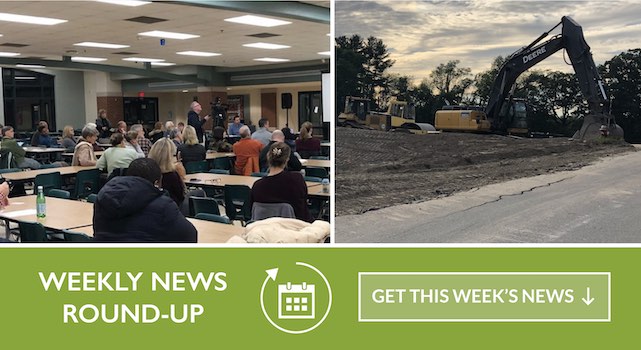 Special Town Meeting – Monday, December  • 5 Sent to Hospital After Chemical Spill in Hopkinton • Select Board Actions Taken – 11/19/19 • Hopkinton Growth Study Committee 1st Public Workshop 11/20/19 • Hopkinton special TM will decide fate of $15M street project
---
Special Town Meeting – Monday, December 9
The Special Town Meeting Warrant for 12/9 has been finalized. There are 6 articles on the warrant. One for the Downtown Corridor Project, 4 for the schools and 1 for Legacy Farms North Road. A PDF file is available on the eHop website, along with many other related documents. The meeting will begin at 7:00 PM on 12/9/19 in the Hopkinton Middle School Auditorium. All registered voters are invited to participate.
Save the Date – HCAM and eHop are partnering to put together a Pre-Special Town Meeting TV show on Monday, December 2 at 7:00 PM, viewable on Comcast 8, Verizon 30, and YouTube Live.
View Details and Related Documents on the eHop website
Downtown Corridor Project
Several new documents have been posted to the town website within the last week, some are individually linked below and additional documents are available on the town ClearGov page.
Hopkinton special TM will decide fate of $15M street project
Opponents of the Main Street corridor project are trying to put a stop to the plan at next month's special Town Meeting. A petition article authored by Jacqueline Potenzone – a vocal critic of the project – seeks to rescind a May 2018 Town Meeting vote that allowed the Select Board to acquire easements for the project and order the board to discontinue the entirety of the project. More than 370 residents signed the petition article, said Potenzone.
https://www.milforddailynews.com/news/20191120/hopkinton-special-tm-will-decide-fate-of-15m-street-project
School Committee Public Forum on Building Capacity December 5
The School Committee will be hosting a Public Forum on Thursday evening, December 5, at 6:00 PM in the Hopkinton High School Auditorium. Come see the proposed physical plant plans for the future of the Hopkinton Public Schools. The forum will highlight growth and capacity, and will present a proposed 10 year plan for HPS buildings. The proposed plans will illustrate additions to existing schools as well as the building of new schools. The public is invited to bring their questions, comments and concerns.
Hopkinton Growth Study Committee 1st Public Workshop 11/20/19
The Hopkinton Growth Study Committee held their 1st Workshop on November 20, 2019. If you missed it, the video is now available.
5 Sent to Hospital After Chemical Spill in Hopkinton
Five people were transported Friday night after a chemical spill in Hopkinton, Massachusetts. Five patients were hospitalized after the incident, officials confirmed. Their injuries are believed to be non-life-threatening.
The spill has been contained, according to authorities.
https://www.necn.com/news/new-england/Chemical-Spill-in-Hopkinton-565361671.html
https://www.metrowestdailynews.com/news/20191123/chemical-spill-in-hopkinton-sends-five-to-hospital
Select Board Actions Taken – 11/19/19
The Select Board confirmed the Town Manager's appointment of Christopher Heymanns to the position of Treasurer/Collector. (4-0)
The Select Board approved the Consent Agenda. (4-0)
Tax Classification Hearing

The Select Board did not vote in favor of a motion to grant an open space exemption. (0-4)
The Select Board did not vote in favor of a motion to grant a residential exemption. (0-4)
The Select Board did not vote in favor of a motion to grant a small commercial exemption. (0-4)
The Select Board approved a single tax rate for FY20. (4-0)

The Select Board approved and confirmed the sale of the $8,585,000 General Obligation Municipal Purpose Loan of 2019 Bonds of the Town dated 11/26/19 to FTN Financial Capital Markets at the price of $9,275,908.32 and accrued interest. (4-0)
The Select Board approved the name "Whisper Way" for the extension of the existing street named Whisper Way. (4-0)
The Select Board approved Eversource's request for night work and working beyond the hours of the Noise Bylaw, with work performed Fridays from 7:00 PM to 5:00 AM on Monday mornings, 24 hour work days, 12 hour shifts, 5 crews through 17 weeks; provided that Eversource first completes the repairs needed to the MassDOT section of the work on West Main Street by 12/6/19 to the satisfaction of MassDOT and the Town. (4-0)
---