Weekly Roundup – 11/17/19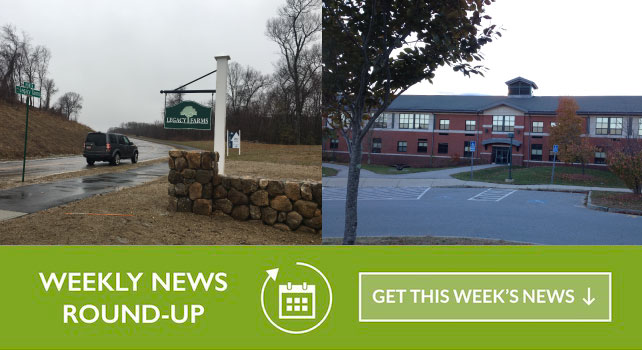 Special Town Meeting Updates • School Enrollment & Building Project Updates • Legacy Farms North Road • Select Board Actions Taken 10/22/19 and 11/05/19 • Planning Board Actions Taken 11/13/19
---
Special Town Meeting Updates 12/9/19
Special Town Meeting has been set for Monday, December 9, 2019 at 7:00 PM in the Hopkinton Middle School Auditorium. eHop has started compiling links and documents related to Special Town Meeting in a central location on our website. Since last week's roundup, a Citizen Advocacy Group has formed in favor of the Main Street Corridor project called "FOR the Main Street Corridor Project," and as previously reported there is a group in opposition to the project called the "Main Street Alliance." In addition to the Main Street Corridor project votes, additional warrant articles have been added so far including Street Acceptance for Legacy Farms North Road and three articles on school building projects to address enrollment. HCAM and eHop will partnering to produce a TV special about Special Town Meeting, which will be aired about one week before Special Town Meeting, stay tuned for details.
Special Town Meeting Links & Documents
School Committee Meeting 11/14/19
The School Committee reviewed updated enrollment projections from DRA, which projected 4,111 students next year, 4,458 students in 5 years and 4,856 in 10 years. HPS is not using projections from NESDEC this year. NESDEC projections from last year were 104 students lower than this year's actual enrollment. The School Committee also voted to put three articles on the warrant for Special Town Meeting:
A 6-classroom addition to the High School – $5 Million
4 portable classrooms at Hopkins School – $3 Million
4 portable classrooms at Elmwood School – $2 Million
Legacy Farms North Road Hearing 11/19/19
The Select Board will hold a public hearing on Tuesday, November 19, 2019 at 7:30 PM at the Town Hall, 18 Main Street, Hopkinton, MA pursuant to Massachusetts General Laws Chapter 82 Section 21, to discuss accepting and laying out Legacy Farms North, from Frankland Road to Wilson Street, as a public way. There will be an article on the December 9, 2019 Special Town Meeting warrant requesting the acceptance of the street as a public way. The Special Town Meeting article has been submitted by citizens petition.
Select Board Actions Taken 10/22/19
Temporary Alcohol License Hopkinton Center for the Arts • Temporary Alcohol License South Asian Circle of Hopkinton Festival of Lights • Legacy Farms HCA Amendment • Appointments • Town Manager Report
Select Board Actions Taken 11/05/19
Holiday Banner Request • Parade Permit ReMax 5K • Hopkinton Running Club Parade Permit and Alcohol License • Senior Citizen Property Tax Exemption • Cingular Wireless • Town Manager Report
Planning Board Actions Taken 11/13/19
December 9 meeting rescheduled for December 16. Support was expressed for a Legacy Farms North Road bus stop solution. The Main Street Corridor project was discussed, but no vote was taken.
---