Weekly Roundup – 12/01/2019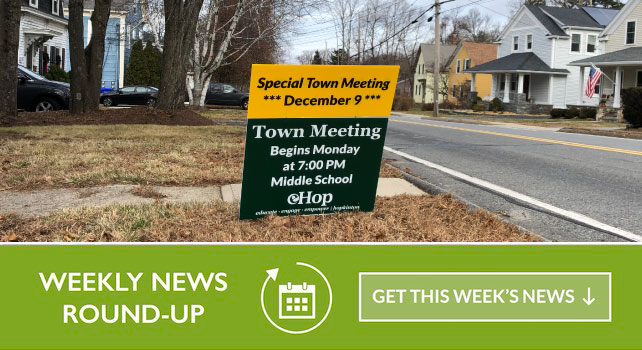 HCAM to Host Downtown Corridor Project Forum on Monday, December 2 • Superintendent Update Video and Public Forum on December 5 • Public Hearing on Street Acceptance of Legacy Farms North Road • Planning Board Actions Taken 11/25/19 • eHop Photo Booth at the Holiday Stroll 12/7
---
Special Town Meeting December 9
Read the warrant and other documents on the eHop Town Meeting page
Learn about Article #1 – Rescind Main Street Corridor Vote and Discontinue Project
HCAM to Host Downtown Corridor Project Forum on Monday, December 2 Wednesday, December 4
Monday, December 2 Wednesday, December 4 at 7:00 PM, HCAM in partnership with eHop will host a Downtown Corridor Project forum at HCAM. The program will air live on HCAM-TV and concentrate on discussion about the proposed project in preparation for the upcoming Special Town Meeting on December 9. View details from the link below.
Note: Inclement weather is expected, so please stay tuned for updates.
http://www.hcam.tv/news/hcam-host-downtown-corridor-project-forum-monday-december-2nd
http://www.hcam.tv/news/hcam-downtown-corridor-project-forum-rescheduled-wednesday-124-7pm
Learn about Articles #2, 3, 4, 5 – High School Expansion, and Installation of Modular Classrooms at Hopkins and Elmwood Schools
Superintendent Update Video
The School Committee will be hosting a Public Forum on Thursday evening, December 5, at 6:00 PM in the Hopkinton High School Auditorium. Come see the proposed physical plant plans for the future of the Hopkinton Public Schools. The forum will highlight growth and capacity, and will present a proposed 10 year plan for HPS buildings. The proposed plans will illustrate additions to existing schools as well as the building of new schools. The public is invited to bring their questions, comments and concerns.
View the Superintendent's Update Video
Learn about Article #6 Street Acceptance: Legacy Farms North Road
The Select Board held a public hearing on November 19 – Video (the hearing begins about 1 hour into the meeting), and the Select Board did not take a vote on the road layout, which was not ready yet, but instead decided to continue their deliberations until a future meeting. On November 25, the Planning Board voted to send a letter to the Select Board expressing that they are united in wishing to solve the Legacy Farms Road North bus stop issue in a permanent, safe, and constructive way that protects the Town's interest, including the potential acceptance of the road as a public way. The next steps are that the developer must file a street layout plan with the Town Clerk by December 2. The Planning Board must then issue a report by December 9 (before Special Town Meeting).
Planning Board Actions Taken 11/25/19
Letters of support sent for Main Street Corridor project and Legacy Farms North Road Bus Stop solution. Commercial Photovoltaic Solar Facility (0 Wood Street, 5 Mechanic Street) approved. Earth Removal Permit for 253 Lumber Street approved. Shared Parking Special Permit for Bittersweet 22-24 Main Street, 6 Church Street, and 17 Main Street approved. Hopkinton Tennis Club (27 Lumber Street) was discussed and continued to 12-16-19.
Hopkinton Chamber Holiday Stroll – eHop Photo Booth
eHop is pleased to be participating in the Chamber of Commerce Holiday Stroll on Saturday, December 7 from 10:00 AM to 3:00 PM. Visit the eHop "I ♥︎ Hopkinton" photo booth at King's Corner Barbershop at 28 Main Street, where we will have free cookies and good cheer!
Go from store to store by foot or cover much more mileage by taking our Holly Trolley from one side of town to the other. There will be designated stops for parking and trolleys will be coming every half an hour to bring you from place to place. Most of our local businesses will be participating with sales, specials, contests, treats and promotions to make your holiday shopping easy and fun. We can't wait to share all of the days events here with you! Watch for information about all of our participating stores and sponsors.
---