Weekly News Roundup – 01/12/2020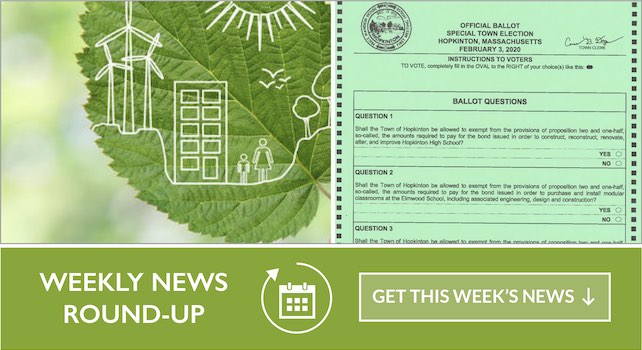 The Hopkinton Sustainable Green Committee is being revived • Press Release: Hopkinton Census Problem • Lawsuit: Player says Hopkinton hockey coach failed to stop bullying • Community Notice: Special Town Election Sample Ballot for February 3, 2020 • MWRTA will conduct feasibility study on offering service on Sundays • Hopkinton Police Responded To Over 1,000 Calls In December • Parks & Rec Ice Rink Construction
---
The Hopkinton Sustainable Green Committee is being revived
The Sustainable Green Committee which effectively ceased operations a few years ago has now set the wheels in motion to resume operations. Applications are being accepted now. Apply online to be appointed by the Select Board.
People may apply via the online form or by sending a letter of interest to Maria Glynn, Executive Assistant, Town Manager's Office, 18 Main St., Hopkinton, MA 01748 | Email: mglynn@hopkintonma.gov
A printable flyer is also available to help residents advertise for these openings:
The Committee partners with town government, businesses, and residents to promote sustainable and environmentally responsible practices. Click on the links below for more information about the committee:
https://www.facebook.com/pg/HopGreenMA/
http://hopgreen.hopkintonma.gov/
Press Release: Hopkinton Census Problem
It appears that the census that went out may have printed without residents under the age of 17.  These individuals have likely not been removed from our internal system.  However, if you notice that your minors are not listed, please add them in and send the census out as usual.  If you forget to add them in and they are already in our system then they will not be removed.
We are working to identify the cause of the issue, but again this will not have an effect on the resident status of minors in the household.  Again, please add all minors to your census to ensure that they are listed accurately.
If you have any questions or concerns, please contact the Hopkinton Town Clerk's office.
Phone: 508-497-9710
Lawsuit: Player says Hopkinton hockey coach failed to stop bullying
The lawsuit accuses Hopkinton High School ice hockey coach of failure to stop team members from bullying a former freshman – dubbed John Doe – on the team. Court documents allege eight teammates harassed Doe daily, from December 2018 to February 2019, in locker rooms, on the travel bus, and during team dinners.
https://hopkinton.wickedlocal.com/news/20200110/lawsuit-player-says-hopkinton-hockey-coach-christopher-macpherson-failed-to-stop-bullying
Community Notice: Special Town Election Sample Ballot for February 3, 2020
The Ballot questions include three debt exclusions for Hopkinton School expansion projects. Absentee Ballots are available in the Town Clerk's Office.
Click here to see sample ballot
Read more about the Election on eHop
MWRTA will conduct feasibility study on offering service on Sundays
MetroWest Regional Transit Authority buses could soon be driving around the region on Sundays.
The Framingham-based transit agency was recently awarded two grants totaling $595,830 from the state Department of Transportation for initiatives that will benefit riders. The MWRTA will use $75,000 to conduct a feasibility study on offering service on Sundays.
https://www.milforddailynews.com/news/20200108/mwrta-will-conduct-feasibility-study-on-offering-service-on-sundays
RELATED NEWS:
MWRTA receives $385K transit grant to expand service
The MetroWest Regional Transit Authority was awarded grants to conduct a feasibility study on offering service on Sundays and for a route equity project.
https://www.milforddailynews.com/news/20200106/mwrta-receives-385k-transit-grant-to-expand-service
Hopkinton Police Responded To Over 1,000 Calls In December
Hopkinton police are starting the new month out by looking over their work in December. According to the department, Hopkinton police received 1,160 calls for service in December.
Calls ranged from crime reports to medical emergencies, police said.
https://patch.com/massachusetts/holliston-hopkinton/hopkinton-police-responded-over-1-000-calls-december
Parks & Rec Ice Rink Construction
The Hopkinton Parks and Recreation's Skating Rink returns to the High School as construction began on the morning of January 6, 2020 on the basketball court.
http://www.hcam.tv/photo-rink-construction-1620
---