Weekly News Roundup – 01/05/2020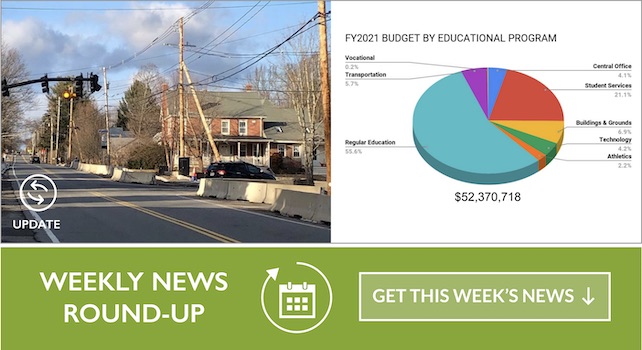 HPS FY21 Budget and Public hearing • Annual Town Meeting Notice – 2020 • Hopkinton tries to keep up with school enrollment spike • Hopkinton Growth Study Committee to host workshop Jan. 9 • Chestnut Street / Route 85 Update • Daily News staff picks top stories of 2019 • A 'Thank you' from HCAM • Dogs return to Greyhound Friends adoption shelter in Hopkinton • Select Board Actions taken 12/17/2019 • Select Board Actions taken 12/03/2019
---
HPS FY21 Budget and Public hearing
The School Committee will be holding a public hearing on the FY21 budget next Thursday, January 9, at 7:00 PM in the High School library. The Superintendent presented her final budget recommendation to the School Committee and will adopt a budget on January 16.
The recommended budget of $52,370,718 is a 9% increase over FY20: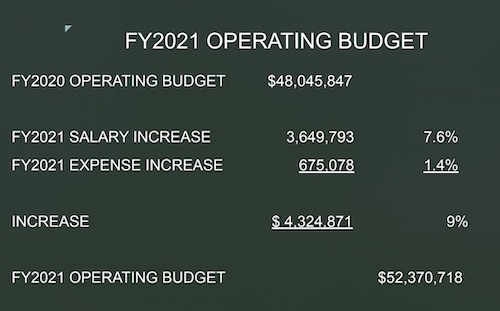 This Public Hearing is an opportunity for residents and parents to have a voice in the budget process leading up to Annual Town Meeting in May 2020.
Click here for the Superintendent's budget recommendation presentation
Annual Town Meeting Notice – 2020
The 2020 Annual Town Meeting will commence on Monday, May 4, 2020. Please be advised that articles may be submitted to the Select Board/Town Manager's office beginning on January 2, 2020. Per the Town Charter, the warrant will close on February 3, 2020.
Hopkinton tries to keep up with school enrollment spike
School officials are considering a $4 million budget increase that includes more than a dozen new hires, but the president of the local teachers union says it doesn't go far enough.
The superintendent's $52.3 million proposed budget for the fiscal year beginning July 1 represents a 9% bump over the current fiscal year's budget of $48.04 million. It's significantly above the town's "guideline" increase of 5.5%.
https://www.metrowestdailynews.com/news/20200103/hopkinton-tries-to-keep-up-with-school-enrollment-spike
Hopkinton Growth Study Committee to host workshop Jan. 9
The public is invited to join the Hopkinton Growth Study Committee's workshop at 1:00 p.m. next Thursday, Jan. 9, at the Senior Center
Residents can see what the Growth Committee has been up to this year. The group has learned a lot and is eager to hear from residents. At the workshop the committee will share what it has learned so far from its collected data. Residents will also have the opportunity to ask questions and share your ideas to help more forward with the committee's work.
https://hopkinton.wickedlocal.com/news/20200101/hopkinton-growth-study-committee-to-host-workshop-jan-9
Chestnut Street / Route 85 Update
The wires have been moved and old poles taken down at Chestnut Street / Route 85. Hoping the new year will soon bring the activation of the traffic light and removal of jersey barriers…
(Voted Town Meeting 2017)
Daily News staff picks top stories of 2019
The Daily News staff spent the final days of 2019 sifting through the top newsmakers of the past 12 months. As is the case each December, there were as many topics to choose from as there are weeks in a year.
https://www.metrowestdailynews.com/news/20191231/daily-news-staff-picks-top-stories-of-2019/1
A 'Thank you' from HCAM 
As 2019 closes, I want to thank you, Hopkinton, for all the HCAM programming you have supported and viewed and participated in.
http://www.hcam.tv/news/thank-you-2019
Dogs return to Greyhound Friends adoption shelter in Hopkinton
Earlier this month, Greyhound Friends adoption shelter welcomed its first three greyhounds since the town reinstated its license over the summer.
The nonprofit has since reorganized with new leadership, and worked with town and state officials to address concerns. Some kennels were enlarged, the fire system has been updated, and new software is expected to improve record-keeping.
https://hopkinton.wickedlocal.com/news/20191229/dogs-return-to-greyhound-friends-adoption-shelter-in-hopkinton
Select Board Actions taken 12/17/2019
The Select Board approved the Consent Agenda. (5-0)
The Select Board continued approving License Renewals for calendar year 2020 to businesses.
The Select Board set the date for a Special Town Election on February 3, 2020. (5-0) The Select Board voted to sign the Feb. 3, 2020 Special Town Election Warrant. (5-0)
The Select Board voted to open the Annual Town Meeting Warrant on January 2, 2020 and to close the Warrant on February 3, 2020. (5-0)
Select Board Actions taken 12/03/2019
The Select Board approved the Minutes of the 11/19/19 and 11/22/19 Select Board meetings. (4-0)
The Select Board approved an extension of hours on 12/31/19, from 11 p.m. to 1 a.m. for the Hopkinton Center for the Arts, Inc. (4-0)
The Select Board approved a change of ownership interest for Craftlife Brewing Company, LLC, d/b/a Start Line Brewing Company. (4-0)
The Select Board voted to distribute 2020 Boston Marathon Invitational Entries: (4-0)
The Select Board renewed licenses to businesses for the calendar year 2020: (4-0)
Special Town Meeting: The Select Board voted not to support Article 1. (4-0) The Select Board voted to support Article 2. (4-0) The Select Board voted to support Article 3. (4-0) The Select Board voted to support Article 4. (4-0) The Select Board voted to support Article 5. (4-0) The Select Board voted to support the motion to be made under Article 6. (4-0) The Select Board approved 3 ballot questions for submission to the Town Clerk. (4-0)
Refer to Special Town meeting articles here
---