Weekly News Roundup – 02/02/2020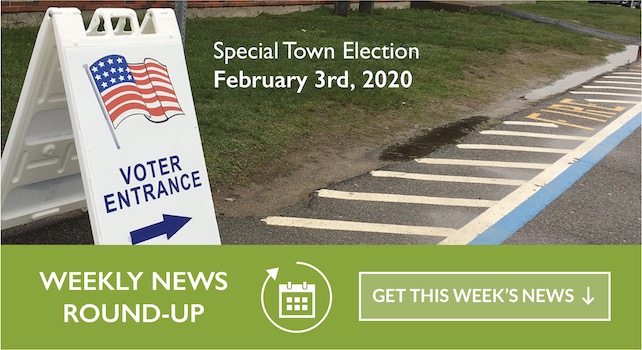 Special Town Election – Monday, February 3, 2020 • FY21 Consolidated Budget Discussion • The Town Manager submitted the FY21 Comprehensive Budget to the Select Board on 1/17/20 • MWRTA pilot program will add additional trips on popular 4-North route • AG issued violations to three area towns since mid-Nov. Is your town on the list? • Applications for Hopkinton Integrated PreSchool Lottery 2020-2021 Due Feb. 1 • Hopkinton Board of Health – Water Quality Reports
---
Special Town Election – Monday, February 3, 2020
Monday, February 3, 2020 – Polls Open 7:00 AM – 8:00 PM
Hopkinton Middle School Brown Gym, 88 Hayden Rowe St
View info for ballot questions
Hopkinton special election features three debt exclusions
Hopkinton residents on Monday will vote on three Proposition 2 1/2 debt exclusions – totaling to $9.5 million – to improve Hopkinton High School, Elmwood Elementary School and Hopkins Elementary School.
https://www.metrowestdailynews.com/news/20200201/hopkinton-special-election-features-three-debt-exclusions
Growth Study Committee Update
The Growth Study Committee held their second public workshop in January at the Senior Center. The meeting video and slideshow are linked below. One of the committee's first initiatives is the recommendation that the town create an Economic Development Office under the Town Manager's Office. The committee will be presenting this idea to the Select Board on Tuesday, February 4 at 7:40 PM
Links and information relating to the Economic Development Office, Growth Study Committee workshop videos and presentation slides are available below.
Click here for links and information
FY21 Consolidated Budget Discussion 
On January 30 the Select Board had a FY21 Consolidated Budget Discussion with Town Department Heads.
The Town Manager submitted the FY21 Comprehensive Budget to the Select Board on 1/17/20
This initial plan provides for a funding level for Hopkinton Public Schools that is 6% above last year's budgeted amount, but still $1.3M below the amount requested.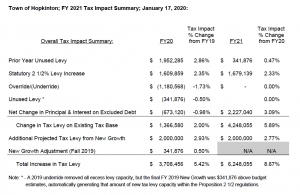 FY 2021 Comprehensive Budget Transmittal Letter
View Video from Select Board Meeting
MWRTA pilot program will add additional trips on popular 4-North route
The Framingham-based transit authority will launch a pilot program Feb. 10 that will add an additional trip each hour on the heavily traveled 4-North route. Buses will run in 30 minute intervals when the pilot program begins.
The authority last month was awarded a $375,000 grant from the state Department of Transportation for enhanced frequency and to conduct a feasibility study on offering service on Sundays. Transit authority officials opted to increase service in the 4-North route because of its high ridership.
https://hopkinton.wickedlocal.com/news/20200131/mwrta-pilot-program-will-add-additional-trips-on-popular-4-north-route
AG issued violations to three area towns since mid-Nov. Is your town on the list?
Since mid-November, a chronic Open Meeting Law complaint filer was told a violation he uncovered was trivial, a school committee must watch a training video and a planning board was reprimanded for not being obvious enough about its marijuana discussion.
https://www.metrowestdailynews.com/news/20200128/ag-issued-violations-to-three-area-towns-since-mid-nov-is-your-town-on-list
Applications for Hopkinton Integrated PreSchool Lottery 2020-2021 Due Feb. 1
Applications must be received at the Hopkinton Integrated Preschool no later than February 1st. The preferred method is to complete the application online as this timestamps the receipt of your application.
Hopkinton Board of Health – Water Quality Reports
The Hopkinton Board of Health, at its meeting of January 27, 2020, voted not to accept any water quality reports from the following laboratory until further notice:
ETR Laboratories
For inquiries or more information, contact the Hopkinton Health Department at 508-497-9725
---