Weekly News Roundup – 10/17/2020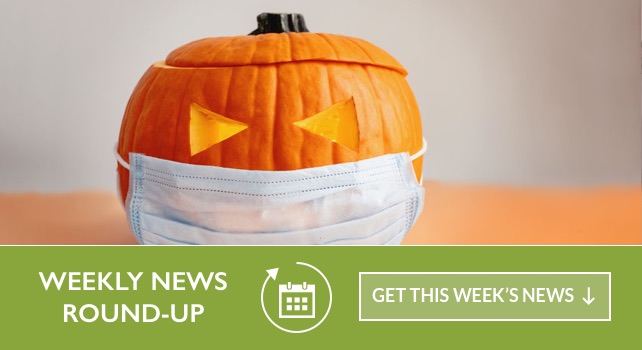 Covid-19 Updates & Precautions • Safe Halloween Info • What's on the Ballot and How to Vote in the 11/3 Election • Zoning Advisory Committee Public Forum 10/26 • Library Programs Update • Lake Maspenock extended drawdown OK'd by Conservation Commission • School Committee Actions Taken 10/1/20
---
Covid-19 Updates & Precautions
This page provides information, maps and resources about the coronavirus response in our local area.
Visit Hopkinton, MA – Coronavirus Response Hub
As of 10/14/20, Hopkinton's Health Department is reporting 151 total confirmed COVID-19 cases; 4 of those cases are active, with 134 recoveries and 13 deaths. You can see historical tracking and updates on Hopkinton's Community Impact Dashboard
The most recent update from Oct 14th includes:
Massachusetts Department of Public Health COVID-19 weekly Public Health Report
More to the Story – Mental Health Initiative
State public health officials offer tips for a safe and healthy Halloween
COVID-19 Vaccine Advisory Group
RELATED NEWS: 
Milford, Holliston and Shrewsbury are latest communities in the region added to the highest risk category in the state Department of Public Health's weekly report on the number of COVID-19 cases for every city and town in the state.
The state's new numbers, which were released Wednesday, keep Framingham, Hudson, Marlborough and Southborough in the red zone. Holliston had dropped out of the red zone last week, but returned.
McAuliffe said he intends to "promote a standard Halloween with slight modifications." Among the guidelines: Participating homes should illuminate their driveway, front porch or side porch. Candy should be placed on a porch or small table. Residents should remain inside, behind their storm door (at least 6 feet away). Children should only travel with nuclear family members, and families should stay distanced from each other. And of course everyone should wear face coverings, use sanitizer and thoroughly wash their hands when they return home.
Hopkinton Middle School principal Alan Keller emailed HMS families Monday evening to announce that "a person in the HMS community has tested positive" for COVID-19.
Many ways to vote in the State and Presidential Election on November 3rd
Option 1 – Vote Absentee or by Mail
You should have already requested a mail in ballot in advance.
Option 2 – Vote Early In Person
Early voting in person will be offered from Saturday, October 17 until Friday, October 30 at the Hopkinton Senior Center at 28 Mayhew Street.
Option 3 – Vote on Election Day at the Middle School
Tuesday, November 3, 2020
Polls are open 7:00 AM – 8:00 PM
Hopkinton Middle School, 88 Hayden Rowe St
Public Notice: Zoning Advisory Committee Annual Public Forum
The Zoning Advisory Committee will hold its annual Public Forum on October 26, 2020 at 7:00 PM, remotely via Zoom.
Library Corner, Oct. 14 edition
For more information on the October programs or other activities at the library, visit hopkintonlibrary.org. The library also can be found on Facebook, @hopkintonlibrary, and on Twitter, @HopkintonPLMA.
View details on the October Programs
Lake Maspenock extended drawdown OK'd by Conservation Commission
According to the town bylaws, the annual drawdown — normally 5 feet, but 8 feet every third year — starts between Sept. 15 and Oct. 1 (this year it was Oct. 1) and advances at an average rate of 1 inch per day, achieved by opening the low-level outlet gate approximately 2.5 inches. The drawdown continues until mid-December (depending on weather conditions). The hope is that by exposing the vegetation the winter freeze will kill the weeds.
School Committee Actions Taken 10/1/20
School Improvement Plans approved. Several policies were reviewed including Harassment, Tutoring for Pay, Livestream and School Committee Powers and Duties.
---