Weekly News Roundup – 10/25/2020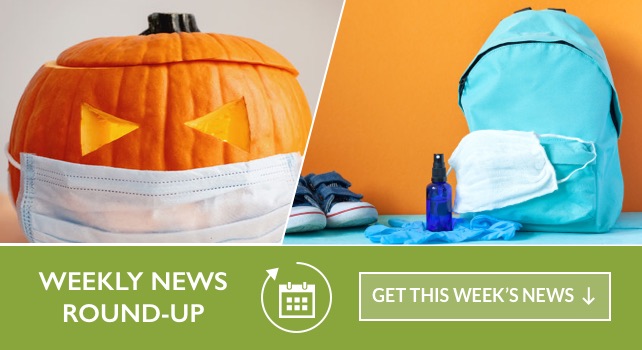 Covid-19 Updates & Precautions • HHS cancels live classes Friday for Grade 9 after another positive COVID case • Hopkinton COVID-19 update for Oct. 22: Info on town's rent/mortgage relief program • Select Board supports programs to help residents in need of COVID-related financial assistance • Health director: Town sees 'significant increase' in COVID cases • Superintendent: COVID cases were contracted outside schools • BAA: Decision on '21 Boston Marathon to be made in a few weeks • HPD introduces program to help with disposal of prescription drugs • Water/Sewer Department: Discoloration issues being investigated; higher bills common • Notice of Vacancies • Conservation Commission ruling puts hold on residents' forest cutting plan • Select Board raises concerns about adopting MAPC pledge to 'address systemic racism' • Planning Board addresses concerns regarding proposed Lincoln Street/Cedar Street Extension development • Planning Board Actions Taken 10/19/20 • Select Board Actions Taken 10/20/20
---
Covid-19 Updates & Precautions
This page provides information, maps and resources about the coronavirus response in our local area.
Visit Hopkinton, MA – Coronavirus Response Hub
As of 10/22/20, Hopkinton's Health Department is reporting 160 total confirmed COVID-19 cases; 7 of those cases are active, with 140 recoveries and 13 deaths. You can see historical tracking and updates on Hopkinton's Community Impact Dashboard
The most recent update from Oct 22nd includes:
Massachusetts Department of Public Health COVID-19 weekly Public Health Report
Town of Hopkinton Covid-19 Rent & Mortgage Relief Program
More to the Story – Mental Health Initiative
RELATED NEWS: 
Hopkinton High School principal Evan Bishop announced via email Thursday night that "another person in the high school community" has tested positive for COVID-19, and all ninth-graders will have remote learning Friday "out of an abundance of caution." All other grades will have school as regularly scheduled.
Town of Hopkinton COVID-19 Rent and Mortgage Relief Program — ​NEW UPDATE
The Town of Hopkinton is announcing a program to provide partial, temporary support for certain housing costs for qualified residents who have experienced income loss due to the COVID-19 public health emergency. Funding for the program comes from the town's federal CARES Act emergency relief allocation. Click here for more information and the application form.
COVID-19 Housing Assistance
Hopkinton renters and homeowners facing eviction, foreclosure, loss of utilities or other housing emergencies caused by loss of income, increase in expenses or both due to the COVID-19 pandemic may call the Massachusetts 2-1-1 information hotline for information on state housing assistance programs. Operators for 2-1-1 are trained to answer questions and connect residents to the state agencies that administer COVID-19 housing assistance programs. Information is also available on the state's website​: mass.gov/CovidHousingHelp.
The CARES Act provided the town with $1.6 million, the majority of which was allocated to the schools to help with their transition to remote and hybrid learning. Other large chunks were spent on facilities modifications and protective equipment/cleaning supplies.
Khumalo said the plan is for an initial funding of $100,000 from that pool of money — subject to review — to be made available to residents who need help paying their rent or mortgage, including seniors who have not been able to participate in the work-off program due to the pandemic.
Town health director Shaun McAuliffe, in his COVID-19 update to the Select Board on Tuesday, warned that there has been a "significant increase in the number of cases in town over the last two weeks," and with seven active cases Hopkinton is expected to shift to the yellow risk category when the state's updated COVID map is released later this week.
Hopkinton currently is designated as a green community, meaning it has a low number of cases. After yellow, the level for the communities with the most active cases is red, and that would lead to restrictions on activities.
Six people in the Hopkinton school community tested positive for COVID-19 through the middle of October, but none of them contracted the virus within the schools, superintendent Carol Cavanaugh told Hopkinton School Committee members at Thursday's meeting.
"To date we have had no cases of in-school transmission of the virus," she said.
BAA: Decision on '21 Boston Marathon to be made in a few weeks
BAA officials confirmed Friday that the organization was considering whether the 2021 edition of the race would be held on Patriots' Day in April, as is tradition, or whether it would again be postponed to later in the year. That consideration was first shared in an interview with the Boston Business Journal.
HPD introduces program to help with disposal of prescription drugs
The Hopkinton Police Department announced a new program offered by the MED-Project (Medication Education & Disposal) allowing residents to properly dispose of prescription drugs by requesting a free, prepaid mail-back envelope sent directly to their home.
For more information, visit MED-Project.org/MA or call 844-633-7765.
Water/Sewer Department: Discoloration issues being investigated; higher bills common
Please be advised that we are aware of some periodic water discoloration, predominantly in the eastern part of town and we are investigating the cause. Water quality including visual, taste and odor are affected by both seasonal temperature changes and drought conditions as the water is pulled from deeper and further out in the aquifer. The discoloration is caused by the minerals that are naturally occurring in the water and is not harmful.
Notice of Vacancies
The following Town boards & committees have an existing or upcoming vacancy.  Please see the Town website at www.hopkintonma.gov for information about the duties of the specific boards and committees.  Interested residents must apply via the online volunteer form at  http://hopkintonma.gov/hug.
Board and committee qualifications: Open to all Hopkinton residents.
Cultural Council (3-year term)
Affordable Housing Trust Fund Board (2-year term)
Conservation Commission ruling puts hold on residents' forest cutting plan
At Tuesday night's Conservation Commission meeting, the commission unanimously ruled that a Lumber Street couple who had two forestry cutting plans approved by the state's Department of Conservation and Recreation could not remove trees to access one of the desired parcels of land without an approved notice of intent, thus putting the project on hold.
Select Board raises concerns about adopting MAPC pledge to 'address systemic racism'
The primary concerns raised related to statements regarding how the Police Department should be run. The pledge lists protocols directing police to "deescalate all interactions to prevent violence or the use of force," and also calls for towns to "Review our police budgets and assess whether allocations might be better deployed either within police departments or for other critical community programs," and "Reevaluate whether responsibilities that are currently performed by police officers could be provided in new and different ways or by non-police personnel." (The complete statement and list of suggested policies can be found at mapc.org).
Planning Board addresses concerns regarding proposed Lincoln Street/Cedar Street Extension development
The proposed Lincoln Street/Cedar Street Extension development was the primary focus of Monday's Planning Board meeting, with the discussion centered on whether the area would be better served with two cul-de-sacs or a through road.
The Planning Board received communication from a number of abutters opposed to creating a new through road from Cedar Street Extension to Lincoln Street (which lets out onto Route 85 across from Carbone's restaurant, near the Southborough line) out of fear that it would become a shortcut for residents looking to avoid the Cedar Street Extension/Route 85 intersection.
Planning Board Actions Taken 10/19/20
Agenda Items & Actions Taken (unofficial):
Board Appointments: Zoning Advisory Committee – Rachel Rossin Appointment approved
Highland Park IV – Minor Modification to Special Permit for Fence Applicant withdrew request
Eversource Liquefaction Facility – Minor Modification to Stormwater Permit for Improvements Required by Hopkinton Fire Department Minor modification approved
Minutes of August 18, 2020; August 18, 2020 (Joint meeting with Select Board); August 27, 2020 Approved
Discussion of Potential Future Meeting to Address Goals for Next Year Meeting Added for Nov 30th
Continued Public Hearings – Bucklin St. & Leonard St. – continued to November 2 and decision extended November 16
Continued Public Hearing – Maspenock Woods (West Elm Street) – Maspenock Woods Realty Trust Site Plan Modification and Special Permit Amendment Approved
Continued Public Hearing – Deer Ridge Estates / Lincoln St. & Cedar St. Ext. – OSLPD Concept Plan/Special Permit – Courtney Derderian, CS2K Continued November 2nd 
Continued Public Hearing – Chester Street – Petition to Construct Road – Site visit scheduled October 24th
Materials for this Meeting:
Select Board Actions Taken 10/20/20
6:50 PM CONSENT AGENDA
i. MINUTES – The Select Board will consider approving the Minutes of the Sept. 15, 2020 and Sept. 29, 2020 meetings.
ii. CHANGE OF MANAGER, 110 GRILL – The Select Board will consider approving a Change of Manager for the 110 Grill, 1 Lumber Street, to Robert Neilsen.
The Select Board approved the Consent Agenda. (5-0)
6:55 PM ANNUAL APPOINTMENTS
The Select Board will consider appointing Samuel Docknevich to the Council on Aging, to a term expiring 6/30/2023.
The Select Board appointed Samuel Docknevich to the Council on Aging, to a term expiring 6/30/2023. (5-0)
7:05 PM MORTGAGE AND RENTAL RELIEF PROGRAMS
i. The Select Board will receive a recommendation regarding using CARES Funds for mortgage and senior work program relief.
ii. The Select Board will receive an update regarding applying for Community Preservation Act (CPA) funds to support emergency housing relief.
The Select Board voted to support an application to the Community Preservation Committee for Covid-19 related emergency housing relief. (3-0-1)
7:20 PM MEANS TESTED SENIOR CITIZEN PROPERTY TAX EXEMPTION
9. The Select Board will discuss and determine the dollar amount of the exemption for the Means Tested Senior Citizen Property Tax Exemption applications for FY 21.
The Select Board adopted exemptions at 200% of the calendar year 2019 Circuit Breaker income Tax Credit for the calendar year 2021. (4-0)
7:50 PM TOWN MANAGER REPORT
11. i. Main Street Corridor Project Update
ii. FY22 and 2021 Annual Town Meeting Updates
iii. Hiring Freeze exemptions: Assistant Town Accountant
iv. Upcoming Major Projects: Center School ReUse, Public Safety Facility, 25/35 Main Street
The Select Board allowed the hiring of an Assistant Town Accountant. (5-0)
---