Weekly News Roundup – 11/15/2020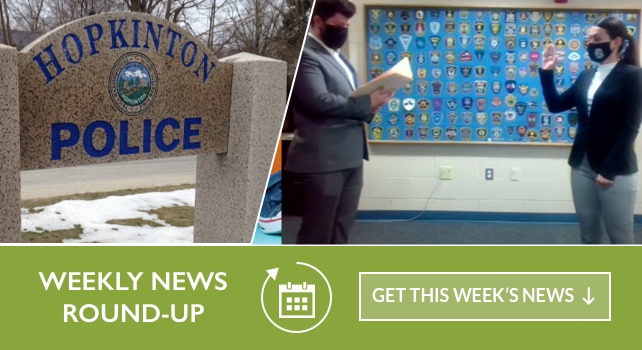 Covid-19 Updates & Precautions • Health director on COVID spike: 'We're trending in the wrong direction' • Eversource makes new pitch for Ashland pipeline replacement: easement agreements with all property owners • Select Board roundup: HPD welcomes 2 new officers; library to add assistant • ZAC debates strategy for commercial solar restrictions in town • New episodes on HCAM Hangout Hour • Hopkinton Community Members Introduce "Hopkinton Freedom Team" • South Asian Circle of Hopkinton plans events prioritizing unity, communication • Independent Thoughts: Hopkinton adjusts after Boston Marathon postponement • What to Know About the Earthquake That Hit Massachusetts on Sunday
---
Covid-19 Updates & Precautions
This page provides information, maps and resources about the coronavirus response in our local area.
Visit Hopkinton, MA – Coronavirus Response Hub
As of 11/12/20, Hopkinton's Health Department is reporting 188 total confirmed COVID-19 cases; 12 of those cases are active, with 163 recoveries and 13 deaths. You can see historical tracking and updates on Hopkinton's Community Impact Dashboard
The most recent update from Nov 12th includes:
Massachusetts Department of Public Health COVID-19 weekly Public Health Report
Town Hall Offices Physically Closed on Friday 11/13 – Reminder
RELATED NEWS: 
In his update to the Select Board on Tuesday night, health director Shaun McAuliffe said the town currently has 10 COVID-19 cases, with two more anticipated on Wednesday. The number, at zero one month ago, had spiked to 14 last Tuesday, then dropped to five a few days later before the latest jump.
Eversource makes new pitch for Ashland pipeline replacement: easement agreements with all property owners
When town officials learned this summer that a Land Court judge ruled in their favor in the case of Eversource Energy's plan to replace an old transfer line that runs through Hopkinton and Ashland, they were elated. At issue was whether the company was legally able to leave a decommissioned 1950s 6-inch-wide pipeline in place as it installed new 12-inch pipeline alongside it.
Select Board roundup: HPD welcomes 2 new officers; library to add assistant
At Tuesday's Select Board meeting, Brittany Firth and Nathan Wright were confirmed as Hopkinton police officers after they completed their Police Academy training Oct. 22. They were initially approved at the Jan. 31 Select Board meeting.
Firth worked as a part-time dispatcher in Hopkinton for almost three years. In the fall of 2019 she began working full-time as a dispatcher for the Ashland Fire Department. She is a spring 2019 graduate of Framingham State University's honors program with a bachelor's degree in criminology and a minor in psychology.
ZAC debates strategy for commercial solar restrictions in town
Concerns about lawsuits was an overriding theme throughout the discussion. The town already lost a lawsuit two years ago after the Planning Board denied a solar farm off Wilson Street. And the town currently is being sued by two residents after the Planning Board awarded a special permit to a company to construct a solar array in the woods off Frankland Road (the former Liberty Mutual Property).
New episodes on HCAM Hangout Hour
Ask the Town Manager & More.. On the Hangout Hour!
Ask the Town Manager – On Monday, November 16th at 2pm, Jim Cozzens hosts a brand new live episode of the Hopkinton Hangout Hour! In the episode we are joined by Laurel Coolbaugh of the Sanctuary at Woodville for the first half and then Town Manager, Norman Khumalo joins us to answer your questions!
Veteran's Day Guests on Hangout Hour
On Wednesday, November 11th at 7pm, Mike Torosian hosted a brand new episode of the Hopkinton Hangout Hour! In the episode he was joined by special guests Hopkinton Veteran Hank Allessio and Mass. State Representative Carolyn Dykema. Watch the replay, talking about our veterans, services provided for them and learn what we can do for them.
Hopkinton Community Members Introduce "Hopkinton Freedom Team"
In July of 2020, a group of Hopkinton community members joined together to create the Hopkinton Freedom Team, whose mission is "preserving freedom through unity in the community." Its members meet regularly to explore ways of offering dialogue and support to individuals or groups who experience bias, harassment, or microaggressions, with a goal of promoting love, inclusion, and trust ("LIT") and moving beyond tolerance to embracing, celebrating, and sharing our community's diversity.
South Asian Circle of Hopkinton plans events prioritizing unity, communication
The Hopkinton Lights Up As One campaign kicks off with a lights display at the Town Common from Nov. 13 to Dec. 11, centered around messages of open communication and unity. A large banner of colored flood and LED lights will display the words Hopkinton Lights Up As One.
Independent Thoughts: Hopkinton adjusts after Boston Marathon postponement
The recent announcement that the Boston Marathon would not be held on its traditional mid-April date for the second consecutive year was disappointing news for Hopkinton — where the race begins and provides a spiritual and financial boost — but it was taken in stride by those who saw the way things were trending with the COVID-19 pandemic.
What to Know About the Earthquake That Hit Massachusetts on Sunday
The quake hit at a depth of a little more than 9.3 miles and was felt across Massachusetts, Rhode Island, and into Connecticut and Long Island, New York.
About 14,000 people went to the U.S. Geological Survey's website to report the earthquake, including people from Easthampton, Massachusetts, and Hartford, Connecticut, both about 100 miles away, and several from more than 50 miles. That's not unusual in New England, Caruso said.
Select Board Actions Taken 11/10/20
6:10 PM CONSENT AGENDA
i. MINUTES – The Select Board will consider approving the Minutes of the 10/20/20 meeting.
ii. CHANGE OF MANAGER, WOODVILLE ROD & GUN CLUB, WOOD STREET – The Select Board will consider approving a Change of Manager for the Woodville Rod & Gun Club, to Karen Remillard.
iii. 2021 SEASONAL POPULATION ESTIMATE – The Select Board will consider approving a 2021 seasonal population estimate of 15,048 for the ABCC.
iv. AMBULANCE FUND GIFT – The Select Board will consider accepting a gift of $50.00 to the Ambulance Fund in memory of Joseph L. Donovan, from Richard and Janet Stewart, Hopkinton.
v. LIBRARY GIFT – The Select Board will consider accepting a gift of $100 to the Library from the Hopkinton Women' Club.
The Select Board approved Consent Agenda items i, ii, iv, and v. (5-0)
The Select Board approved the 2021 Seasonal Population Estimate. (5-0)
6:30 PM POLICE OFFICER APPOINTMENTS –The Select Board will consider appointing Brittany Firth and Nathan Wright as Police Officers for the Town of Hopkinton.
The Select Board appointed Brittany Firth and Nathan Wright as Police Officers for the Town of Hopkinton. (5-0)

6:50 PM TOWN MANAGER REPORT
i. Main Street Corridor Project Update
ii. 2021 License Renewals Process and Issues
iii. FY22 and 2021 Annual Town Meeting Updates
iv. Hiring Freeze exemptions: Senior Library Assistant
The Select Board approved the hiring of a Senior Library Assistant. (5-0)
The Select Board waived 2021 renewal issuance fees for restaurant, bar and club licenses. (5-0)
7:00 PM POSTED PUBLIC HEARINGS – TWO PETITIONS FOR NEW UTILITY POLES – VERIZON & EVERSOURCE :
The Select Board will hold two public hearings on two separate petitions for new utility poles, submitted by Verizon & Eversource, as follows:
i. East Street – One new pole on the southeasterly side of East Street approximately 614 feet northeasterly from the centerline of Clinton Street. The new pole would be a mid-span pole to raise up very low cables between two existing poles.
ii. Wood Street – Two new poles on the southwesterly side of Wood St.: 1) approximately 105 ft. northwesterly from the centerline of Patriots Blvd., and 2) approximately 411 feet northwesterly from the centerline of Patriots Blvd. Both poles are to support/serve the new Whisper Way subdivision.
The Select Board approved the new pole on East Street as requested, with the conditions that no new double poles are created and an existing damaged pole is removed. (5-0)
The Select Board approved the two new poles on Wood Street as requested, with the conditions that no new double poles are created and any existing damaged poles are removed. (5-0)
MATERIALS FOR THIS MEETING:
---