Weekly News Roundup – 05/16/2021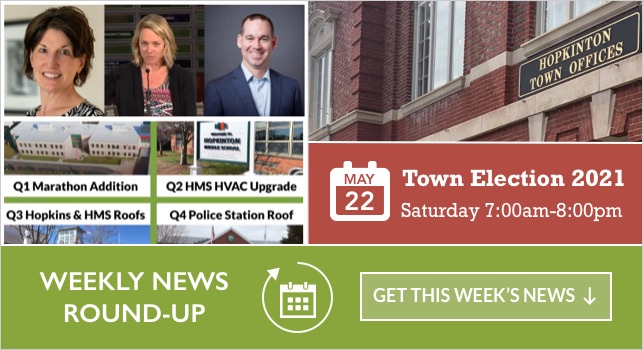 Covid-19 Updates and Vaccine Information • 2021 Annual Town Meeting Candidates and Ballot Questions • Town public health nurse Mauro steps down • I-495 exits in Hopkinton soon to be renamed • Conservation Commission continues work with Chamberlain developer, gets trails update • Active ByStander Training Sessions • Town Officials Meet to Review Cause of Gas Leak
---
Covid-19 Updates and Vaccine InfoRmation
As of 05/14/21, Hopkinton's Health Department is reporting 1,059 total confirmed COVID-19 cases; 24 of those cases are active, with 1,028 recoveries and 17 deaths. You can see historical tracking and updates on Hopkinton's Community Impact Dashboard which is updated frequently.
This week's new Covid Updates include:
Massachusetts Reopening Plan
Children Aged 12+ Now Eligible For Vaccine
Mass Vaccination Sites Open for Walk Ups
When You've Been Fully Vaccinated
Children aged 12 and older are now eligible to receive the Pfizer/BioNTech COVID-19 vaccine. The MetroWest-Westborough Regional Vaccination Site at the DoubleTree Hotel has Pfizer appointments available for the following dates:
● Monday, May 17th from 3:30-5:30pm
● Wednesday, May 19th from 2:30-5:30pm
● Thursday, May 20th from 2:30-5:30pm
● Friday, May 21st from 2:30-5:30pm
Appointments are required and open to anyone 12 years of age and older. In order to register a minor, a parent/guardian must complete the online Consent Form. To register for an appointment at the Regional Clinic at the DoubleTree Hotel in Westborough visit: https://home.color.com/vaccine/register/northborough. Please note that only one parent/guardian is allowed in the vaccination room to allow for social distancing
Related News and Resources: 
Town Election Candidates 2021
There are several Candidates running for Town Election in uncontested races. Vote Saturday, May 22, 2021, polls are open 7:00 AM – 8:00 PM at Hopkinton Middle School Brown Gym.
View Full List of Uncontested Candidates
View Contested Candidates for School Board
Town Election Ballot questions 2021
There are four ballot questions this year to fund capital projects. Vote Saturday, May 22, 2021, polls are open 7:00 AM – 8:00 PM at Hopkinton Middle School Brown Gym. View a Sample Ballot.
Ballot Questions Explained – View Article
Town public health nurse Mauro steps down
I-495 exits in Hopkinton soon to be renamed
Conservation Commission continues work with Chamberlain developer, gets trails update
Active ByStander Training Sessions
The Hopkinton Freedom Team and Hopkinton Youth & Family Services with support from members of the Hopkinton Youth Commission and Hopkinton Cultural Council, are very pleased to invite the community to Active Bystander training programs (at no cost to the participant) as a way to move beyond tolerance to promote town unity and embrace diversity. Training starts as early as next Tuesday!
3 different Training programs are available based on age groups: for adults, teens/young adults/college age and for middle schoolers.
For dates/times/ more information and to register: https://www.hopkintonfreedomteam.org/events
Town Officials Meet to Review Cause of Gas Leak
The leak, reported at 9:41am, was repaired by Eversource at 12:25 pm. Review of the scene showed an old structure in the ground as the cause of the leak. The structure was not tied to the gas line or related to the Main Street Corridor Project. The situation was handled efficiently by both the Hopkinton Fire and Police Departments and by Eversource Gas who were onsite to repair the leak.
---