Weekly News Roundup – 05/30/2021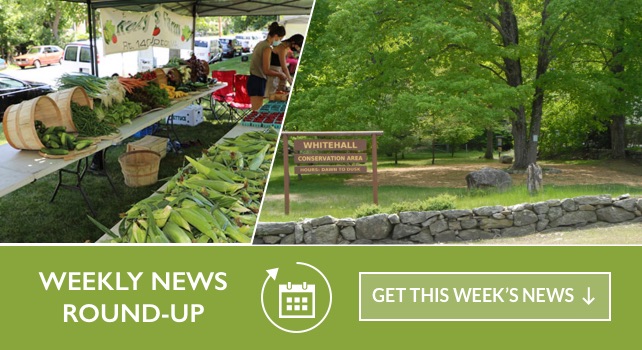 Covid-19 Updates and Vaccine Information • Town signs lease with 26.2 Foundation for International Marathon Center • Select Board approves Hopkinton native Sager as newest police officer • Hopkinton Police Lieutenant Graduates From Certificate in Local Government Leadership and Management Program • From the Open Space Preservation Commission • HFD contains Saddle Hill Road house fire; concerns raised about water supply • Parks & Rec gains momentum with dog park, skate park • Conservation Commission approves group of Chamberlain/Whalen lots • Public Notice: Water use • Hopkinton Farmers Market starts June 6 • Openings on Boards and Committees – Apply Online • Notice of Elementary School Building Committee-2 Vacancies
---
Covid-19 Updates and Vaccine InfoRmation
As of 05/27/21, Hopkinton's Health Department is reporting 1,063 total confirmed COVID-19 cases; 7 of those cases are active, with 1,040 recoveries and 17 deaths. You can see historical tracking and updates on Hopkinton's Community Impact Dashboard which is updated frequently.
This week's new Covid Updates include:
Hopkinton Reopening Plan – Town Buildings
The Town of Hopkinton will reopen Town buildings to the public June 1, 2021, without the need for appointments; and will follow the Commonwealth's Reopening Massachusetts guidance and Centers for Disease Control and Prevention's (CDC) guidelines in lifting Covid-19 restrictions. This means that face coverings are not required for fully vaccinated individuals.
Hopkinton Reopening Plan – Hopkinton Public Library
Memorial Day – Reminder
Related News and Resources: 
Town signs lease with 26.2 Foundation for International Marathon Center
The town announced Thursday morning that it has signed a 99-year lease with the 26.2 Foundation that grants the nonprofit a 19-acre site on East Main Street for the development and construction of an International Marathon Center.
According to a press release from Town Hall, the facility will offer state-of-the-art educational and cultural facilities centered upon a marathon museum and hall of honor. The center will include conference facilities and an auditorium, as well as research space, classrooms and function rooms.
Select Board approves Hopkinton native Sager as newest police officer
Sager, a graduate of St. Joseph's College in Standish, Maine, has spent the past 13 years on the force in South Portland, Maine, most recently as a sergeant.
RELATED NEWS: 
Chief Joseph Bennett is pleased to announce that Hopkinton Police Lt. John Porter graduated from the MMA-Suffolk Certificate in Local Government Leadership and Management program.
Lt. Porter graduated from the MMA-Suffolk Certificate in Local Government Leadership and Management program during a virtual ceremony on May 14. Upon his graduation, Lt. Porter received a certificate of completion.
From the Open Space Preservation Commission
Take a walk! The OSPC is pleased to report on the efforts by the Hopkinton Area Land Trust, Friends of Whitehall, and donations by Regan Tree Work this past month.
HFD contains Saddle Hill Road house fire; concerns raised about water supply
Culminating a busy few days for the Hopkinton Fire Department, firefighters put out a three-alarm blaze at 106 Saddle Hill Road late Wednesday night.
The fire caused a portion of Saddle Hill Road to be closed and traffic to be rerouted around Daniel Shays Road.
Parks & Rec gains momentum with dog park, skate park
The Parks & Recreation Commission welcomed newly elected commissioner Amy O'Donnell to the team at its meeting Wednesday and discussed projects that are gaining momentum, including the dog park and the EMC skate park.
Conservation Commission approves group of Chamberlain/Whalen lots
Public Notice: Water use
We have seen a dramatic rise in temperatures and along with that an almost 50% increase in water use. With very little rain and recharge, that use is unsustainable.
Hopkinton Farmers Market starts June 6
OPENINGS ON BOARDS & COMMITTEES – APPLY ONLINE
The following Town boards & committees will have one or more vacancies on June 30, 2021 or sooner.  Please see the Town website at www.hopkintonma.gov for information about the duties of specific boards and committees.  Interested residents must apply via the online volunteer form at  Town of Hopkinton, MA: Boards 
Notice of Elementary School Building Committee-2 Vacancies
The Select Board is pleased to inform residents of an exciting new opportunity to become actively involved in Town government and the future of the Town's schools. The Board recently approved the Elementary School Building Committee-2 composition and charge, and is currently seeking new volunteers to fill the necessary seats. Applications should be submitted by Friday, June 04, 2021.
---