Weekly News Roundup – 09/06/2021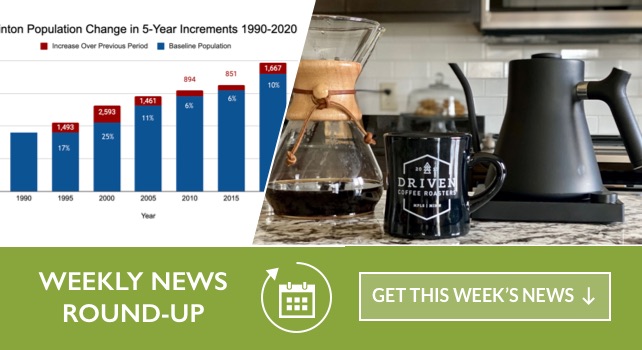 Main Street Corridor Project – Weekly Update • Covid-19 Update and precautions • Support Civic Engagement: Please Donate to our Marathon Runner – Reilly McGreen • Census shows town needs to add voting precinct • DPW Public Notice: Fruit Street bridge over the CSX railroad tracks will be closed • The Hopkinton PolyArts festival returns to the Town Common • Hopkinton Police National Night Out • Hopkinton Fire Chief, Stephen Slaman retires after 32 years of service • Town of Hopkinton to Offer COVID-19 Emergency Housing Relief • Conservation Commission roundup: Chamberlain-Whalen hearing continued; Leonard Street ordered to have more inspections • Planning Board: Stormwater conditions a growing concern; Eversource granted permits for LNG project
---
Main  Street Corridor Project – Weekly Update
What to Expect for the Week of September 7, 2021
Continuation of the Drainage Installation along Main Street (work will take place in the vicinity of 48-52 Main, 90, 92, 95, and 96 Main Street and 4 and 6 West Main Street)
Start installation of Electric Vaults (102 Main Street)
MassDOT Survey Crews to continue to locate limits of easements within the corridor
Delivery of Drainage materials and Electric materials
https://hopkintonmainstreet.com/
RELATED: Live Construction Video Feeds are available for the Main Street Corridor Project, check where crews are working and traffic / weather conditions before you leave your home or office.
Planning Ahead for Underground Utility Work
Press Release on Upcoming Underground Utility Work
Covid-19 Update and precautions
As of 9/2/21, Hopkinton's Health Department is reporting 1,157 total confirmed COVID-19 cases; 26 of those cases are active, with 1,114 recoveries and 17 deaths.  You can see historical tracking and updates on Hopkinton's Community Impact Dashboard. 
Support Civic Engagement: Please Donate to our Marathon Runner – Reilly McGreen
"I love running, especially for a good cause. In 2019, I ran the Boston Marathon to raise money for the Hopkinton Parent Teacher Association. This year, I'm excited to be running the marathon for another amazing Hopkinton organization, eHop, which works to increase government transparency and foster civic engagement."
-Reilly McGreen
Census shows town needs to add voting precinct
The Hopkinton PolyArts festival returns to the Town Common
The Hopkinton PolyArts festival returns to the Town Common this year on Sept. 18 from 10 a.m.-4 p.m. The event, established in 1974, features regional artisans, crafters and local nonprofits.
Hopkinton Police National Night Out
Thursday, Sept 9, 5PM – 7:30PM on the Town Common
Community members come together to build Police and Community partnerships, and have fun!
Hopkinton Fire Chief, Stephen Slaman retires after 32 years of service
Hopkinton Fire Chief, Stephen Slaman whom has served the Hopkinton Fire Department for 32 years and as Fire Chief for just over 5 years is now retired. The Fire Department hosted a retirement gathering with community members and former co-workers of Chief Slaman and a big turnout was in attendance to witness his final ride and day at Hopkinton FD. Deputy Chief, William Miller was voted in as the Hopkinton Fire Chief following Chief Slaman's retirement. View more in the video below!
Town of Hopkinton to Offer COVID-19 Emergency Housing Relief
Town Manager Norman Khumalo is pleased to announce that the Town of Hopkinton will be offering a COVID-19 Emergency Housing Relief Program for residents.
The Emergency Housing Relief Program, funded by Community Preservation Act funds, was approved at the 2021 Hopkinton Annual Town Meeting. The program will provide COVID-19-related emergency mortgage and rental assistance for low and moderate income households.
Conservation Commission roundup: Chamberlain-Whalen hearing continued; Leonard Street ordered to have more inspections
Planning Board: Stormwater conditions a growing concern; Eversource granted permits for LNG project
The Planning Board on Monday night granted two permits for Eversource's facility improvement project at the liquefied natural gas (LNG) facility at 52 Wilson St. after a two-hour discussion that encompassed a growing concern about stormwater mitigation in the area that was beyond the board's purview.
GROWTH STUDY COMMITTEE FINAL REPORT
FINAL REPORT & PRESENTATION – APRIL 2021
SHARED RESOURCES & REFERENCES – PUBLIC GOOGLE FOLDER
---