Weekly News Roundup – 10/10/2021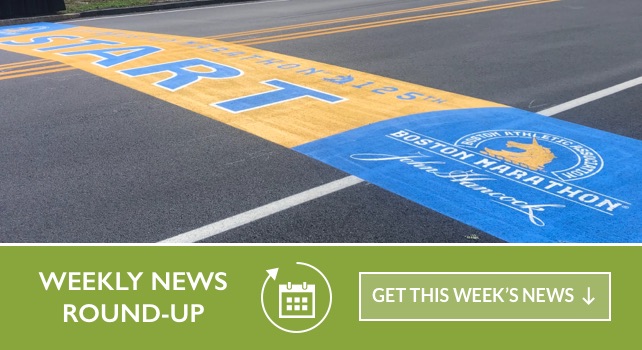 Main Street Corridor Project – Weekly Update • Notice of Lumber Street Paving • Please donate to eHop's Boston Marathon runner: Reilly McGreen • Boston Marathon Road Closure Update: Public Notice • Community Notice: 2021 Boston Marathon • Town of Hopkinton Excited to Welcome Boston Marathon Runners Back to Start Line for Marathon Monday • Hopkinton Marathon Committee Selects Bill Miller as Starter for 125th Boston Marathon • Unveiling of 'The Girl Who Ran' in commemoration of a milestone in women's running history • B.A.A. RACING APP • Board and Committees Vacancies – Updated • Study to collect data on possible regionalization of local emergency dispatch services • School Committee not ready to vote on rescinding mask mandate at HHS • Hopkinton Women's Club Monday, October 18, 2021 Program Topic: "Hopkinton Children's Library New Strategic Plan" • Select Board Actions Taken 10/5/2021
---
Main  Street Corridor Project – Weekly Update
What to Expect for the Week of October 12, 2021
Continuation of the Drainage Installation along Main Street
MassDOT Survey Crews to continue to locate limits of easements within the corridor
Delivery of Electric Materials
Sawcut trenches for Duct Banks
https://hopkintonmainstreet.com/
RELATED: Live Construction Video Feeds are available for the Main Street Corridor Project, check where crews are working and traffic / weather conditions before you leave your home or office.
In preparation for the Boston Marathon on Monday, October 11, no Main Street Corridor Project work is scheduled for October 6, 7, and 8. The remaining drainage work has been suspended and will resume after the Marathon.
Read the detailed 9/28/21 press release regarding paving work and the Boston Marathon (PDF) »
PLEASE DONATE TO EHOP'S BOSTON MARATHON RUNNER: REILLY MCGREEN
"Good government and civic engagement are issues close to my heart." – Reilly McGreen
The marathon is returning to Hopkinton on Monday. eHop has a great runner this year, Reilly McGreen. If you appreciate our weekly newsletters and info, please consider donating. This is our only fundraiser each year and it funds all our work!
BOSTON MARATHON ROAD CLOSURE UPDATE: Public Notice
On October 11th, 2021 at 6:30am all roads leading into the downtown area will be closed for general travel. This will be done to create a safe and efficient area for all who are involved in the 125th Boston Marathon. This year will be consistent with recent years prior. The major roads leading into the downtown area will be blocked at the following locations:
i. West Main Street at Lumber Street
ii. Wood Street at Elm Street
iii. Hayden Rowe Street at Chestnut
iv. Ash Street at Blueberry Lane
v. Cedar Street at Legacy Farms North
vi. East Main Street at every intersection
vii. In addition to these locations all roadways that are adjacent to the roads where
runners, spectators, volunteers and workers are located will be blocked.
Community Notice: 2021 Boston Marathon
The Boston Athletic Association (BAA) partnered with medical professionals across the Commonwealth, the Hopkinton Health and Public Safety Departments and the Massachusetts Department of Public Health (MDPH) to develop a layered COVID-19 policy that was protective of the participants, race volunteers, residents, and spectators.
Town of Hopkinton Excited to Welcome Boston Marathon Runners Back to Start Line for Marathon Monday
The Town of Hopkinton is excited to welcome the runners, spectators, supporters, volunteers and staff of the 2021 Boston Marathon back to Hopkinton for the first time in two years, and for the first time ever amid New England beautiful fall foliage.
On Monday morning, the 125th Boston Marathon will return to it's traditional starting line in the small and welcoming community 26.2 miles from Boston. The Town of Hopkinton, Select Board, Town Manager Norman Khumalo, and town employees are all thrilled to welcome the return of one of America's greatest sporting events.
Hopkinton Marathon Committee Selects Bill Miller as Starter for 125th Boston Marathon
The Hopkinton Marathon Committee (HMC) has selected a starter for the 9:00 a.m. rolling start of the 125th Boston Marathon. The Boston Athletic Association has granted the HMC the honor of starting the Boston Marathon's later waves since 2006, when the race first introduced the wave start. This year, with a rolling start rather than waves, just one starter position was available. The HMC selected Hopkinton Fire Chief, Bill Miller, to fulfill the role.
Unveiling of 'The Girl Who Ran' in commemoration of a milestone in women's running history
Bobbi Gibb, the first woman to complete the Boston Marathon as an unregistered runner in 1966, gives remarks after the unveiling of her bronze sculpture, "The Girl Who Ran" at the Hopkinton Center For the Arts, Oct. 5, 2021. An accomplished artist as well as runner, Gibb created the piece herself. The statue will be installed at Main Street and Hayden Rowe near the Marathon start line.
B.A.A. RACING APP
Follow your favorite runner & get alerts with the BAA App 
Board and Committees Vacancies – Updated
Updated 10/9/21: The following Town boards & committees will have one or more anticipated vacancies.  Please see the Town website at www.hopkintonma.gov for information about the duties of specific boards and committees.  Interested residents must apply via the online volunteer form at  Town of Hopkinton, MA: Boards 
Please note that all current board and committee members interested in reappointment MUST apply online via the link above.  Appointments would be made at an upcoming meeting of the relevant appointing authority.  For questions, please contact Elaine Lazarus at 508-497-9701 or elainel@hopkintonma.gov.
Study to collect data on possible regionalization of local emergency dispatch services
Southborough took the next step in exploring the possibility of regionalizing its public safety dispatch services Oct. 5.
The study, to be done over six months, will gather data on the feasibility of establishing or joining a regional emergency communications center. The possible collaborating communities are Hopkinton, Hudson, Grafton, Marlborough, Westborough and Southborough, according to Southborough Town Administrator Mark Purple.
State 911 funds will be used to cover the study at no cost to the towns.
School Committee not ready to vote on rescinding mask mandate at HHS
Superintendent Carol Cavanaugh outlined the updated mask policy from the Department of Elementary and Secondary Education (DESE). She explained that if an individual school has a vaccination rate that exceeds 80 percent among staff and students, fully vaccinated individuals could be given the option to remove their masks if approved by that district's school committee. This policy is called "off ramping."
Hopkinton Women's Club Monday, October 18, 2021 Program Topic: "Hopkinton Children's Library New Strategic Plan"
The Hopkinton Women's Club will be holding its monthly meeting on Monday, October 18, 2021, at 10:00 a.m. Please join us. The meeting will be on Zoom. Contact Judith Weinthaler, Membership Chair, at HopWCMembership@gmail.com for a Zoom invitation.
Select Board Actions Taken 10/5/2021
MATERIALS FOR THIS MEETING:
RELATED NEWS ARTICLES:
---