Weekly News Roundup – 10/17/2021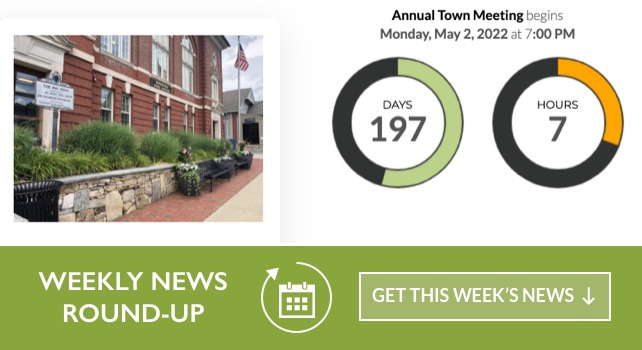 Main Street Corridor Project – Weekly Update • Main Street Construction Advisory – October 15, 2021 – Undergrounding of Utilities Work Begins • Thank you to all who supported eHop Marathon runner Reilly McGreen! • Roadwork Notice • 2022 ANNUAL TOWN MEETING & FY23 BUDGET TIMELINE • Capital Improvements Committee – Did You Know? • Are you ready for the 2022 Boston Marathon? Here's what they learned from Monday's event • Superintendent: HHS receives DESE approval to make masks voluntary for vaccinated individuals • Parks & Rec roundup: Turf fields to engage consultant; dog park in home stretch; Upper Charles Trail expansion endorsed • Marathon volunteers excited for race's return
---
Main  Street Corridor Project – Weekly Update
What to Expect for the Week of October 18, 2021
MassDOT Survey Crews to continue to locate limits of easements within the corridor
Delivery of Electric materials
Start the installation of Electric Manholes
https://hopkintonmainstreet.com/
RELATED: Live Construction Video Feeds are available for the Main Street Corridor Project, check where crews are working and traffic / weather conditions before you leave your home or office.
RELATED: 
Main Street Construction Advisory – October 15, 2021 – Undergrounding of Utilities Work Begins
Installation of the first electric manhole vault will begin on Monday, October 18 near the intersection of Main Street and Claflin Ave, between #102 and #104 Main Street. It is anticipated the work will take up to 3-5 days to complete. Please see the attached technical plan outlining the work area (highlighted in green).
Thank you to all who supported eHop Marathon runner Reilly McGreen! 
Congratulations to Reilly who successfully completed the 125th Boston Marathon!
https://twitter.com/eHop01748/status/1447636875108360192
https://ehop.org/marathon/
Roadwork Notice
Stormwater drainage work is scheduled for Tuesday October 19th in the area of 89 South Mill St. Work hours will be approximately 7a-5p.
The road will be closed in this area and a detour will be in place using Hunters Ridge Way and back onto South Mill St. Please use caution and drive slowly through the detour.
2022 ANNUAL TOWN MEETING & FY23 BUDGET TIMELINE
Budget season for 2022-23 is already underway – we'll keep our timeline updated as the year progresses so you can follow along.
Capital Improvements Committee – Did You Know?
Want to learn more about this committee?
Are you ready for the 2022 Boston Marathon? Here's what they learned from Monday's event.
HOPKINTON — The smoke from the barrel of the starting gun has barely dissipated, but organizers of the Boston Marathon have little choice but to immediately look ahead to the iconic race's 126th edition, scheduled for Patriots' Day 2022.
Superintendent: HHS receives DESE approval to make masks voluntary for vaccinated individuals
Superintendent of Schools Carol Cavanaugh announced Tuesday via a press release that Hopkinton High School has been approved by the state's Department of Elementary and Secondary Education (DESE) to make masks voluntary for COVID-vaccinated individuals, although nothing will change unless the School Committee votes to implement the new policy.
Parks & Rec roundup: Turf fields to engage consultant; dog park in home stretch; Upper Charles Trail expansion endorsed
The Parks & Recreation Commission discussed multiple projects at its meeting on Wednesday, including the Fruit Street fields replacement, the dog park project and the Upper Charles Trail.
Kathy Hervol of Gale Associates presented a proposal to consult on the replacement of the synthetic turf and infill at the Fruit Street fields. Gale Associates has completed more than 200 field projects, including the high school fields.
Marathon volunteers excited for race's return
The return of the Boston Marathon this October means the return of volunteers who have helped staff the annual event. After missing the past two spring events, they are eager to get back to work.
"It's awesome, it's something I look forward to every year," said Craig Gormley, the vice chair of the Hopkinton Marathon Committee and the captain of the Boston Athletic Association Start Team.
---