Weekly News Update – 11/14/2021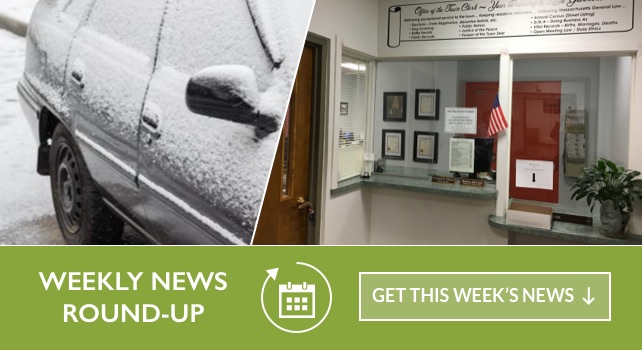 Main Street Corridor Project – Weekly Update • OPENINGS ON BOARDS & COMMITTEES (UPDATED) – APPLY ONLINE • Hopkinton Winter Parking Ban • School Committee approves MOA on HHS mask policy with teachers union • Letter to the Editor: Scouting for Food event upcoming • Parks & Rec roundup: Dog park opens; turf field project to seek bids • Fruit St Bridge Closure Update • Town Hall Q&A: Town Clerk Connor Degan • School Committee debates mask policy for athletics, gets MCAS update • Open Space Commission works on Whitehall • COVID-19 vaccination clinics for children ages 5-11 are filling fast • School system impacted by staffing shortages • Select Board roundup: Tribute paid to late longtime resident Joe Pyne • SELECT BOARD ACTIONS TAKEN 11/09/21
---
Main  Street Corridor Project – Weekly Update
What to Expect for the Week of November 15, 2021
Installation of Duct banks

Start at EMH "CC" (101 Main Street) to EMH "BB" (96 Main Street)

Start Traffic Signal conduits at intersection of Main Street and Wood Street
MassDOT Survey Crews to continue to locate limits of easements within the corridor
Delivery of Electric materials
https://hopkintonmainstreet.com/
RELATED: Live Construction Video Feeds are available for the Main Street Corridor Project, check where crews are working and traffic / weather conditions before you leave your home or office.
OPENINGS ON BOARDS & COMMITTEES (UPDATED) – APPLY ONLINE
Updated 11/12/21: The following Town boards & committees will have one or more anticipated vacancies.  Please see the Town website at www.hopkintonma.gov for information about the duties of specific boards and committees.  Interested residents must apply via the online volunteer form at  Town of Hopkinton, MA: Boards. Never served on a Board or Committee before? Take a look at Hopkinton's Board/Committee Orientation Handbook to get a better idea of what to expect.
View Full List of Openings and Details
RELATED ARTICLES: 
Committee Size: 7 voting members
Term Length: 3 years
Meeting Schedule: Typically once a month as determined by the members
PURPOSE: The Hopkinton Youth Commission is charged with identifying the emerging and ongoing needs of Hopkinton's youth and families. The Commission is responsible for creating community-wide opportunities that support long term well-being of all youth. Programs and activities supported by the Youth Commission shall promote an overall benefit to all youth and families. The Hopkinton Youth Commission should be creative, resourceful and seek collaboration with a range of partners to improve the wellbeing of all Hopkinton Youth.
Hopkinton Winter Parking Ban
Hopkinton Snow & Winter Bylaws -No shoveling snow into the roadway or sidewalks -No overnight parking on the street November 15 – April 1
The DPW wishes to remind all Hopkinton residents of By-Laws pertaining to the parking of motor vehicles during the winter months.
Traffic Rules and Orders, Town of Hopkinton, Article lV, Section 8 "It shall be unlawful for the driver of any vehicle, other than for an emergency, to park said vehicle on any street between the hours of 1:00am to 6:00am from November 15 through April 1.
School Committee approves MOA on HHS mask policy with teachers union
Following an executive session Tuesday night, the School Committee voted unanimously to approve a memorandum of agreement (MOA) with the Hopkinton Teachers Association regarding the new mask-optional policy for vaccinated individuals at Hopkinton High School.
Superintendent Carol Cavanaugh explained that the district had "come to an agreement with the Hopkinton Teachers Association in regards to the mask-lifting at Hopkinton High School," and she added that the HTA had ratified the MOA earlier in the day.
Letter to the Editor: Scouting for Food event upcoming
"I am writing to spread the awareness and instructions of the upcoming Scouting For Food event. As part of a national Boy Scouts of America program, Scouting for Food in Hopkinton is organized by the Hopkinton Scout Leaders Association and includes the Hopkinton Boy Scouts, Girl Scouts and Cub Scouts. The effort supports the Project Just Because Hopkinton Food Pantry."
Parks & Rec roundup: Dog park opens; turf field project to seek bids
At its meeting Wednesday, the Parks & Recreation Commission discussed updates regarding the dog park, Town Common, Fruit Street facilities and the Fiscal Year 2023 budget.
The new dog park is open and "being heavily used," said Parks & Recreation Department Director Jay Guelfi. The park is "as done as it's going to be until spring," Guelfi noted, clarifying that a gazebo and two benches remain to be installed, and the water fountain is not yet in operation.
Town Common requests approved
The commission approved a request from the Cooper family to light a menorah for Hanukkah in the Town Common from Nov. 28 through Dec. 6. The group also approved a request from the Girl Scouts to host a tree lighting ceremony and perform carols on the Town Common on Dec. 4 from 3:30-6:30 p.m., following the Chamber of Commerce Holiday Stroll event in town.
Operating budget discussed
The commission reviewed a draft of the Fiscal Year 2023 budget, which includes increased spending for staff salaries, repair, maintenance, equipment and electricity. Increased staff compensation costs were attributed largely to the expanded season at Sandy Beach, as well as standard merit increases and the minimum wage increase.
View Article
Fruit St Bridge Closure Update
Fruit Street bridge over the railroad tracks, near the Southborough town line, will be closed on Friday night, November 12, 2021 from 9:00 p.m. until Saturday morning, November 13, 2021 at 5:00 a.m.
Town Hall Q&A: Town Clerk Connor Degan
Connor Degan has spent most of his life in Hopkinton, attending the public schools and graduating from Hopkinton High School. He graduated from Roger Williams University in 2014 with a bachelor's degree in political science.
He decided to take a step back from this aspect of government around 2016 because "we started to see a real uptick in extreme partisanship."
"That wasn't part of my career goal," Degan explained. "I really wanted to help people in some more direct manner."
School Committee debates mask policy for athletics, gets MCAS update
The School Committee at its Monday night meeting discussed two major issues: the policy regarding wearing masks at school athletic events as well as the district's MCAS scores.
Athletic Director Rich Cormier appeared before the committee to request its guidance about what the mask policy should be at school sporting events, considering that the Massachusetts Interscholastic Athletic Association (MIAA) has not issued a recommendation since August.
View Article
Open Space Commission works on Whitehall
The Open Space Preservation Commission announced that efforts continued late last month to remove invasive plants — notably bittersweet, Japanese knotweed, multiflora rose, barberry and glossy buckthorn — from the meadow area of the Whitehall Conservation Area.
COVID-19 vaccination clinics for children ages 5-11 are filling fast
With federal officials giving the green light to Pfizer's COVID-19 vaccine for kids ages 5 to 11 last week, several local communities have begun setting up clinics to get the vaccine into young arms.
Dr. Kevin Churchwell, president of Boston Children's Hospital, said last week that vaccinating children against COVID-19 "will protect them and will slow the spread of this disease to the unvaccinated and to other very at-risk individuals."
School system impacted by staffing shortages
Many school districts across the nation have experienced staff and supply shortages, and Hopkinton has been no exception.
Schools Finance Director Susan Rothermich said there are three areas where employment needs are the greatest: bus drivers, cafeteria workers and crossing guards.
Select Board roundup
Tribute paid to late longtime resident Joe Pyne
During the public forum portion of Tuesday's Select Board meeting, Select Board Member Brendan Tedstone called attention to the passing of longtime resident Joe Pyne, who died Nov. 2 at the age of 81.
Appointments confirmed
The Select Board voted to confirm the following appointments: Nisha Nanaware-Kharade to the Affordable Housing Trust Fund Board, James Burton to the Board of Appeals, Sandra Story to the Cultural Council, Patrick Fagan to the Hopkinton Historic District Commission, Nasiba Mannan to the Veterans Celebration Committee, and Linda Chuss to the Sustainable Green Committee.
Misc.: Board OK's Boston Marathon bib policy
The board voted unanimously to approve its policy on distributing Boston Marathon charity bibs, which it does every year. Town Manager Norman Khumalo indicated that local organizations raised close to $300,000 through the program.
RELATED ARTICLE:
---