Weekly News Update – 12/12/2021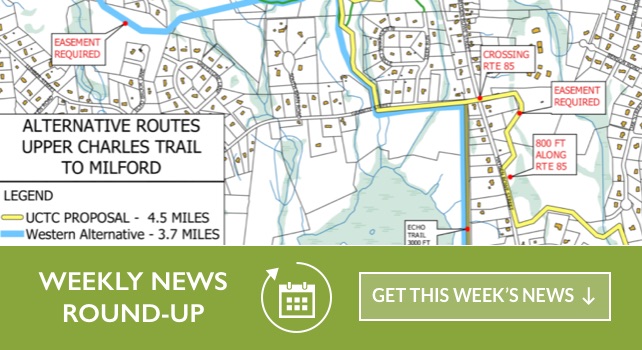 Main Street Corridor Project – Weekly Update • School Committee discusses budget with town leaders • Recent Actions Taken from Committees • Upper Charles Trail Committee hears public comments on trail progress • Hopkinton Trails Club proposes alternate route for Upper Charles Trail extension in town • Hopkinton's history tied to Magunco settlement • Select Board roundup: Lykan seeks to expand with new TIF; COVID cases rise; new library director welcomed • Planning Board roundup: Fox Hollow wall an issue; LFN tot lot fence OK'd • Planning Board Pedestrian Connectivity Survey • Filtration system will be temporary solution for town's tainted water • Town of Hopkinton Launches New Language Translation Tool on Town Website
---
Main  Street Corridor Project – Weekly Update
What to Expect for the Week of December 13, 2021
Installation of Ductbanks

Start at CMH (76 Main) to CMH (70 Main)
Start at TMH (76 Main) to TMH (70 Main)
Start at CMH (70 Main) to CMH (63 Main)
Start at TMH (70 Main) to TMH (63 Main)

MassDOT Survey Crews to continue to locate limits of easements within the corridor
Delivery of Electric Materials
https://hopkintonmainstreet.com/
RELATED: Live Construction Video Feeds are available for the Main Street Corridor Project, check where crews are working and traffic / weather conditions before you leave your home or office.
School Committee discusses budget with town leaders
The School Committee began its hybrid meeting Thursday night with a joint session with the Select Board and the Appropriation Committee to discuss the Fiscal Year 2023 school budget requests.
Finance Director Susan Rothermich explained that the FY23 operating budget of $57,116,428 showed a 5.8 percent increase from the previous year of almost $3,150,000.
Capital requests detailed at a previous meeting amounted to $7,222,000 but would be offset by a $6,287,000 in solar battery revenue offset that would pay for its purchase, leaving a projected taxpayer cost of $935,000.
RELATED VIDEO: School Committee: December 9, 2021
Recent Actions Taken from Committees
Hopkinton Cultural Council Actions Taken 11/17/21 – a quick summary in 3 minutes
Planning Board Actions Taken 12/6/21 – a quick 5 minute summary
Hopkinton Open Space Preservation Committee Actions Taken 12/2/21 – a quick 4 minute summary
Upper Charles Trail Committee hears public comments on trail progress
At its public meeting on Wednesday, the Upper Charles Trail Committee (UCTC) provided a progress report on the Hopkinton portion of the proposed trail project, an 8-mile path through town that extends from Milford to Ashland. The presentation by UCTC Chair Jane Moran and engineering consultants from VHB included a video flyover of the trail and background information on the project development. During the public comment portion of the meeting, nearly 20 residents spoke, with the majority expressing concerns about safety.
RELATED VIDEO: Upper Charles Trail Committee Trail Progress Report: December 8, 2021 & Public Hearing
RELATED NEWS:
The Trails Club, which is a private Hopkinton group, has proposed an alternative route that it considers safer, as it avoids any crossings of Hayden Rowe Street. The "Western Alternative" extends from the existing Center Trail around the western and southern sides of the Charlesview neighborhood to connect with the Hughes Farm Trail.
Hopkinton's history tied to Magunco settlement
As residents celebrated Thanksgiving this year, the Hopkinton Public Library had on display copies of 18th century documents relating to the Native American settlement on the land that became Hopkinton.
In 1669, Reverend John Eliot, a Puritan missionary to local Native Americans, developed the settlement first known as Magwonkkommok, then Magunco, and now known as Hopkinton — as well as Ashland and parts of Holliston and Upton.
Select Board roundup: Lykan seeks to expand with new TIF; COVID cases rise; new library director welcomed
Representatives from Lykan Bioscience appeared before the Select Board on Tuesday night to share plans for the expansion of the company's South Street headquarters and ask for discussions to start on a new tax increment financing agreement (TIF) with the town. The Select Board unanimously supported having town officials start negotiations.
Minor fixes for West Main traffic issue
The town made some minor inroads in its attempt to address the safety concerns on West Main Street in front of Cumberland Farms.
COVID cases on rise
In his update to the Select Board, Health Director Shaun McAuliffe said COVID-19 cases have been rising in town.
New library director introduced
Nanci Hill was unanimously approved as the new library director.
Planning Board roundup: Fox Hollow wall an issue; LFN tot lot fence OK'd
The Planning Board at its meeting Monday night continued a request to eliminate a requirement for approximately 400 feet of stone wall to be reconstructed across three lots on the Foxhollow Road subdivision that was part of a previously approved plan.
Foxhollow is an open space land preservation development (OSLPD) subdivision off Pond Street.
Planning Board Pedestrian Connectivity Survey
With more of Hopkinton's residents getting outside to walk, run, and bicycle, the Planning Board would like your input as it begins work on a pedestrian connectivity plan for our town. To help with their planning, please complete the following short survey.
Filtration system will be temporary solution for town's tainted water
The town's temporary solution to the issue of potentially harmful chemicals in its water supply will be to rent or purchase a filtration system for the problematic Fruit Street well, the Select Board decided Tuesday.
Additionally, residents who have been identified as being in the sensitive subgroup —  infants, pregnant women, nursing mothers and people who are immunocompromised — are to be reimbursed for their purchase of bottled water, as they are advised not to drink or cook with the town water until the issue is resolved with the PFAs (manmade per- and polyfluoroalkyl substances). Boiling the water is not a remedy, as it actually serves to concentrate the PFAs in the water even more.
RELATED:
Hopkinton PFAS – PUBLIC NOTICE
This is not an emergency. If it had been, you would have been notified immediately.  Although this is not an emergency, as a consumer of the water, you have a right to know what happened, what you should do, and what we did and are doing to correct this situation. 
Town of Hopkinton Launches New Language Translation Tool on Town Website
Director of Information Technology Josh Grossetti is pleased to announce the launch of a new language translation tool now available on the Town of Hopkinton's website.
The translation tool can be accessed on the town's site, www.hopkintonma.gov. Translations are offered in more than 80 languages including Arabic, Chinese (Simplified), Korean, Portuguese, Russian, Spanish and more.
---