Weekly News Update – 02/06/2022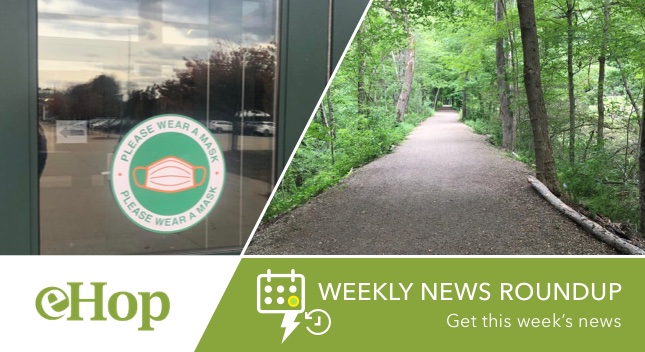 Update: Town Election Candidates 2022 • Bridge on Hopkinton-Westborough line to close for one year, get replaced • Hopkinton schools to add Eid-al-Fitr, Lunar New Year as no-school holidays • School Committee duo face open meeting law complaint, criticism from teachers union • UCTC addresses public concerns about trail proposal • State Rep. Dykema to depart for job with clean energy company • Eversource's latest tax appeal derails town budget presentation • Update: Police seek public's help regarding apparent hit-and-run from Jan. 22 • Parks & Rec roundup: PFAS concerns unlikely to delay turf field replacement • HHS graduation car parade gets tentative approval from Select Board • Laborers' Training Center presents development details to Planning Board • Carolyn Dykema joining caravan of departing Massachusetts representative
---
Update: Town Election Candidates 2022
Considering running for local office, but don't know where to begin? To become a candidate a person must either obtain and submit nomination papers by securing the signatures of 50 Hopkinton registered voters by Tuesday, March 28, 2022 or a person may qualify by being the top vote-getter in one of the town political party caucuses, which are typically held in early April. Nomination signature papers are available from the Town Clerk's office (18 Main St) starting January 18, 2022. Please email or call the Town Clerk's office with questions at townclerk@hopkintonma.gov 508-497-9710.
Click on the name of any elected office listed below to read more about it.
RELATED: 
Notice of Town Board & Committee Vacancies
Bridge on Hopkinton-Westborough line to close for one year, get replaced
HOPKINTON — The Fruit Street Bridge, which carries traffic over rail lines used by the MBTA and CSX Corp., will be closed for more than a year, starting next week, to accommodate its replacement.
In a press release, the Massachusetts Department of Transportation said the closure will start at 7 a.m. Monday and last until the spring of 2023, in order to accommodate a $12.5 million bridge replacement project.
Hopkinton schools to add Eid-al-Fitr, Lunar New Year as no-school holidays
Hopkinton Public Schools will add Eid-al-Fitr and the Lunar New Year to their calendar as official days off for the 2022-23 school year. The School Committee on Thursday voted 3-1, with one abstention, to make the change and add the two holidays.
RELATED: 
School Committee Meeting on HCAM TV & YouTube at 7:00pm on February 3rd
School Committee duo face open meeting law complaint, criticism from teachers union
Lori Nickerson filed the complaint with the state's attorney general's office on Jan. 31, the day after the alleged violation occurred. In her statement, Nickerson said that Markey and Tyler participated in a Zoom conversation with resident Christopher Melton. She said it was in violation of open meeting law because "the purpose of the Zoom meeting was to discuss and deliberate strategy regarding upcoming School Committee business." She charged that neither the Zoom meeting nor its topics were publicly announced.
UCTC addresses public concerns about trail proposal
At its meeting Wednesday night, the Upper Charles Trail Committee addressed feedback it has received about its trail proposal and discussed ways to better connect with the public about its goals and ideas.
UCTC Chair Jane Moran explained that the committee has "just begun a process" and is receptive to all opinions.
RELATED: 
Upper Charles Trail Committee at 5:00pm on HCAM TV & YouTube ON February 2nd
State Rep. Dykema to depart for job with clean energy company
State Rep. Carolyn Dykema, a Holliston Democrat who represents Hopkinton, announced Monday that she was resigning her post as of Feb. 11.
Dykema, who was elected in 2008 and has served ever since, has taken the position of Northeast policy director with Boston-based solar energy company Nexamp.
Eversource's latest tax appeal derails town budget presentation
Town Manager Norman Khumalo was to present the consolidated fiscal year 2023 budget to the Select Board for discussion at the board's Tuesday night meeting, but a late-breaking development forced a change in plans.
"This last-minute multimillion dollar change in our potential tax appeal liability changes the situation for the recommended FY 2023 budget materially and substantially," Khumalo continued. "This change will require a careful review and adjustment of the budget in your packet."
Khumalo said he expects to return in a few weeks with an updated budget, but, "for now, it's back to the drawing board."
Update: Police seek public's help regarding apparent hit-and-run from Jan. 22
The Hopkinton Police Department announced that it is investigating an incident that occurred last month in the area of 7 East Main Street, and it is seeking help from the public.
"Police have identified a vehicle of interest in the case, but the ongoing investigation has so far not led to an arrest."
The HPD is asking anyone who lives on East Main Street, Main Street and West Main Street and has home video surveillance footage from Jan. 22 between the hours of 2-3 a.m. to contact Detective Benjamin Stickney at bstickney@hopkintonpd.org or 508-497-3401, extension 1273.
Parks & Rec roundup: PFAS concerns unlikely to delay turf field replacement
PFAS concerns
Because PFAS are so ubiquitous, there is a chance that PFAS are present under the existing field, Terry elaborated, but "the fact that it's present doesn't mean the field caused it," he said, particularly because no initial testing was done prior to installation. "So, there's no way we're going to come to a real strong conclusion," Terry said.
Terry reported that Conservation Commission Chair Jeff Barnes acknowledged that the right path forward is to ensure that when the old field is pulled up that as little crumb rubber as possible is left behind.
HHS graduation car parade gets tentative approval from Select Board
The Hopkinton High School rolling car parade for graduating students, scheduled for June 4, was unanimously approved by the Select Board at Tuesday's meeting, but with the understanding that class representatives must work with town departments that expressed safety concerns and get their approval.
Laborers' Training Center presents development details to Planning Board
The Planning Board met for more than three hours Monday night, as representatives from the Massachusetts Laborers' Training Center gave an overview of their site construction plans, which include a new headquarters building and an updated dormitory.
"At this point in time, the facility has become overcrowded," he explained, noting that the curriculum for the students has expanded over time to include the handling of hazardous waste and gasoline.
Select Board roundup: Boston Marathon organizers praise Hopkinton; Lykan TIF close; budget discussion delayed
Boston Marathon
Grilk said the BAA's objective for 2022 is "an enhanced experience for everybody, over what we all did in 2021." He said vaccination requirements will be implemented for participants, volunteers, medical staff and vendors who have direct interactions with participants and volunteers.
Lykan Bioscience TIF close
Town Manager Norman Khumalo said there would be a presentation to the board at its next meeting regarding the proposed tax increment finance (TIF) agreement with Lykan Bioscience.
"About one and a half hours ago, our negotiating team and the Lykan team reached a tentative agreement on a draft TIF agreement to be presented to the board at your next meeting," Khumalo said.
Budget presentation delayed
Khumalo was to present the consolidated fiscal year 2023 budget to the Select Board for discussion, but he said a late-breaking development forced a change.
Carolyn Dykema joining caravan of departing Massachusetts representative
Seven-term Rep. Carolyn Dykema plans to resign from her office next week for a job in the solar energy industry, adding to a growing list of vacancies in the House and opening up a top job on the Legislature's Environment, Natural Resources and Agriculture Committee.
Dykema announced Monday that she had accepted a position as northeast policy director at Nexamp, a company that she said focuses on "vertically integrated solar and energy storage solutions across the country."
---