Weekly News Update – 03/13/2022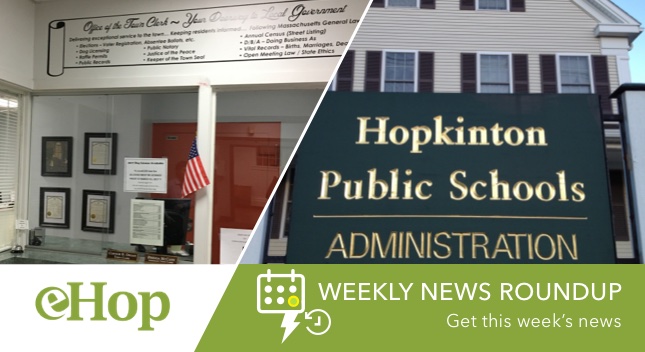 Select Board Votes To Put 2 School Com Vacancies On May Ballot • School Committee vacancies to be placed on this year's ballot • School Committee officially announces vacancies in special meeting: 'We will continue with the business of the schools' • Markey, Tyler resign from School Committee, which calls special meeting • TOWN ELECTION 2022 LIST OF CANDIDATES • East Main Street homeowners denied variance to rent property for private functions • Planning Board roundup: Frankland Road solar developer announces plans to start work; Marathon School addition discussed • Struggling to pay your gas or electric bill? Assistance is available • Parks & Rec roundup: Organic lawn care considered for Town Common
---
Select Board Votes To Put 2 School Com Vacancies On May Ballot
In a special Hopkinton Select Board meeting Saturday morning, members voted unanimously to place two School Committee vacancies that suddenly emerged earlier this week on the May 16 annual town election ballot.
The meeting was convened to determine whether there was time to place these vacancies on the ballot. Alternatively, the Select Board had the option to appoint two people to fill these openings temporarily.
RELATED: 
At a special meeting Saturday morning, the Select Board voted unanimously to have the two new School Committee vacancies placed on the ballot for the May 16 Annual Town Election.
Chair Nancy Cavanaugh said she was notified by Town Clerk Connor Degan on Tuesday at about 5:30 p.m. of the resignations.
Joe Markey and Meg Tyler filed paperwork this week with the town clerk to immediately resign from the School Committee, and the committee called a special meeting for Friday to announce the vacancies.
RELATED VIDEOS:
School Committee Special Meeting – March 11th
Select Board Special Meeting – March 11th
TOWN ELECTION 2022 LIST OF CANDIDATES
After today's Select Board meeting there are now two additional vacancies for School Committee on the May 2022 Ballot – Candidates may take out nomination papers starting Monday at the Town Clerk's office.
View All Positions and Candidates
East Main Street homeowners denied variance to rent property for private functions
The owners of 47 East Main Street, also referred to as 1790 Stone Manor, were dealt a significant blow in their attempt to rent out the property for private events when the Board of Appeals on Wednesday night voted to deny a variance from current zoning regulations.
While the owners had agreed to more than a dozen conditions in an effort to gain approval to move ahead with hosting private events, board members agreed the proposal did not meet the conditions for a variance.
Planning Board roundup: Frankland Road solar developer announces plans to start work; Marathon School addition discussed
Frankland Road solar
A controversial solar array project planned for land off Frankland Road is moving forward while the developer prepares to submit an application for a building permit, even as it is mired in litigation filed by some abutters.
Marathon School addition discussed
The board voted to continue discussion on the expansion of Marathon Elementary School, but not before casting an eye toward the potential need for future expansion to accommodate a growing student population.
Plans call for four additional classrooms: two kindergarten classrooms on the first floor and two first-grade classrooms on the second floor, along with a stair tower to support it.
Laborers' Training Center expansion moves forward
Continuing a previous public hearing on the proposed expansion of the Massachusetts Laborers' Training Center, the board gave unanimous approval, with several conditions, to the site plan and stormwater plan.
Connelly Farms updated plan approved
Unanimous approval was awarded to amend a previously approved plan for the Connelly Farms subdivision project at the corner of Hayden Rowe Street and College Street. The amended plan calls for a shortened roadway, shifting the location of the end of the cul-de-sac and reducing the number of lots from nine to eight.
Struggling to pay your gas or electric bill? Assistance is available
Additional energy assistance now available – Hopkinton is partnering with Eversource to raise awareness of additional fuel assistance funds available from the Low-Income Home Energy Assistance Program to help pay energy bills. This includes federal weatherization funds to reduce energy bills by making your home more energy efficient.
Parks & Rec roundup: Organic lawn care considered for Town Common
Organic lawn care
Jim Agabedis of Minuteman Landscaping attended the meeting to present a plan for organic lawn care on the Town Common. Agabedis explained the basics of organic lawn care, describing the process as safe, natural and effective, as well as a means to restore health to soil damaged by chemical treatments. Services may include soil testing, a soy-based fertilizer program, weed control, aeration and overseeding.
Fruit Street turf project awaits bid approval
Guelfi reported that the department is waiting on the town to approve the bid documents that have been submitted on behalf of the Fruit Street fields turf replacement project.
---