Weekly News Update – 03/20/2022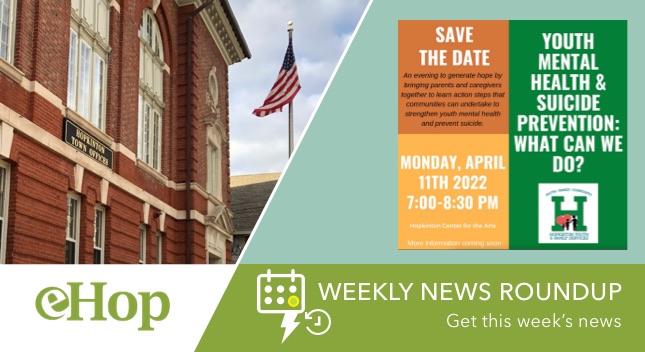 Openings and Updates on Town Boards & Committees • Two open Hopkinton School Committee seats will be decided during spring election • Upper Charles Trail Project: Frequently Asked Questions – March 17, 2022 • Become A Dementia Friend: An Information Session • Gifted learners, COVID numbers discussed at School Committee meeting • Youth & Family Services to host program on youth mental health, suicide prevention • DPW presents revised Lake Maspenock weed treatment plan to Conservation Commission • Select Board roundup: No official show of support for Ukraine; law firm to be hired for PFAS • Select Board Actions Taken 03/15/22 • Hopkinton says it supports Ukraine. But no visual display at Town Hall • Board of Health roundup: With COVID waning, other issues move to forefront • Main Street Corridor Project work to resume this week
---
OPENINGS AND UPDATES ON Town BOARDS & COMMITTEES 
There is a new opening on the Cultural Council due to a resignation, as well as 12 vacancies on other committees that remain unfilled after several months.
One new candidate pulled papers for the School Committee 1-year race yesterday, now all three School Committee seats are contested races.
School Committee (3 years, vote for 1) – 

Contested Race

Nancy M Richards-Cavanaugh, Democrat, Incumbent
Christopher D Melton, Republican

School Committee (2 years, vote for 1) – 

Contested Race

Ashley Fogg, Unenrolled
Holly Morand, Democrat

School Committee (1 year, vote for 1) – 

Contested Race

Jennifer Devlin, Democrat
Jared Pray, Democrat
RELATED NEWS: 
Anybody interested in one of two newly vacant School Committee seats has a limited amount of time to secure a spot on this spring's ballot.
In a press release, Town Manager Norman Khumalo and Town Clerk Connor Degan announced that the two spots will be decided during the spring town election on May 16. The Select Board chose this route during a Saturday special meeting, as opposed to appointing temporary replacements.
Upper Charles Trail Project: Frequently Asked Questions – March 17, 2022
The frequently addressed questions and topic included in the document are:
Concerns with proposed crossings of Hayden Rowe
Proposed alignment along Hayden Rowe impacting Private Property
Including the Trail within the Irvine/Todaro Properties
Use Trails Club proposed alignment instead of the UCTC Alignment
As pointed out in the presentation from the Trails Club, we want to walk and bike in the woods, not use a trail for transportation
Hopkinton residents want stone dust trails, not paved trails
Suggest pushing off submittal of the Environmental Notification Form (ENF) until all feedback received is incorporated into the plan
What, if any, studies have been done to analyze the traffic impact on the EMC Park parking lot and mitigate parking concerns anywhere along the proposed trail alignment
Construction Cost (Stone Dust and Asphalt)
Become A Dementia Friend: An Information Session
A Dementia Friends Information Session gives people an understanding of dementia and the small things you can do that make a difference.
Tuesday April 12, Time: 7-8:30 pm
Location: Hopkinton Center for the Arts
(Wheelchair Accessible)
Wednesday April 27, Time: 1-2:30 pm
Location: Hopkinton Senior Center
(Wheelchair Accessible)
Gifted learners, COVID numbers discussed at School Committee meeting
A presentation about the efforts being made to address the needs of high-achieving learners in the district dominated Thursday's School Committee meeting. Superintendent Carol Cavanaugh noted that knowing each child as an individual learner is a priority in the district and shapes and drives how instruction is delivered.
School Committee Member Lya Batlle-Rafferty questioned what happens when kids get to the middle and high school, where lessons are less flexible and more "rigid." In higher grades, the superintendent replied that it is possible for students to give a certain level (i.e. AP class) a try for a while and move up or down depending on how it is working for them.
COVID-19 numbers reported
Superintendent Cavanaugh reported on COVID-19 numbers during the week of March 11-17, noting that there were no cases at the middle school or high school. There were four cases at Hopkins and five reported at Marathon during that time period. However, Elmwood had a total of 20 cases.
Additional coaches added
The superintendent discussed a request from Athletic Director Rich Cormier asking for one additional coach each at the middle and high schools for outdoor track and field this spring. Cormier pointed out in a letter that enrollment for the "no cut" sport was at an all-time high, with 220 student-athletes registering at the high school with six coaches and 110 student-athletes with three coaches at the middle school.
Middle school robotics team to compete
The school Committee voted unanimously to allow 14 students from Hopkinton Middle School to compete at the VEX Robotics World Championship event in Dallas from May 7-11. At the last meeting, the committee had granted permission for high school students to compete.
Youth & Family Services to host program on youth mental health, suicide prevention
Hopkinton Youth and Family Services announced that it will host a program focused on youth mental health and suicide prevention. The event will be held on April 11 from 7-8:30 p.m. at the Hopkinton Center for the Arts.
DPW presents revised Lake Maspenock weed treatment plan to Conservation Commission
Nearly two years after 
nixing a plan to use herbicides
 to treat weeds in Lake Maspenock, and after voters at a previous Town Meeting also voted it down, the Conservation Commission on Tuesday night took up a revised plan from the Department of Public Works.
Select Board roundup: No official show of support for Ukraine; law firm to be hired for PFAS
At its meeting Tuesday night, the Select Board considered a resident's request for a town-sponsored display at Town Hall to show support for Ukraine, but members ultimately did not more forward after questions were raised about the town taking a political stance.
Town to hire law firm for PFAS
The Select Board unanimously approved a request from the town manager to sign a retainer agreement with the law firm of Napoli Shkolnik PLLC for "evaluation, advice and prosecution of all available legal claims against any and all parties, individuals and/or corporations that may be liable under the law for injuries and/or property damages suffered by the town arising out of the contamination of water supplies" by PFAS and similar substances.
Misc.: COVID news positive
Health Director Shaun McAuliffe, in his COVID-19 update, said the numbers continue to move in the right direction, despite a couple of recent hiccups. He also noted that following three local COVID-related deaths in January, there have been no serious illnesses or deaths in town in February or March.
RELATED: 
While Select Board members expressed solidarity with Ukrainians as a result of the ongoing conflict, some were hesitant to go along with a resident's request to have a visual display outside Town Hall, saying the town should not be making an official political statement.
Board of Health roundup: With COVID waning, other issues move to forefront
COVID-19 is not completely off the radar, but as cases continue to decline, Hopkinton health officials are ready to dig into other important health issues.
"One of the things we've been discussing is how one of our challenges, moving out of COVID, is keeping it in the rearview mirror and transitioning into the basic everyday services we were providing pre-COVID," Health Director Shaun McAuliffe told the Board of Health during its meeting Monday night.
He listed three general areas of focus: mobile integrated health care, community EMS programs (CEMS), and youth- and family-related substance abuse.
Questions remain on PFAS
Revisiting a topic that has generated much discussion, McAuliffe said he has been "needling" the Department of Public Health and other state agencies on disseminating more information regarding per- and polyfluoroalkyl substances, or PFAS.
More PPE to be ordered
In a sign that COVID isn't entirely a thing of the past (according to Carter, the state has recorded 22 positive cases in Hopkinton so far this month, not including schools), McAuliffe said he plans to finalize the purchase of personal protective equipment, or PPE. That is thanks to $150,000 from the Metrowest Health Foundation.
Main Street Corridor Project work to resume this week
This week's goals include mobilization to the job site along with traffic signal installation, according to information from Town Hall.
---