Weekly News Update – 03/27/2022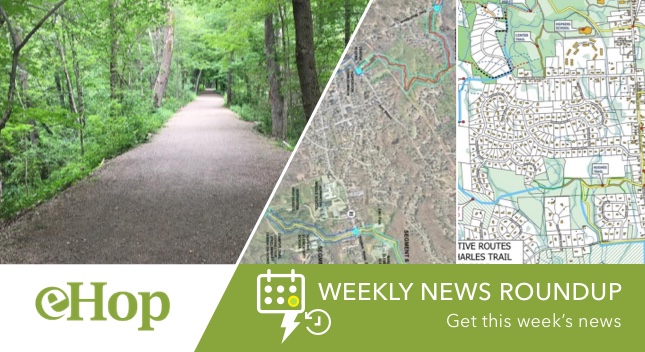 Upper Charles Trail Project – Part 3: An Alternative Proposal to Some Sections of the UC Trail • Upper Charles Trail Project – Part 2: Design Proposal and Potential Impacts • Upper Charles Trail Project – Part 1: The Beginnings • Frequently Asked Questions from Upper Charles Trail committee and Hopkinton Trails Club • Upper Charles Trail Project Public Workshop: Scheduled for April 13, 2022 • Update on Seaboard Solar's Project located on Frankland Rd • Planning Board discusses economic development officer, OK's Marathon School major site plan for addition • Follow 2023 Budget and 2022 Annual town hall and Election 
---
All about Upper Charles Trail project 
UPPER CHARLES TRAIL PROJECT – PART 3: AN ALTERNATIVE PROPOSAL TO SOME SECTIONS OF THE UC TRAIL
A few of the segments  of the Upper Charles Trail project have been actively discussed and debated since the first public hearing on December 8th 2021.
An alternate trail route was proposed by the Hopkinton Trails Club soon after. The alternative proposal is intended as a solution to some of the potential drawbacks to specific portions of the Upper Charles Trail proposal (close to the schools, EMC park and echo lake area).
UPPER CHARLES TRAIL PROJECT – PART 2: DESIGN PROPOSAL AND POTENTIAL IMPACTS 
The proposed Trail Map contains a total of 11 segments that connect Hopkinton State Park and Legacy Farms via Segment 1 all the way to the Upper Charles Trail parking off Rte 85 at the border of the 3 towns – Hopkinton, Holliston and Milford.
Several 'sub-projects' relating to development of these segments are important aspects of the main project and specific segment designs come with their own set of challenges, design considerations and impacts.
UPPER CHARLES TRAIL PROJECT – PART 1: THE BEGINNINGS
Read about the History, Background, goals and challenges.
Frequently Asked Questions from Upper Charles Trail committee and Hopkinton Trails Club
UCTC FAQ regarding issues related to Hayden Rowe crossings, private property impacts, Materials and construction costs.
Response to the Upper Charles Trail Committee's (UCTC's) FAQ Sheets From the Hopkinton Trails Club
Upper Charles Trail Project Public Workshop: Scheduled for April 13, 2022
The Upper Charles Trail Committee (UCTC) will be conducting a public workshop on April 13 at the Hopkinton Senior Center.
When: Wednesday, April 13, 2022 from 5:00pm to 8:00pm
Where: Hopkinton Senior Center, 28 Mayhew Street
The goals of the workshop is to provide residents an opportunity to view and provide feedback on the proposed trail alignments evaluated by or presented to the UCTC to date.
The workshop will be hosted by town staff, and individual stations will be set up for residents to ask questions of Town staff and shared-use path design professionals.
Members of the Upper Charles Trail Committee will also be in attendance.
A Google Meeting Room will also be provided for those residents who may not be able to attend in person.
A host will be provided by the town to answer any questions in the remote meeting room.
Update on Seaboard Solar's Project located on Frankland Rd
Seaboard Solar has notified the town that it plans to proceed with clearing, site stabilization and construction at their own risk for their planned solar farm at 71 Frankland Road. The Solar Farm Special Permit has been appealed by abutters and the appeal is still pending. The property is also the subject of a Citizen's Petition at Town Meeting to take the land by eminent domain
"Due to the time constraints of the statement of qualifications that we received from the Massachusetts Department of Utilities," Rodriguez continued, "we decided to proceed with the clearing of the property and the stabilization of the site while we prepare the documents needed for the issuance of the building permit."
Planning Board discusses economic development officer, OK's Marathon School major site plan for addition
Economic Development Officer
At least two members of the board indicated some reservations, while member Fran DeYoung, who served on the Growth Study Committee, said that group's recommendation was born of an analysis and review of other regional towns employing an economic development officer or group.
Marathon School major site plan approved
Continuing a public hearing from its last meeting, the Planning Board issued its unanimous approval of a major site plan for a $3.6 million project that will add four classrooms and 6,400 square feet to Marathon Elementary School.
MetroWest police invest in hybrid cruisers to save money, environment
"The Hopkinton Police Department has six hybrid cruisers — they're SUVs just like all other Ford Interceptors." Deputy Police Chief John Porter said they were purchased after significant research.
Main  Street Corridor Project – Weekly Update
What to Expect for the Week of March 28 to April 1 2022:
Continue Utility work along Main Street in front of the Fire Station and CVS
Delivery of Electric Materials.
https://hopkintonmainstreet.com/
RELATED: Live Construction Video Feeds are available for the Main Street Corridor Project, check where crews are working and traffic / weather conditions before you leave your home or office.
Follow 2023 Budget and 2022 Annual town hall and Election 
2022 ANNUAL TOWN MEETING & FY23 BUDGET TIMELINE
TOWN ELECTION 2022 LIST OF CANDIDATES
OPENINGS ON BOARDS & COMMITTEES
---
---