Weekly News Update – 06/05/2022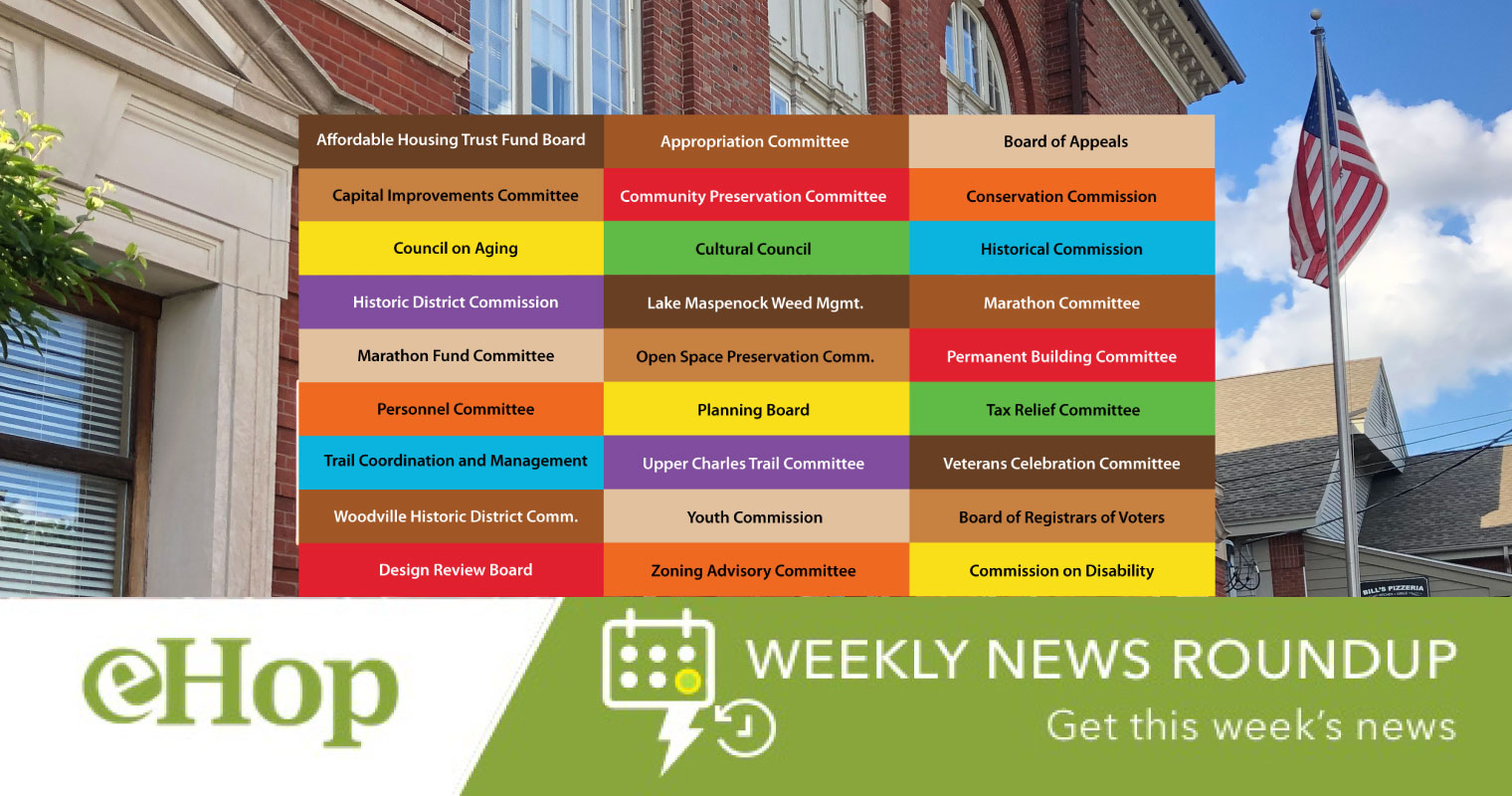 Board & Committee Openings • School Safety • School Committee Update • Turf Field Update • Youth & Family Services Programs • Hopkinton Maintains AAA Bond Rating • DPW Shares Road Repaving Plan for Summer 2022 • Main Street Corridor Update • Board of Health Update – Covid Rates Soar
---
Board & Committee Openings
Hopkinton has openings on 27 different boards & committees coming up this summer. Residents can apply online now to be appointed at the next Select Board meeting, most boards are open to residents of all ages and citizenship is not required for membership on most boards. Details about each board and how often they meet can be found on the eHop website.
Planning Board Vacancy
The Hopkinton Planning Board currently has 1 vacancy due to a resignation. The town has posted the job description. Interested residents may apply online on the town website. Must be a registered voter to apply.
https://groups.google.com/a/hopkintonma.gov/g/hopnotices/c/kGKxQ8980QU
Notice of Board/Committee Vacancies (Updated June 2, 2022)
School Safety
Hopkinton Police and Public Schools Issue Joint Statement to Community
HPS administrators 'heartbroken' following Texas school shooting, plan to review safety protocols in Hopkinton
Residents share shock, dismay at vigil following school shooting
School Committee roundup
Repairs continue after flood at middle school; protocols adopted
Parks & Rec roundup
Turf field removal to begin end of June
A Note from Hopkinton Youth & Family Services as youth and families continue to process the Ulvade, Texas shooting
It is normal for adults and children to experience a range of reactions following the news of a school shooting and most recently the tragic mass murder of students in Ulvade, Texas. Over the past week we have begun to receive questions about "what is normal" about how reactions are experienced to this tragedy.
More Information and Links to Resources
Hopkinton Youth & Family Services – June Events
Family Stress Workshop
Families for Depression Awareness
Wednesday, June 8 at 7:00-8:30pm
Hopkinton Library, 13 Main St
Teen Stress Toolkit for youth ages 14-24
Families for Depression Awareness
Thursday, June 9 at 7:00-8:30pm
Hopkinton Library, 13 Main St
Town Highlights Ongoing Work of the Hopkinton Organizing for Prevention Coalition
Town Manager Norman Khumalo and Hopkinton Youth & Family Services Director Dawn Alcott are pleased to highlight the ongoing work of the Hopkinton Organizing for Prevention (HOP) coalition and introduce staff members. 
Read the full details about the work of the HOP Coalition
Town of Hopkinton Maintains Exemplary Bond Rating
Town Manager Norman Khumalo and Chief Financial Officer Tim O'Leary are pleased to report that Standard & Poor's Financial Services LLC (S&P) Global Ratings has affirmed the Town of Hopkinton's strong AAA credit rating.
Read more details about Hopkinton's Bond Rating
DPW Shares List of Streets to be Resurfaces this Year
Our 2022 Pavement Management Plan roadwork is tentatively scheduled to begin sometime after July 4. We will post updated construction dates as we move forward with each project. Each street that is on this year's list has been inspected and evaluated to determine which treatment method is best based on the street's current condition. Read the. full Roadwork Notice.
The following is a list of streets that are currently scheduled to be resurfaced this year.
Daniel Shays Rd – Full length
North Mill St – Full length
South St – West Main St to 710' S of West Main St
South St – #176 to the Milford Town Line
Westcott Dr – Pond St to 760' S of Pond St (The old section)
West Elm St – Barbara Rd to the Dead End
West Main St – 100' E of South St to 900' W of South St
Main Street Corridor Project Update
What to Expect for the Week of June 6, 2022 to June 10, 2022
Saw Cut for Ductbanks
Electric Ductbanks from the Boston Marathon Start Line toward 2 Main Street, and from 2 Main Street toward 20 Main Street
Service Connections from the Fire Station towards CVS
Stone Wall Remove and Reset at 77 Main and 101 Main Street
Read more details about the Main Street Corridor Project
Board of Health
Health Department encourages more mask use as COVID rate continues to soar:
The recent spike in COVID cases has shown no letup. In fact, it continues to get worse. The good news is the illnesses have not been as severe. The bad news is the absences caused by COVID have put a major strain on town services — especially the schools. Read more about the Board of Health Meeting.
---