Weekly News Update – 11/28/2022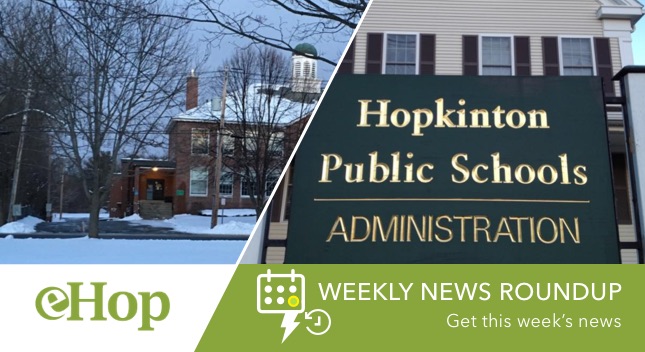 Town announces budget listening sessions Dec. 5, 8 • Residents invited to apply for heating assistance • Hopkinton again shows it's a caring community with Dementia Friends program • School budget plans include requests for personnel • Openings on Hopkinton boards and committees • Winter Parking Ban & Pushing Snow Into the Street or Sidewalk By-Laws • Main Street Corridor Project Update 
---
Town announces budget listening sessions Dec. 5, 8
The town announced that there will be comprehensive fiscal year 2024 budget listening sessions on Dec. 5 and Dec. 8. The Dec. 5 session, titled "Seniors Speak," will be held at the Senior Center (28 Mayhew Street) from noon-1 p.m. The Dec. 8 session, called "Business Community Voices," is scheduled for the HCAM studios (77 Main Street) from 8-9 a.m.
Elmwood school project community forum 3
November 30th at 6:30pm at the Hopkinton High School and on HCAM. Come voice your opinion.
Related Information:
https://www.elmwoodproject.com/ 
Residents invited to apply for heating assistance
The South Middlesex Opportunity Council (SMOC) is accepting applications for this year's Heating and Fuel Assistance Program. The program pays a portion of the cost of one's primary source of heat — including wood, pellets, gas, oil, kerosene, propane, coal and oil — for the winter season, which runs Nov. 1 to April 30.
Hopkinton again shows it's a caring community with Dementia Friends program
Hopkinton once again has proven it is a caring community. In the past 11 months, 100 residents have become Dementia Friends, helping the community become an even more welcoming hometown for every citizen but especially those who are aging or have dementia.
School budget plans include requests for personnel
Budget presentations from building and administrative leaders were on the Hopkinton School Committee meeting agenda on Thursday.
High school
On behalf of the high school, Principal Evan Bishop outlined some of the areas contributing to a proposed 5.6 percent increase in the fiscal year 2024 budget.
Middle school
Middle School Principal Matt Lefebvre talked about the three proposed new positions and elimination of one position in the proposed FY24 budget, which has a 5.5 percent increase overall.
Athletics
Athletic Director Kiely Murray said her department's budget reflected a 5.9 percent increase, or $81,963. She said an increase in athletic fees helped to offset the budget by $30,000.
SPED positions a point of contention
At the public comment portion of the meeting, discussion continued about the need for more special education (SPED) therapists and opposition to proposed cuts in that area.
Openings on Hopkinton boards and committees
Updated 11/16/22: The following Town boards & committees will have one or more anticipated vacancies.  Please see the Town website at www.hopkintonma.gov for information about the duties of specific boards and committees.  Interested residents must apply via the online volunteer form at Town of Hopkinton, MA: Boards. Never served on a Board or Committee before? Take a look at Hopkinton's Board/Committee Orientation Handbook to get a better idea of what to expect.    
Winter Parking Ban & Pushing Snow Into the Street or Sidewalk By-Laws
The DPW wishes to remind all Hopkinton residents of By-Laws pertaining to the parking of motor vehicles during the winter months. Traffic Rules and Orders, Town of Hopkinton, Article lV, Section 8 "It shall be unlawful for the driver of any vehicle, other than for an emergency, to park said vehicle on any street between the hours of 1:00am to 6:00am from November 15 through April 1.
Main Street Corridor Project Update
What to Expect for the Week of November 28, 2022, to December 2, 2022
Detours
Eastbound detour from Pleasant Street to Maple Street to Hayden Rowe will be used Monday-Friday
Eastbound detour from Grove Street to Maple Street to Hayden Rowe will be used Monday-Friday
Project Wide
Continue winterizing project (asphalt for driveways, sidewalks, wheelchair ramps)
East Side of Project
Continue underground service connections between the Muffin House and Church Street
West Side of Project
Begin paving the bike lane
Temporary sidewalk work towards the end of the week in front of 4 West Main (Wood Street detour may be utilized) 
Read more details about the Main Street Corridor Project
---
---