Weekly News Update – 12/11/2022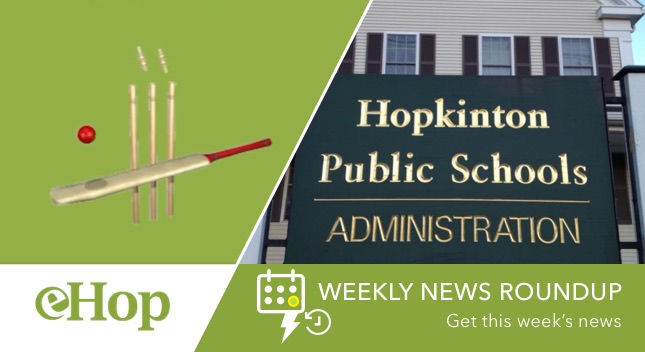 School Committee meeting centers on FY24 budget, capital requests • Proposed Pyne Field cricket pitch dominates CPC discussion • Hopkinton Health Department: Falls Prevention Clinic • Conservation Commission continues Mass Laborers hearing, gives ultimatum on The Trails • Historic downtown home demolished • Planning Board makes progress on Morse Lane, continues hearing • Select Board roundup: Regional call center proposal spurs discussion; police chief seeks changes to rank structure; new police/fire hires introduced • `Disconnect' continues regarding proposed therapy services cuts at schools • Parks & Rec discusses sustainability, pending projects • Grade configurations, budget requests among School Committee topics • Main Street Corridor Project Update
---
School Committee meeting centers on FY24 budget, capital requests
The proposed fiscal year 2024 budget and capital plan dominated Thursday's School Committee meeting, held jointly with the Select Board and Appropriation Committee. Director of Finance Susan Rothermich led a presentation about a proposed $60 million school operating budget, noting an 8.1 percent increase (approximately $4.5 million) over this fiscal year. Most of that increase, nearly $3 million, is in salaries.
Proposed Pyne Field cricket pitch dominates CPC discussion
The Community Preservation Committee on Thursday reviewed several applications under consideration for fiscal year 2024 funding via the Community Preservation Act, with the proposal for a $706,000 cricket pitch at Pyne Field generating the most discussion and support.
Hopkinton Health Department: Falls Prevention Clinic
Enjoy a morning out with your peers and perhaps snag a life hack or two, maybe even a free door prize! Free screening with a nurse, pharmacist, physical therapist, and podiatrist along with practical tips for safety. Follow up available through our Community EMS program, as well as a home safety check and referral to your primary care physician if indicated. Registration is required. Click here for registering
Conservation Commission continues Mass Laborers hearing, gives ultimatum on The Trails
Laborers project insists on gas line through campus If the gas line were to go down Clinton Street to East Street, as commission members and residents discussed previously, it would cost roughly $1.7 million and require the removal of 15 trees on a scenic road. Added Connors: "So our little stream crossing here is fairly small in terms of the impact versus $1.7 million. It's no cost to the laborers because of the gas consumption." Commission loses patience with The Trails The other major hearing regarded The Trails, a 55-and-over housing development located off Legacy Farms North Road. The project continues to cause consternation for commission members. Last year, fines were issued against The Trails because sediment ran into the Hopkinton Reservoir, impacting both Hopkinton and Ashland.
Historic downtown home demolished
Known to longtime residents as Dr. Joe's (Annunziata) House, the structure at 17 Main Street was demolished yesterday following a fire that damaged it and businesses in the rear. Following the fire, owner Tom Carey ensured the town he would rebuild on the same footprint.
Planning Board makes progress on Morse Lane, continues hearing
The Planning Board at its meeting Monday night voted to continue the hearing on the Capobianco family subdivision on Morse Lane after nearly an hour of discussion to allow Principal Planner John Gelcich time to draft clearer language on the findings and conditions regarding the property for a vote at the next meeting on Dec. 19.
Select Board roundup: Regional call center proposal spurs discussion; police chief seeks changes to rank structure; new police/fire hires introduced
With local emergency personnel speaking out against the proposal for a regional emergency communications center (RECC), plans were made for an information session before the Select Board makes a decision on whether or not to proceed.
As part of the proposal, Hopkinton would join with Southborough, Westborough and Grafton to share emergency call center staff. The other three towns continue to discuss the issue as well.
Police chief gets support for changes in rank structure
Police Chief Joseph Bennett appeared before the Select Board and requested additional higher-ranking positions within the department — not new hires, but changes to the rank structure. 
New police, fire hires introduced
One new police officer and two firefighters were introduced to the Select Board and community.
RELATED:
Select Board Actions Taken: 12/06/2022
`Disconnect' continues regarding proposed therapy services cuts at schools
Once again, Thursday's School Committee meeting featured a public comment period when several speakers expressed concern about proposed reductions in occupational, physical and speech and language therapies.
At issue is a budget proposal that would cut 0.8 from physical therapy staffing, 0.8 from occupational therapy and 0.5 from speech therapy.
Hopkinton Teachers Association President Becky Abate challenged the data as "inaccurate" and said promises of no impact to students are "misleading." She said that despite being given additional data and corrections by staff, administrators continue to present the data in a way that doesn't reflect service needs.
Parks & Rec discusses sustainability, pending projects
The Parks & Recreation Commission at its Wednesday meeting learned about the efforts of the town's Climate Action Workgroup to promote sustainability and discussed potential ways in which the commission can work with the group.
The Climate Action Workgroup is a subcommittee of the Sustainable Green Committee, explained member Geoff Rowland. The first project it is working on is creating a greenhouse gas emissions inventory to determine the sources of Hopkinton's emissions.
Updates provided on projects
Guelfi told the commission that the design for the proposed pickleball courts has been updated to look "much more symmetrical." He also met with Hopkinton Area Land Trust (HALT) Director Chuck Dauchy, who was agreeable to reconfiguring the trail on the proposed site to accommodate the courts.
Pyne Field reconfiguration discussed
Terry brought up the potential reconfiguration of Pyne Field. Guelfi said there were some safety concerns that were brought up by the sawmill company that uses the parking lot about being able to access Fruit Street.
Bidding process for EMC bathrooms delayed
The bidding process for the study of construction of the EMC bathrooms has been delayed, Guelfi noted, because of the previous resignations of the town's procurement officer and accountant, positions that have since been filled. There was a question by the company that wanted to bid on the project about the bid's language that could not be answered due to the vacancies in these positions. 
Grade configurations, budget requests among School Committee topics
One of the pending decisions by the School Committee is whether to have a new Elmwood School cover Grades 2-3 or Grades 2-4.
A presentation on Thursday included diagrams showing configurations until 2032. Projected enrollment for a two-grade facility is 774 students, while a building housing three grades would accommodate 1,176 pupils.
Superintendent Carol Cavanaugh explained that many different configurations exist across the country, with the most common being K-5, 6-8 and 9-12.
Main Street Corridor Project Update
What to Expect for the Week of December 12, 2022, to December 16, 2022
Detours
Eastbound detour from Pleasant Street to Maple Street to Hayden Rowe will be used Monday-Friday
Eastbound detour from Grove Street to Maple Street to Hayden Rowe will be used on an as needed basis.
Project Wide
Electric manhole work
Install Road Signs
East Side of Project
Continue underground service connections between the Muffin House and Church Street
West Side of Project
Continue winterizing project (finish paving any unfinished driveways and continue placing brick/granite walkways)
Area of focus will be between Wood Street and the Fire Station 
Read more details about the Main Street Corridor Project
---
---