Weekly News Update – 03/19/2023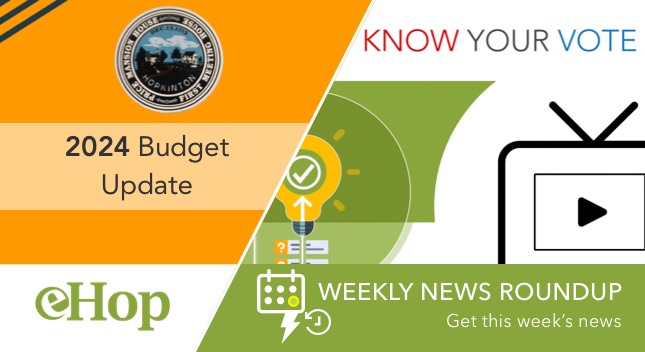 SAVE THE DATE: KNOW YOUR VOTE 2023 • Town Election 2023 – List of Candidates • UCTC supports inclusion of town in MetroWest effort to join East Coast Greenway • Conservation Commission leverages fines against Turkey Ridge developer due to stormwater issues • Select Board forwards adjusted FY24 budget to Appropriation Committee • Board of Health works on tobacco regulations, strategic planning • Select Board supports IMA with Southborough to address water supply; DPW gives update on dirty water • Political parties set dates for town caucuses • Parks & Rec approves return of Farmers Market
---
SAVE THE DATE: KNOW YOUR VOTE 2023
eHop will hold its 11th Annual Know Your Vote forum on Tuesday, April 18, 2023 at 7-9 pm.  This will be an in-person forum at Hopkinton High School (90 Hayden Rowe St) HCAM Studios (77 Main St). It will be broadcast live on HCAM-TV and YouTube. This is a unique opportunity to get the answers you need from town officials before Town Meeting.
Town Election 2023 – List of Candidates
There are two new town election candidates for Planning Board this week. The Planning Board 2-year seat is the only contested race. All other seats are currently unopposed.
Running List, last updated 03/10/23.
UCTC supports inclusion of town in MetroWest effort to join East Coast Greenway
The Upper Charles Trail Committee at its meeting Wednesday night voted unanimously in favor of a proposed concept that would connect Hopkinton and several neighboring MetroWest communities to the East Coast Greenway.
In order to connect to the Framingham commuter rail station, nearby parcels owned by the CSX rail company would need to be acquired by the state, totaling about 2.5 miles. It is sometimes used for train storage.
Conservation Commission leverages fines against Turkey Ridge developer due to stormwater issues
The Conservation Commission at its meeting Tuesday night voted unanimously to leverage fines previously held in abeyance totaling $31,800 against the developer of the proposed Turkey Ridge Estates development because of a new violation discovered on the day of the hearing.
Select Board forwards adjusted FY24 budget to Appropriation Committee
Following a lengthy discussion, the Select Board voted unanimously Tuesday to forward a revised fiscal year 2024 budget of approximately $113 million to the Appropriation Committee. A stipulation was made to restore $115,000 from a $350,000 reduction to the schools budget in case pending grant money does not get approved.
The budget so far
The School Committee voted for a $60.1 million budget, which is an 8.3 percent increase over FY23. About 4.5 percent of that increase, Superintendent Carol Cavanaugh said, was in non-negotiable costs either by contract or law. However, the budget that the Select Board forwarded to the Appropriation Committee had a revised increase of 7.7 percent over FY23 (0.5 percent less than the increase voted by the School Committee). The School Committee reaffirmed support for their original budget request of 8.3 percent over FY23 at their March 16, 2023 meeting.
Per pupil comparisons presented
Cavanaugh spoke about per pupil expenditures comparing Hopkinton to 321 communities in the state. In six categories, Hopkinton ranks in the bottom 25 percent of the state for per pupil expenditures.
Other departments impacted by changes
Khumalo noted at the Select Board meeting that the adjusted operating budget would maintain critical services, meet contractual obligations and have a 2.9 percent tax impact on existing homeowners.  In the budget that the Select Board forwarded to the Appropriation Committee, the following town departments had decreases to their original budget requests:
| Department | Change from Original Request |
| --- | --- |
| Land Use: Fund Land Use Expenses from Building Fees | -$50,000 |
| Police: Slow Police Vacancy Requirement | -$38,307 |
| Dispatch: Defer Communications Staffing Changes | -$36,999 |
| Fire/EMS: Defer Fire Department Staffing Changes | -$158,000 |
| DPW: Level Fund Highway Paving Program | -$99,000 |
Board of Health works on tobacco regulations, strategic planning
The Board of Health met Monday evening to discuss when a hearing can be held on the adoption of the amended state product regulations for tobacco sales and to announce progress made on the Health Department's strategic plan.
Next month, the town will begin its training on the administration of NARCAN for suspected drug overdoses, as well as education on preventing and treating substance misuse, Carter said.
Select Board supports IMA with Southborough to address water supply; DPW gives update on dirty water
The Select Board at its meeting Tuesday voted to support an intermunicipal agreement with Southborough to purchase water for Hopkinton.
While the water comes from the Massachusetts Water Resources Authority, Hopkinton would purchase the water directly from Southborough.
Comcast deal will boost HCAM
Attorney Bill August, representing the town, explained that Hopkinton has completed a 10-year agreement with Comcast as part of the cable company's renewal process. The deal will provide the maximum 5 percent funding from Comcast's annual revenues in town for Hopkinton's cable access station, HCAM. The percentage matches the contribution from the town's other cable provider, Verizon.
Political parties set dates for town caucuses
The Hopkinton Republican Town Committee and Hopkinton Democratic Town Committee have set dates for their nominating caucuses. The purpose of the meetings is to nominate and endorse candidates for the Annual Town Election on May 15.
The Republican Town Committee will meet Friday, March 31, at 6:30 p.m. at the Senior Center (28 Mayhew Street).
The Democratic Committee will meet Monday, April 3, at 6:30 p.m. at Town Hall (18 Main Street), Room 215/216. Participant check-in will begin at 6 p.m. and will close promptly at 6:45.
Parks & Rec approves return of Farmers Market
The Parks & Recreation Commission at its meeting Thursday evening voted 3-0 to approve a permit allowing the return of the Hopkinton Farmers Market to the Town Common this summer, with attendees noting the positive impact it has had historically on several aspects of town life.
Food truck plans for Boston Marathon curtailed
At the last meeting, the board discussed the possibility of having as many as 15 food trucks serving a variety of cuisines for spectators at the Boston Marathon. At this meeting, Guelfi said that the number had to be slashed to four vendors because the Boston Athletic Association's decision to use part of the Town Common "does not leave much room for vendors."
Skate park project discussed
Guelfi noted that the proposed skate park has become "an involved engineering project." He has asked for input from Town Engineer Dave Daltorio at the request of the town manager.
---
---