Weekly News Update – 05/08/2023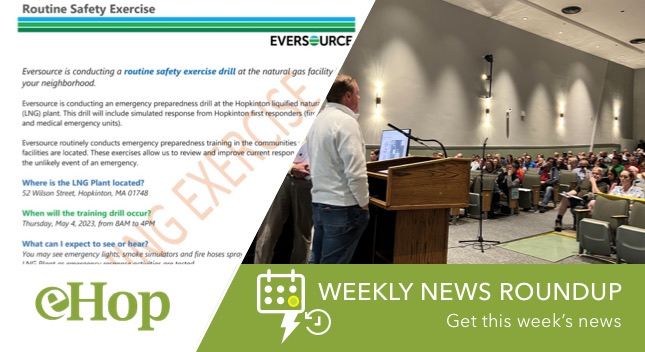 Town Meeting results and recap • Voters make statement to UCTC by calling for committee to be abolished • Future of Upper Charles Trail Committee to be considered by Select Board on Tuesday • Main Street Corridor Project update: Full-depth excavation starts Monday • Springwood residents seek answers after tree-cutting begins without warning to town • Emotions high as School Committee candidates debate again • Hopkinton Fire to Participate in Eversource Routine Safety Exercise at Liquified Natural Gas Plant Thursday 5/4/23 • Public Notice: Water Restrictions 
---
Town Meeting results and recap 
Town Meeting Day 1 recap: Budget, school projects pass easily; session to continue Tuesday
Hopkinton's Annual Town Meeting kicked off Monday night at the middle school auditorium with a robust turnout of about 500 voters — well above the 128 needed for a quorum — unanimously approving the fiscal year 2024 operating budget, among other budgetary items, after some light debate over School Department increases. In addition to the budget, articles related to school projects drew some discussion, as did one related to affordable housing (Article 25), but all articles ultimately passed easily.
Town Meeting Day 2 recap: Residents vote down South Street rezoning, gun club restriction
A citizens' petition generated loud and unanimous opposition during the second night of Town Meeting on Tuesday, as residents of the Lake Maspenock area spoke out against the rezoning of a residential parcel in their neighborhood.
Town Meeting FULL Results
Most articles passed while a few failed, including citizen's petitions. Check out the full list below.
Voters make statement to UCTC by calling for committee to be abolished
The Hopkinton Upper Charles Trail Committee was sent a strong message by Town Meeting on Tuesday, with passage of a non-binding article calling for the committee's abolishment as well as an article to withhold spending on the controversial proposed Segment 7 along Hayden Rowe Street.
RELATED NEWS: 
The future of the Upper Charles Trail Committee is to be discussed at the Select Board meeting on Tuesday, May 9, after Town Meeting overwhelmingly approved of the committee's abolishment by voting in favor of a non-binding article.
Main Street Corridor Project update: Full-depth excavation starts Monday
As part of the Main Street Corridor Project next week, the town announced that Phase 3 of full-depth excavation from Muffin House Cafe to the east end of the project begins Monday, May 8, and is expected to take three weeks to complete.
Full-depth excavation includes the removal of the existing pavement and sub-layers, followed by the replacement and compaction of the gravel, then road paving. A final course of pavement will be added at the end of the project.
Springwood residents seek answers after tree-cutting begins without warning to town
Public officials joined Springwood neighborhood residents in expressing surprise and frustration last week regarding a state-approved permit allowing a developer to cut down 60 acres of trees with no prior notification to the town, with concerns that a solar array was planned for the property.
TOWN ELECTION 2023 – CANDIDATES & BALLOT QUESTIONS – FINAL LIST
This year there is one contested race, and six ballot questions. eHop will publish more information as it becomes available. All candidates are encouraged to email eHop a candidate statement and headshot, which we will publish starting April 30 and after that on a rolling basis, please send to webmaster@ehop.org.
Monday, May 15, 2022 – Polls are open 7:00 AM – 8:00 PM
Hopkinton Middle School Brown Gym, 88 Hayden Rowe St
Emotions high as School Committee candidates debate again
The three candidates for the two available seats on the School Committee appeared in a debate Friday to illustrate their different perspectives as voters prepare to vote in the Annual Town Election on Monday, May 15.
This debate, cosponsored by HCAM and HopNews, was the first time all the candidates appeared together to share their perspectives. Two days earlier, candidates Ashley Fogg and Susan Stephenson faced off while Munroe was out of state at a work conference.
Hopkinton Fire to Participate in Eversource Routine Safety Exercise at Liquified Natural Gas Plant Thursday 5/4/23
Chief William Miller reports that first responders will be assisting Eversource with a routine safety exercise drill at a natural gas facility tomorrow. The emergency preparedness drill will take place at the Hopkinton liquified natural gas (LNG) plant, 52 Wilson St., on Thursday, May 4 between 8 a.m. and 4 p.m. Motorists should be aware that Wilson Street in the area of the plant will be closed to through traffic.
More details about the Training exercise at the Eversource LNG facility
RELATED: Expect Water Discoloration
Please be advised that Emergency officials will be conducting training drills at the LNG facility this coming Thursday, May 4th. As part of those drills, the use of fire hydrants at high velocity and large volumes could lead to discoloration of water throughout town. Please check your water before using it that day and the following few days. Due to the high volumes, it may take several days for the water to fully clear. 
Public Notice: Water Restrictions
We are mandated by the town's water management permit issued by the State, to limit nonessential outdoor use, to protect stream flow, aquatic life and ensure sustainable drinking water.
MANDATORY State of Water Supply Conservation from May 1st through September 30th
---
---