Weekly News Update – 05/21/2023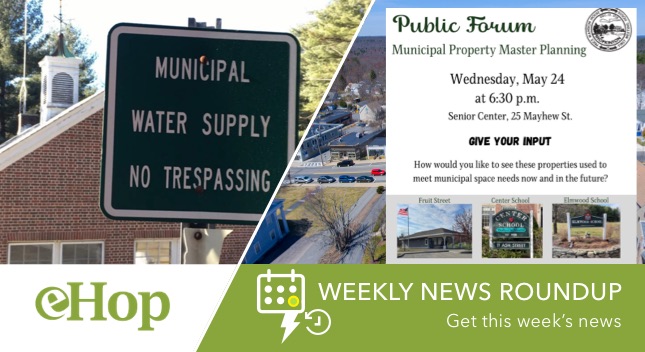 Town Election results 2023 • Town Election: Munroe, Stephenson win School Committee race; all ballot questions pass • Parks & Rec works with cricket enthusiasts to resurface pitch • UCTC reelects Moran as chair, discusses Town Meeting vote to disband • Conservation Commission calls out Leonard Street developer for erosion issues • Public forum gathers feedback on spending ARPA funds on PFAS water filtration system • Municipal Property Master Planning Public Forum • Public notice: Central Massachusetts Mosquito Control Project
---
TOWN ELECTION RESULTS 2023
1,473 voters cast ballots on May 15, which is a turnout of about 11%. This was a decrease from last year's turnout of 17%, but higher than the 6% turnout in 2021. Winners in the contested races were Adam Munroe and Susan Stephenson for School Committee. All six ballot questions passed.
RELATED NEWS:
Parks & Rec works with cricket enthusiasts to resurface pitch
At its 90-minute meeting Wednesday evening, the Parks & Recreation Commission was presented with a request to resurface a public cricket pitch, with commission members apparently unaware that enthusiasts had already purchased resurfacing materials and were going to seek compensation for its purchase and installation at a cost of about $9,000.
Rental requests lead to policy questions
Earlier in the meeting, the commission heard three requests to use Parks & Recreation property for private use.
UCTC reelects Moran as chair, discusses Town Meeting vote to disband
The Upper Charles Trail Committee at its meeting Wednesday night took another look at its organizational structure and charge after receiving a resounding nonbinding vote at the May 2 Annual Town Meeting calling for its disbandment and restructuring as a Trail Coordination and Management Committee subcommittee.
Conservation Commission calls out Leonard Street developer for erosion issues
The Conservation Commission at its two-hour meeting Tuesday night approved the request for a home tennis court for an aspiring athlete and discussed violations at a problematic Leonard Street site.
The commission also received updates on two properties where tree cutting was originally permitted by that Massachusetts Department of Conservation and Recreation, including the contentious 60-plus acre site in the Springwood neighborhood off of Kimball Road.
Public forum gathers feedback on spending ARPA funds on PFAS water filtration system
Town Manager Norman Khumalo hosted a 90-minute public forum on Tuesday night to receive public input on potentially spending $1,187,000 of American Rescue Plan Act grant funds on a $1.7 million water filtration system to remove per- and polyfluoroalkyl substances, better known as PFAS, from the municipal water supply.
Khumalo, who will administer the grant funding, proposed using the money to add two filtration vessels at Well 6 on Fruit Street to bring PFAS levels below current detection levels and into current state and federal draft compliance levels. It would supplement $600,000 previously appropriated by Town Meeting last year to address the rising concern over elevated PFAS levels over the past 19 months. He noted that the cost of the filtration system now is "substantially higher" than expected because of inflation and the need for a larger filtration system.
Municipal Property Master Planning Public Forum
Town Manager Norman Khumalo, on behalf of the Permanent Building Committee, invites residents to a public forum to discuss how town properties will be used to meet municipal space needs now and in the future.

WHEN: Wednesday, May 24, beginning at 6:30 p.m.
WHERE: Hopkinton Senior Center, 28 Mayhew St.
WHAT: The Permanent Building Committee is seeking the community's input on municipal space needs. Center School at 11 Ash St., Elmwood School at 14 Elm St. and Fruit Street at 66 Fruit St. are town owned properties available for town-wide use, which will be discussed at the forum. 
Municipal Property Master Planning Public Forum 5/24/23 at 6:30pm at the Senior Center (OR) give your input in the online form. 
Public notice: Central Massachusetts Mosquito Control Project
Notice from the Central Massachusetts Mosquito Control Project.
View tentiative dates for May and June
Main Street Corridor Project Update
What to Expect for the Week of May 22nd to May 27th
Working Hours
To expedite the upcoming work Public Safety has approved a 7am to 5pm workday for Monday – Saturday
Detours
The eastbound detour from Grove Street to Maple Street to Hayden Rowe will be used from Monday-Saturday from 7am to 5pm. Additional detours may be used as needed.
Two-way traffic on Walcott St. will be allowed when the detour is in place.
School buses and emergency vehicles will be allowed through the detour.
Message boards are up to provide detour information.
East Side of Project
Begin the paving of Main Street from the Muffin House to Ray Street – anticipated to take 3 days (weather dependent)
Temporary paving markings may be done prior to the long weekend; if not, temporary tape will be installed
---
---