Weekly News Roundup – 08/11/2019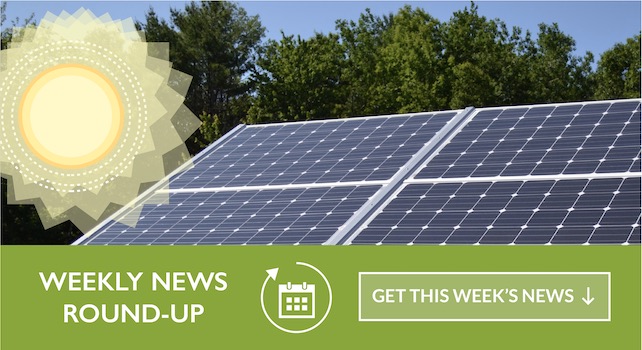 New solar canopy saves MWRTA more than $20K in electrical costs • Central MA Mosquito Control Project – Eastern Equine Encephalitis (EEE) found near Westborough • Mass DOT I-495-I-90 Interchange Public Forum • USA Today owner Gannett merges with GateHouse Media to form massive newspaper company • Shut down two years ago, Greyhound Friends fights to reopen • Board and Committee Appointments • Public Library Expands Hours • Tax Relief Application Deadline Approaching
---
New solar canopy saves MWRTA more than $20K in electrical costs
The MetroWest Regional Transit Authority has saved more than $20,000 in the six months since harnessing solar power at its Blandin Avenue transportation hub.
The authority – which serves 16 MetroWest communities including Hopkinton – built a new solar canopy at the rear of its headquarters next to an existing bus-washing station last year. Testing on the panels was conducted in the late fall and early winter. The panels were put online in February, said Gerry Hartwell, MWRTA facilities manager.
Since then, the MWRTA's electrical costs have decreased significantly. Hartwell said the authority's electric bill was $4,967 in July, compared with $10,484 last July. The organization saved $5,000 in May and slightly more than $4,000 in June in electrical costs. Total savings are about $21,000 so far.
https://hopkinton.wickedlocal.com/news/20190801/new-solar-canopy-saves-mwrta-more-than-20k-in-electrical-costs
Central MA Mosquito Control Project – Eastern Equine Encephalitis (EEE) found near Westborough
Eastern Equine Encephalitis (EEE) has been confirmed in mammal-biting mosquitoes in 2 locations in the southeast part of Westboro near the Hopkinton town line. In response to the advisory and consistent with Massachusetts Department of Public Health policy, the Health Department has authorized the Central MA Mosquito Control Project to treat the abutting Hopkinton neighborhoods. Spraying will begin on Thursday 8/8/19 afternoon/evening, weather permitting.
http://www.hcam.tv/news/community-notice-central-ma-mosquito-control-project-eastern-equine-encephalitis-eee
Mass DOT I-495-I-90 Interchange Public Forum
The Massachusetts Department of Transportation (Mass DOT) presented the proposed plan for the renovations to the interchange at interstate 495 to interstate 90 at Hopkinton Town Hall. The presentation featured details of the plan and interactive photos and video simulations on what the proposed changes will look like.
http://www.hcam.tv/news/video-mass-dot-i-495-i-90-interchange-public-forum-hopkinton
USA Today owner Gannett merges with GateHouse Media to form massive newspaper company
Two of American's largest newspaper chains announced on Monday that they will merge, uniting hundreds of local newsrooms under a single company. Locally, GateHouse Media owns the Metrowest Daily News and the Hopkinton Crier.
New Media Investment Group, the parent company of GateHouse Media, said that it had arrived at an agreement to acquire Gannett (
GCI
) for a combination of stock and cash.
Both companies have vast portfolios. Gannett publishes USA Today, in addition to many well-known local newspapers. GateHouse Media operates in 612 markets in 39 states.
Shut down two years ago, Greyhound Friends fights to reopen
After being closed for more than two years, Greyhound Friends hopes to get a new kennel license to once again offer dogs for adoption out of its Saddle Hill Road shelter.
The beleaguered dog shelter filed for a new license last month, but no action has been taken by Town Clerk Connor Degan on the application. Animal Control Officer Bill Proctor designated Deputy Police Chief Joseph Bennett to conduct inspections, Degan said.
https://www.metrowestdailynews.com/news/20190805/shut-down-two-years-ago-greyhound-friends-fights-to-reopen
Select Board to make Board and Committee Appointments
At 7:45pm this coming Tuesday, August 13, 2019 the Select Board will make appointments to several boards and committees for various terms.
http://www.hcam.tv/news/select-board-make-board-and-committee-appointments
Hopkinton Public Library Expands Hours
Your town meeting votes at work: The Hopkinton Public Library will be open for more hours this fall. Beginning Monday, September 9, the library will be open from 10 am to 9 pm on Mondays, Tuesdays, Wednesdays, and Thursdays; from 10 am to 6 pm on Fridays; and from 10 am to 4 pm on Saturdays. With the new schedule, the library will be open a total of 58 hours per week, up from 50 hours per week under the current schedule.
http://www.hcam.tv/news/hopkinton-public-library-expands-hours
Deadline Approaching for Hopkinton Senior Tax Relief
The Town of Hopkinton reminds seniors that the August 31, 2019 application deadline for a newly approved tax relief program tied to the state "circuit breaker" tax benefit is rapidly approaching.
http://www.hcam.tv/news/deadline-approaching-hopkinton-senior-tax-relief
---