Weekly News Roundup – 05/17/2020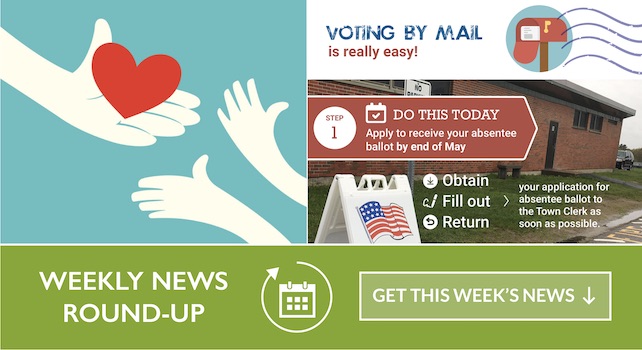 Covid-19 Updates and Precautions • Thank you for helping us exceed our goal! • Hopkinton Town Election 2020 • Giving and Receiving Help during the Covid-19 Pandemic • Gov. Baker Reveals New Details About Reopening of Mass • Public Notice: Water and Sewer 
---
Covid-19 Updates and Precautions
Covid-19 Resource page has moved to a new site below. This page provides information, maps and resources about the coronavirus response in our local area.
Visit Hopkinton, MA – Coronavirus Response Hub
As of 11:00 a.m. on 5/14/20, Hopkinton's Health Department is reporting 105 total confirmed COVID-19 cases; 27 of those cases are active, with 67 recoveries and 11 deaths.
In the eleven days from 5/3 through 5/14 Hopkinton reported only two new cases. During this same time period, Hopkinton reported 42 recoveries which brings our active case
cout to the lowest it's been since 4/19.
As we move forward and prepare to enter Phase 1 of Governor Baker's Four Phase Approach to Reopening Massachusetts, it's important to continue to wear your face covering when appropriate, practice social distancing, frequent hand washing, and good hygiene.
The most recent update from May 15th includes:
Social Services / Mental Health / Mass 211
Cleaning Services
The update from May 14th includes:
Massachusetts Department of Public Health COVID-19 weekly Dashboard
Hopkinton Public Library Collecting Reflections on Pandemic Experiences
Annual Town Election information. Stay safe, vote by early by mail
Thank you for helping us exceed our goal!
A sincere thank you to everyone who supported and contributed to our Matching Donation campaign to raise funds for Project Just Because! We were able to successfully fulfill our pledge to match the donations up to $1,000 to Project Just Because making a total of $2,045 through this campaign. This would not have been possible without your generosity.
eHop Donation Match for Project Just Because – Joining Forces to Double the Impact
Hopkinton Town Election 2020
New Due to COVID-19 Guidelines – All voters are encouraged to stay safe and vote by absentee ballot this year! Get step-by-step instructions to vote safely by mail.
You need to apply for your absentee ballot today.

Absentee Ballot application
Download the application and send it to the town clerk as soon as possible in order to receive your ballot as early as May. For more information click below.
Two easy steps to vote safely by mail – View details
Town Election 2020 Final List of Candidates
Now that the local caucuses have taken place, there are two contested races for the 2020 Town Election: Select Board and School Committee. eHop has a full list of candidates on our website along with all candidate statements that have been submitted to eHop so far. We will post additional information as we receive it on a weekly basis.
Select Board, 3 Years, Vote for 1 – Contested Race
John M. Coutinho, Candidate for Re-Election, Republican
Amy B. Ritterbusch, Democrat
School Committee, 3 Years, Vote for 2 – Contested Race
Lya A. Batlle-Rafferty, Democrat
Joe M. Markey, Democrat
Dawn Ronan, Republican
View the full list of candidates and links for the 2020 Town Election
Giving and Receiving Help during the Covid-19 Pandemic
Dawn Alcott Miller, Director of Hopkinton Youth and Family Services (HYFS) stressed the  need for a community emergency needs fund/discretionary fund to help vulnerable residents and an organized network to act as a clearing house for all the ways in which people can receive help and give help. "Connecting residents to help and opportunities to provide help can be somewhat complex due to the work happening in many different silos," said Miller.
To find out where help is most needed in Hopkinton and who is helping, view the article below.
Gov. Baker Reveals New Details About Reopening of Mass.
The governor's order closing non-essential businesses is set to expire Sunday, but he said it will be extended until Monday to allow the Reopening Advisory Board to unveil its 4-phase approach to reopening the state. He said he also plans to address whether to lift or extend the stay-at-home advisory on Monday.
https://www.nbcboston.com/news/local/gov-baker-to-provide-update-on-coronavirus-in-mass-as-state-prepares-to-reopen/2124877/ 
Public Notice: Water and Sewer
Please be advised that due to a brush fire yesterday afternoon in the Granite Street area,  you may experience some water discoloration due to the fire hydrant use. Please check your water before using it and you may need to flush your cold water line to help clear the pipes.
---