Weekly News Roundup – 05/24/2020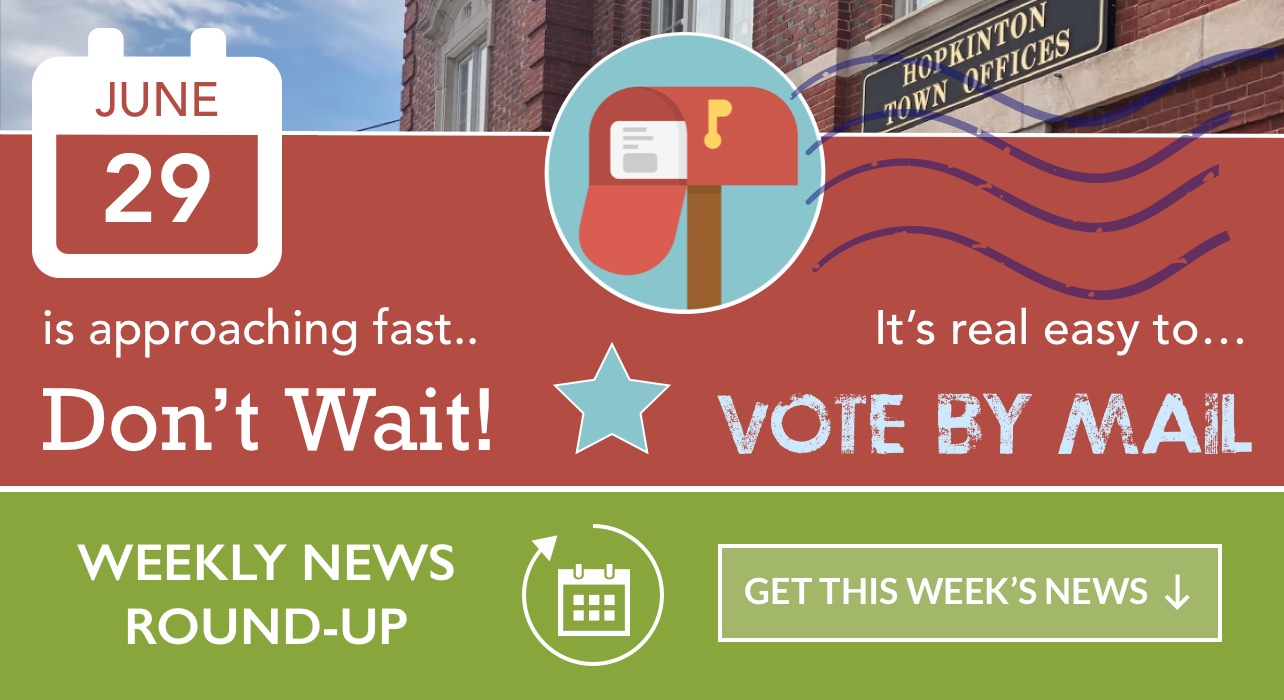 Covid-19 Updates and Precautions • Town Meeting delayed again; Hopkinton receives $1.6M in federal funding • Town of Hopkinton Receives $3 Million MassWorks Infrastructure Grant. Main Street Corridor Project Fully Funded • Veterans Inc. to Reopen Food Pantry • Central Massachusetts Mosquito Control Project – Notice • Board of Health Notice Regarding Public Spigots • Wipes clog pipes – Hopkinton Water and Sewer Notice • 2020 Graduation Parade • School budget needs 'entire redo' due to pandemic • September running of Boston Marathon may be in question because of coronavirus situation, says Walsh • Select Board Actions Taken – 05/19/2020 • Planning Board Actions Taken 05/18/20 • Planning Board Actions Taken 05/11/20
---
Covid-19 Updates and Precautions
This page provides information, maps and resources about the coronavirus response in our local area.
Visit Hopkinton, MA – Coronavirus Response Hub
As of 9:00 a.m. on 5/20/20, Hopkinton's Health Department is reporting 111 total confirmed COVID-19 cases; 11 of those cases are active, with 87 recoveries and 13 deaths. You can see historical tracking and updates on Hopkinton's Community Impact Dashboard
The most recent update from May 20th includes:
Massachusetts Department of Public Health COVID-19 weekly Dashboard
MA COVID-19 Test Site Locator
The update from May 18th includes:
Reopening Massachusetts
Pediatric Multi-System Inflammatory Syndrome (PMIS)
Youth Programs and Camps
Hopkinton Public Schools
RELATED ARTICLE ON REOPENING: 
Where can you go and when, under Massachusetts' reopening plan after the coronavirus shutdown?
Town Election 2020 and Candidates
New Due to COVID-19 Guidelines – All voters are encouraged to stay safe and vote by absentee ballot this year!
Don't Wait! Apply now for your absentee ballot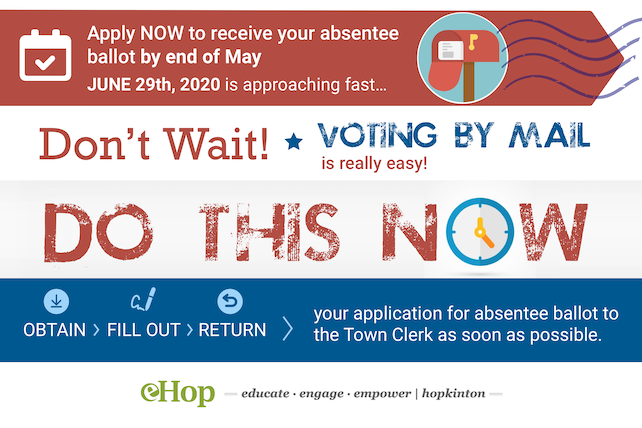 The local caucuses have now taken place, there are two contested races for the Town Election:
School Committee – 3 candidates for 2 seats: Lya Battle-Rafferty, Joe Markey & Dawn Ronan
Select Board – 2 candidates for 1 seat: John Coutinho & Amy Ritterbusch
2020 Memorial Day Special
The 2020 Memorial Day Celebration will be shown only on HCAM Television on Monday, May 25th at 11:30 am. There is no live event this year. Tune in to channel 8 on Xfinity, Channel 30 on Verizon or online on the HCAM YouTube page
Town Meeting delayed again; Hopkinton receives $1.6M in federal funding
At its Tuesday night meeting, the Select Board voted to delay Town Meeting again, pushing it back from June 22 to a likely September date still to be determined. Town Election remains set for June 29.
Khumalo also announced the town had been awarded approximately $1.6 million from the Federal Cares Act relief funding, which comes from the state's $2.7 billion allocation. This money is available for restricted use in fiscal years 2020 and 2021, Khumalo said.
Related Article: POLITICAL NOTEBOOK: Paying the cost of coronavirus
Town of Hopkinton Receives $3 Million MassWorks Infrastructure Grant. Main Street Corridor Project Fully Funded
The Town of Hopkinton today announced that Secretary of the Executive Office of Housing and Economic Development Mike Kennealy, on behalf of the Baker-Polito Administration, approved a MassWorks Infrastructure Program Grant in the amount of $3 million for the Main Street Corridor Project. With this grant, in addition to the April 30 approval by the Metropolitan Planning Organization (MPO) of the $11,346,564 Transportation Improvement Program (TIP) budget, the project is now fully funded. Additional funding sources also include town appropriated funds and funds from a Host Community Agreement.
Veterans Inc. to Reopen Food Pantry
Veterans Inc., New England's leading provider of support services to veterans and their families, to Provide Prepackaged Food Boxes to Veterans and Family Members in Need.
http://www.hcam.tv/news/veterans-inc-reopen-food-pantry
Central Massachusetts Mosquito Control Project – Notice
Central Massachusetts Mosquito Control Project personnel will be in your community to respond to residents' concerns about mosquitoes in their area on the following dates in June/July: June 2, 3, 9, 10, 16, 17, 23, 24, 30, July 1.
Board of Health Notice Regarding Public Spigots
The Hopkinton Health Department completed a review of the most recently published research on the viability of COVID-19 on metal surfaces, water fountains, bubblers, water spigots and garden/cleaning faucets. For this document, research from the CDC, World Health Organization, Columbia University and NIH is provided.
http://www.hcam.tv/news/board-health-notice-regarding-public-spigots
Wipes clog pipes – Hopkinton Water and Sewer Notice
We continue to have a major issue with the amount of clogs at our sewer pump stations. The predominate cause has been the increase of wipes and rags that should not be disposed of in the sewer system. Those items need to be disposed of properly in the trash. Please note there is no such thing as a "flushable wipes". They do not breakdown and bind together to clog the pipes and pumps. We need your IMMEDIATE assistance and ask that you please refrain from flushing any foreign items. Not only does this cause costly repairs, but it could lead to back up of sewerage into your home. We thank you for your cooperation in this very important matter!
2020 Graduation Parade
Hopkinton High School has shared information about this year's Graduation activities. On Saturday, May 30 at 1:00 pm. the Class of 2020 will be parading around town. Parade route now posted, so come out & decorate to help honor and brighten a Hiller's day.
http://www.hcam.tv/news/2020-graduation-parade
School budget needs 'entire redo' due to pandemic
The $52 million school budget approved by school and town officials just weeks ago has gone up in smoke, victim to an economic crisis created by the COVID-19 pandemic.
"We will need an entire redo of the Hopkinton Public Schools Budget for FY21," superintendent Dr. Carol Cavanaugh told members of the Hopkinton School Committee at their April 30 meeting held remotely via Zoom.
September running of Boston Marathon may be in question because of coronavirus situation, says Walsh
"Overall, the data tells us that we're moving in the right direction on new cases, on positive tests and in hospitalization for about three weeks here now, and that is good news. But every day the trend also gives us reason for caution in the terms of how gradual it is, in how necessary our precautions have been and how much potential there is for new outbreaks if we don't keep doing the right thing," Walsh said.
Walsh spoke for the first time since Gov. Charlie Baker detailed his four-phase strategy to reopen the Massachusetts economy after two months of being shut down due to fears over the spread of COVID-19.
https://www.metrowestdailynews.com/news/20200519/september-running-of-boston-marathon-may-be-in-question-because-of-coronavirus-situation-says-walsh
Select Board Actions Taken – 05/19/2020
Meeting materials:
6:35 PM COVID-19 UPDATE
4. The Select Board will receive an update from the Board of Health on the Town's response to COVID-19.
View Video ~14 minutes
6:50 PM CONSENT AGENDA
5.
i. MINUTES from 5/5/20
ii. PARADE PERMIT APPLICATION – HHS CLASS OF 2020
iii. METROWEST REGIONAL TRANSIT AUTHORITY – MUNICIPAL REPRESENTATIVE
Supporting Exhibits: Parade Permit Application and supporting documents; Permitting Team Comments; Letter from MWRTA
The Select Board approved the Consent Agenda. (5-0)
View Agenda Packet – Page 6-10
View Video ~8 minutes
6:55 PM PARKS AND RECREATION COMMISSION PROGRAM UPDATE
6. The Select Board will receive an update from the Park and Recreation Commission regarding summer programming, related matters and consider taking any related action.
The Select Board allowed the Town to fill the following positions: Staff for Parks & Recreation
Dept. 2020 summer camps. (5-0)
The Select Board allowed the Town to fill the following positions: Sandy Beach lifeguard staff for
the 2020 summer season. (4-1)
View Video ~18 minutes
7:05 PM NATIONAL PUBLIC WORKS WEEK
7. The Select Board will recognize and celebrate National Public Works Week, May 17-23, highlighting the value and vital role of public works projects in Hopkinton.
Supporting Exhibits: Proclamation
The Select Board designated the week of May 17-23 as National Public Works Week and thanked the employees of Hopkinton's Department of Public Works for their service to the Town. (5-0)
View Agenda Packet – Page 11 
View Video ~10 minutes
7:20 PM FY 2020 AND FY 2021 BUDGET AND ANNUAL TOWN MEETING UPDATES
9. The Select Board will consider FY 2020 and 2021 Budget and annual town meeting updates. The Select Board will review the June 22, 2020 Annual Town Meeting warrant. The Select Board will review draft ATM motions and take positions on articles. The Select Board will finalize ballot questions. The Select Board will consider postponing the Annual Town Meeting to September, 2020.
Supporting Exhibits: Draft ATM Warrant
The Select Board found that:
a. There currently exists an emergency that poses an immediate threat to the health or safety of persons or property in the Town of Hopkinton; and
b. This threat prevents the completion of the business of the Town's Annual Town Meeting by June 30, 2020; and
c. The governor has declared a state of emergency with respect to such emergency;
And that, based on these findings, the Annual Town Meeting, which was previously delayed to June 22, 2020, be further delayed to a date to be determined, and that the Town Manager be instructed to prepare, for the Select Board's approval at its next meeting on June 2, 2020, a warrant for the Annual Town Election, to be held on June 29, 2020. (5-0)
View Agenda Packet – Page 12-23
View Video ~25 minutes
7:30 PM TOWN MANAGER REPORT
10. a. Main Street Corridor Project Update.
Supporting Exhibits: Town Manager Report
View Agenda Packet – Page 12-22
View Video ~2 minutes
Planning Board Actions Taken 5/18/20
The 71 Frankland Road Solar Project was discussed, but not voted. It was continued until the 6/1/20 Meeting.
Read the full Planning Board Actions Taken 5/18/20
Planning Board Actions Taken 5/11/20
The following projects were approved:
Hopkinton Village Center 25-35 Main Street
Hopkinton High School – Addition of Six Permanent Classrooms
Elmwood School – Addition of Four Modular Classrooms
Hopkins Schools – Addition of Four Modular Classrooms
---