Weekly News Roundup – 02/07/2021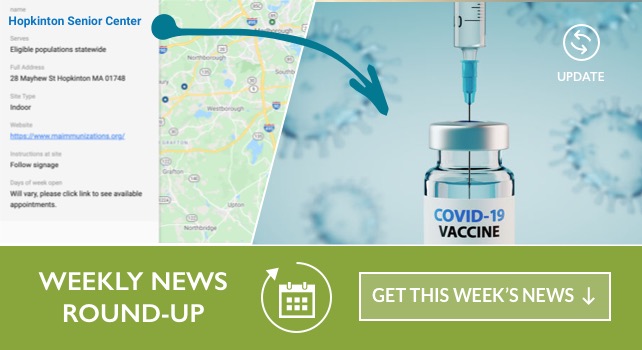 Covid-19 Vaccine, Updates & Precautions • Local vaccination option looks promising for next week • Health director: With town details still unclear, seniors should seek outside vaccination site if possible • Public Notice:  Fire safety considerations due to buried fire hydrants under snow • Trash and Recyclables Collection • School Committee OK's later start times; reopening strategy addressed • School Committee OK's later start times; reopening strategy addressed • Select Board roundup: Town expected to get boost from state aid; retiring MacAdam lauded • Planning Board votes to hold Town Meeting spots for multiple proposed tree-cutting bylaws • Town Election 2021 – Candidate Update
---
Covid-19 Updates & Precautions
This page provides information, maps and resources about the coronavirus response in our local area.
Visit Hopkinton, MA – Coronavirus Response Hub
As of 02/03/21, Hopkinton's Health Department is reporting 673 total confirmed COVID-19 cases; 28 of those cases are active, with 628 recoveries and 17 deaths. You can see historical tracking and updates on Hopkinton's Community Impact Dashboard
The most recent update from Feb 4th includes:
RELATED NEWS:
After complaints about the state's vaccine website, Massachusetts Gov. Charlie Baker announced the launch of a call center to help residents book appointments to get the COVID-19 vaccine. The call center will be open from 8:30 a.m. to 5 p.m. Monday through Friday, Baker said. People ages 75 or older, who are now eligible for the COVID-19 vaccine, can reach the call center by calling 211. Read the full article.
The Hopkinton Senior Center is now listed on the state website as a Covid Vaccine Location. When appointment slots are available you will be able to sign up on the state website: https://www.mass.gov/info-details/covid-19-vaccination-locations. For the time being if you are in any of the Phase 1 or 2 vaccine eligible groups you may sign up for email/phone notifications from the town as local vaccine appointments become available for your group, use this Google Form to sign up: https://forms.gle/84WTYtLfdPSAE3eTA. Residents without internet access or email, may call the senior center at 508-497-9730 for assistance.
While Hopkinton's COVID-19 case numbers have shown improvement over the last couple of weeks, the town still is having its share of issues, and officials remain uncertain of when the vaccine will be available for residents, Health Department director Shaun McAuliffe told the Select Board on Tuesday night.
McAuliffe said the town currently has about 41 active cases. The average for weekly cases and the positive rate have been dropping since a post-Christmas spike that briefly landed Hopkinton in the state-designated red (most restrictive) category.
Public Notice:  Fire safety considerations due to buried fire hydrants under snow
Reminder since there is more snow expected: During the winter hydrants can become buried by snow during a storm. If you have a fire hydrant that is near your home, please help us make it visible and accessible to the Fire Dept for use in an emergency.
Trash and Recyclables Collection
EL Harvey will not collect trash or recycling on Tuesday, February 2, due to the storm. Collections will be delayed one day through the rest of the week.
School Committee OK's later start times; reopening strategy addressed
School will start later this fall at Hopkinton High School, Hopkinton Middle School and Hopkins Elementary School, School Committee members agreed Thursday.
Start times for the high school and middle school would move to approximately 8 a.m. from the current 7:25 a.m. Hopkins would start at about 9 a.m. rather than the current 8:15 a.m.
Marathon and Elmwood elementary schools schedules would remain unchanged.
Select Board roundup: Town expected to get boost from state aid; retiring MacAdam lauded
During Tuesday's Select Board meeting, town manager Norman Khumalo shared some good news regarding the town's Fiscal Year 2022 budget. Last Wednesday, Gov. Charlie Baker revised his estimates for local aid, and the new amount is slated to be an increase of 11 percent from the previous fiscal year. The previous estimate was a 1 percent increase.
Planning Board votes to hold Town Meeting spots for multiple proposed tree-cutting bylaws
The Planning Board is keeping its options open when it comes to dealing with commercial ground-mounted solar, voting at Monday's special meeting to put placeholders on the Town Meeting warrant for both a general bylaw and a zoning bylaw addressing tree-cutting, while deciding to keep the placeholder for the solar overlay district map.
The Planning Board will host a public hearing on March 1 for most of its articles, although the tree-cutting bylaws might be pushed to March 15.
TOWN ELECTION 2021 – CANDIDATE UPDATE
A second Cemetery Commission position has opened up due to the recent resignation of John Palmer. A handful of new candidates pulled papers this week. School Committee is now a contested race with three candidates vying for two seats.
---