Weekly News Roundup – 02/14/2021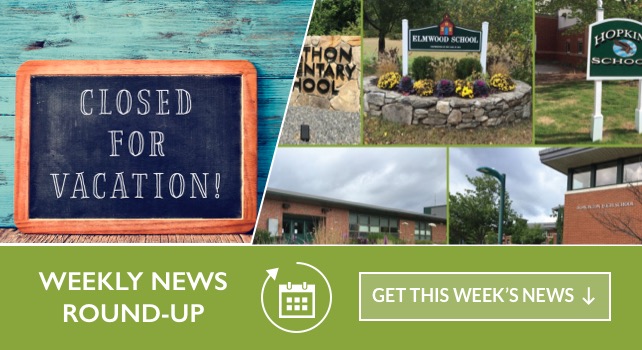 Covid-19 Vaccine, Updates & Precautions • Municipalities team up to make most of limited doses of COVID-19 vaccine • Public Forum Notice: General Bylaw Amendments • Public Notice: President's Day • Legal notice: Sealed bids for construction of Hayden Rowe Street Water Main Improvements • Public Notice: Vacancies in town committees • Town Election 2021 Candidate Update • Hopkinton Police dog Titan and partner seek votes to win contest • HHS students devise solutions for police, fire • Superintendent details vacation travel protocols • ConCom expresses concerns with water management for proposed subdivision off Blueberry Lane • Select Board roundup: Concerns raised about Town Meeting; budget discussions continue; Brault, Palmer recognized • Planning Board wants more details about Cornell's outdoor expansion plan
---
Covid-19 Updates & Precautions
This page provides information, maps and resources about the coronavirus response in our local area.
Visit Hopkinton, MA – Coronavirus Response Hub
As of 02/10/21, Hopkinton's Health Department is reporting 697 total confirmed COVID-19 cases; 32 of those cases are active, with 648 recoveries and 17 deaths. You can see historical tracking and updates on Hopkinton's Community Impact Dashboard
The most recent update from Feb 11th includes:
RELATED NEWS:
"They kept telling us Ashland was too small," said Burman. "They didn't want to send us 100 doses, 200 doses."
The town then partnered with Westborough, Northborough, Southborough and Hopkinton. The group will receive doses of the Pfizer vaccine this week, with Hopkinton hosting a clinic for residents 75 and older in the five communities Thursday and Friday, said Burman.
PUBLIC FORUM NOTICE: GENERAL BYLAW AMENDMENTS
The Hopkinton Select Board will hold a public forum on Tuesday, February 23, 2021 at 6:45 p.m on the following proposed amendments to the Town of Hopkinton General Bylaws, which may be on the warrant for the 2021 Annual Town Meeting:
Dog Licensing

Discharge of Firearms

Obstruction of Streets & Sidewalks

Street Opening Permits

Trench Safety Officer
Public Notice:  PRESIDENT's Day
In observance of President's Day – Hopkinton Town Hall and Municipal Offices will be closed on Monday 2/15/2021
Legal notice: Sealed bids for construction of Hayden Rowe Street Water Main Improvements
Sealed bids for construction of Hayden Rowe Street Water Main Improvements for the Town of Hopkinton, Massachusetts, will be received by the Department of Public Works for the Town of Hopkinton, MA, through Projectdog at www.projectdog.com, until 2:00 pm (according to Verizon time), on Thursday, March 11, 2021. Due to Covid-19 restrictions, the bids will be opened by the Director of Public Works and the results will be posted within 5 business days on www.projectdog.com . Bonds shall be submitted in person at 83 Wood Street, Hopkinton MA, at the receptionist desk or dropbox by the main entry door prior to the date and time of receipt of bids.
The scope of work includes construction of approximately 5,000 linear feet of 8-inch ductile iron water main and appurtenances, transfer of water services, replacement of all non-plastic water services, installation and removal of hydrants, and installation of construction, temporary, and permanent trench pavements.
PUBLIC NOTICE: Vacancies in town committees
Board and committee qualifications: Open to all Hopkinton residents.
Affordable Housing Trust Fund Board (2 year term)
Board of Appeals, Associate Member (remainder of a 5 year term expiring 6/30/2021)
Capital Improvement Committee (remainder of a 5 year term expiring 6/30/2023)
Council on Aging (remainder of two 3 year terms expiring 6/30/2021)
Sustainable Green Committee (Five 3-year terms)
Tax Relief Committee (remainder of a 3 year term expiring 6/30/2023)
Interested residents must apply via the online volunteer form at http://hopkintonma.gov/hug 
Considering running for local office, but don't know where to begin? Due to Covid there is an online process to request nomination papers this year.
To become a candidate a person must either obtain and submit nomination papers by securing the signatures of 50 Hopkinton registered voters by Tuesday, March 30, 2021; or a person may qualify by being the top vote-getter in one of the town political party caucuses. The Democratic and Republican caucus dates have not been announced yet, but are typically in early April. Nomination signature papers are available from the Town Clerk's office starting January 19, 2021. Complete the application on the Town website at: https://forms.gle/AZHjYXDf2cpApf9K8. Your nomination papers will be emailed to you as a PDF for you to print. Please email or call the Town Clerk's office with questions at townclerk@hopkintonma.gov 508-497-9710. Click on the name of any elected office listed below to read more about it.
Hopkinton Police dog Titan and partner seek votes to win contest
The Hopkinton Police duo is competing in the Connecticut-based Hometown Foundation's Hometown Hero Holiday Giveaway, competing to be one of the top dogs among the 25 competing nationally.
HHS students devise solutions for police, fire
Superintendent details vacation travel protocols
ConCom expresses concerns with water management for proposed subdivision off Blueberry Lane
Representatives for the developer of the proposed Elmwood Farms III residential subdivision off Blueberry Lane appeared before the Conservation Commission at its meeting Tuesday night, looking to move forward a project that was first introduced more than three decades earlier, but they found it difficult to agree on a key point.
The proposed 24-lot development is on the south side of Blueberry Lane, abutting Marathon School and EMC Park. Abbott Realty Trust is the developer.
Select Board roundup: Concerns raised about Town Meeting; budget discussions continue; Brault, Palmer recognized
Town Meeting moderator Tom Garabedian appeared before the board and asked if there were plans for alternate date and/or site for the meeting, considering the state remains under the governor's emergency order.
Last year's Annual Town Meeting (ATM) was postponed a couple of times before being held outside in mid-September with only a small number of articles addressed.
This year's ATM is slated for May 3, with the Town Election to follow exactly two weeks later.
Planning Board wants more details about Cornell's outdoor expansion plan
The plan for a permanent outdoor expansion at Cornell's Irish Pub will require more details before the Planning Board votes whether or not to sign off on it, board members decided Monday.
The expansion already was approved by the Select Board on Jan. 26.
However, principal planner John Gelcich said, the establishment's owners, despite being repeatedly informed that they also needed to submit documents and receive approval from the Planning Board, did not provide enough detail to the board. Additionally, no representative from Cornell's appeared at Monday's meeting.
---