Weekly News Roundup – 09/27/2021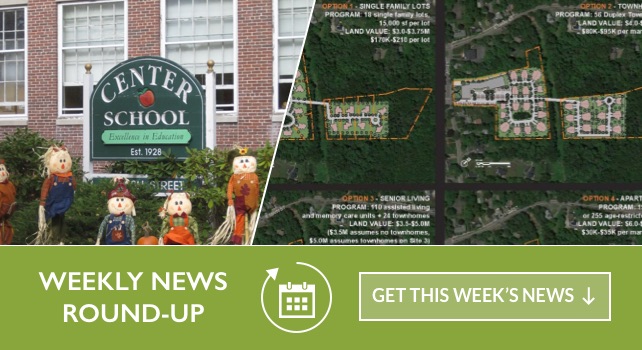 Main Street Corridor Project – Weekly Update • Town of Hopkinton Oversees New Environmentally-Friendly Paving Process Throughout Town • 26.2 Foundation receives grant for trail construction in Hopkinton from Athletic Brewing Company's Two for the Trails Grant Program • Select Board roundup: Options for Center School discussed; anonymous donations welcomed • Health director: Frustrated residents should 'take a civil tone' when dealing with COVID team • Covid-19 Updates and Precautions • Superintendent: 'Strong return to full-time, in-person learning' at Hopkinton schools • School Committee roundup: Enrollment numbers updated; HHS addition still not finished; additional food staff requested • Hopkinton Reports Elevated Levels of PFAS Detected in Water Sample, Encourages Residents to Review Educational Resources • HPD Offering Free RAD Training
---
Main  Street Corridor Project – Weekly Update
What to Expect for the Week of September 27, 2021
Clean up of any construction debris (i.e., stockpiled curbing, extra barrels/cones, structures on Marathon Way)
Mill the limits of the asphalt overlay
Pave the road from Pleasant Street to Ash Street
Line Stripe the road from Pleasant Street to Ash Street
https://hopkintonmainstreet.com/
RELATED: Live Construction Video Feeds are available for the Main Street Corridor Project, check where crews are working and traffic / weather conditions before you leave your home or office.
Town of Hopkinton Oversees New Environmentally-Friendly Paving Process Throughout Town
In recent weeks, the Town of Hopkinton has overseen a new paving process throughout town known as cold-in-place recycling. This new method was spearheaded and led by Director Westerling and Highway Manager Mike Mansir who were both instrumental in bringing this method to Hopkinton. Mansir, who spent over two years researching the method and visiting other communities that used the cold-in-place method, oversaw all day-to-day operations of the paving process.
26.2 Foundation receives grant for trail construction in Hopkinton from Athletic Brewing Company's Two for the Trails Grant Program
One of the comments eHop heard at PolyArts was "More Trails!" See the attached press release about a trail upgrade from the 26.2 Foundation, the Athletic Brewing Company and the Hopkinton Trail Coordination & Management Committee.
The 26.2 Foundation has been awarded $7500 to upgrade an existing hiking trail in Hopkinton to make the trail more suitable for regular use by hikers, runners and bikers. The project is to improve the trails that extend from behind Center School by the Common to Elmwood Farm on Ash Street, and was selected from over 150 applications to the Athletic Brewing Company's Two for the Trails Grant Program. The trail is roughly 2 miles in length and allows for a nice but strenuous 3 mile loop run or hike.
Select Board roundup: Options for Center School discussed; anonymous donations welcomed
Center School Usage
The Select Board at its meeting Tuesday night considered several issues, including future uses for the Center School property.
McIntyre said a new study of the town's municipal needs should be done to replace the one from three years ago to more accurately assess the best purposes for the buildings. Three options were proposed. The least feasible appeared to be rehabilitating the existing site because of issues regarding compliance with the Americans with Disabilities Act, flooding and asbestos.
Related: Center School Building & Site Reuse
One of the questions eHop heard at PolyArts was "What are we doing with Center School?" To help answer that question, please see the attached presentation by the Permanent Building Committee which was presented to the Select Board on 9/21/21.
ADA Oversight Committee discussed

Town Manager Norman Khumalo asked the board to reconsider the role of the ADA Oversight Committee, suggesting that steps be taken to make it a formal commission.
"I think in the spirit of acknowledging our shared humanity as well as our commitment to inclusion that we should all work hard to find members for it," he said.
LNG facility policy adopted

Khumalo proposed that the process about notifying the town departments about developments at the LNG facility on Wilson Street go through his office. This would allow information to be distributed from a central location. The policy was adopted unanimously.
Town website overhaul suggested

The board discussed the need to update the town website in order to make it more easily accessible to the public. Ritterbusch and Muriel Kramer volunteered to work with Khumalo on modifications. Ritterbusch mentioned the difficulty in accessing board and committee information.
NOI filed on Mechanic Street solar project conversion
Khumalo announced that a Chapter 61A Notice of Intent was filed for the solar property at 0 and 5 Mechanic Street and Wood Street.
View Select Board Actions Taken – 09/21/2021
Health director: Frustrated residents should 'take a civil tone' when dealing with COVID team
"Right now they are recognized widely throughout the commonwealth as being one the top COVID response teams out there," a weary-sounding McAuliffe said, adding that two visiting nurse associations (VNA) recently called to ask for assistance. "We know what we're doing. We've got different agencies that are coning to us for advice on how to handle cases. So, my hats off to those guys. They're really a well-oiled machine.
"With that said, we're almost two years into COVID. I know people are frustrated. I know that they're inconvenienced. I know that they're tired. But I'm just asking people — and there's a small minority — but I'm just asking them to be a little civil when they are dealing with that team, because they have a job to do, they have regulatory responsibilities that they need to fulfill. We had several instances last week where residents were swearing at them and just really being uncivil. If someone has an issue they can come to me as the department head. But I'm just asking that people take a civil tone when they are dealing with the nurses."
Related:
As of 9/23/21, Hopkinton's Health Department is reporting 1215 total confirmed COVID-19 cases; 19 of those cases are active, with 1,179 recoveries and 17 deaths. (these metrics are cumulative since the beginning of the Covid-19 pandemic).
Superintendent: 'Strong return to full-time, in-person learning' at Hopkinton schools
There have been some COVID cases at the Hopkinton Public Schools, but overall, the first few weeks have gone well, according to Superintendent Carol Cavanaugh.
In an email to school families on Friday, Cavanaugh wrote that the schools "have enjoyed a strong return to full-time, in-person learning for all students. It's wonderful to have our students back in our school buildings!"
School Committee roundup: Enrollment numbers updated; HHS addition still not finished; additional food staff requested
The School Committee met on Thursday night to discuss several issues, including progress on the high school addition, the need for more staff to prepare school lunches, and the implementation of the test and stay program at the district's schools.
In her superintendent's report, Carol Cavanaugh updated the committee on the district's enrollment numbers. The bulk of enrollments occurred for students in kindergarten, with 266 currently registered out of 397 new students overall.
Hopkinton Reports Elevated Levels of PFAS Detected in Water Sample, Encourages Residents to Review Educational Resources
HOPKINTON — Town Manager Norman Khumalo and Water & Sewer Superintendent Eric Carty report that water from Well #6 near Fruit Street has shown slightly elevated levels of a regulated group of chemicals called PFAS. The Town of Hopkinton encourages residents to review the available public education resources provided by the town about these chemicals and noted concerns about long-term exposure.
HPD Offering Free RAD Training
Rape Aggression Defense Systems Training Training for Women – offered for free from HPD.  Separate classes for men due to liability purposes.
To enroll or if you have questions, simply email Officer Matt Santoro at msantoro@hopkintonpd.org and leave your name, email address and phone number. If email is not available to you, please call 508-497-3401 x1259 and leave a (clear and slow) message with the same information. The first 30 women to enroll will be admitted (maximum number of students is 30). Confirmations will be done by email to the first 30 women that email Officer Santoro. Please ensure you can make all 5 classes before enrolling. The class will run from 6pm – 9pm.
---