Weekly News Update – 04/03/2022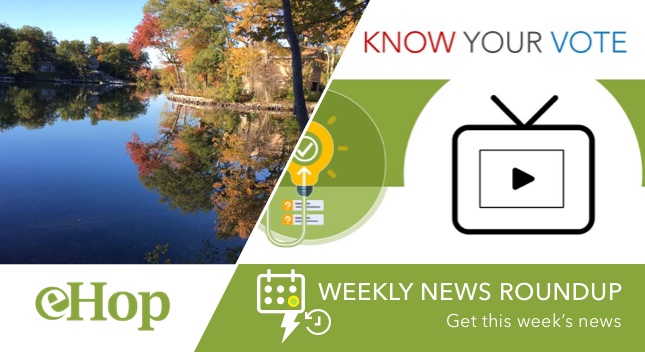 Know Your Vote – eHop Spotlight Forum • Hopkinton Appropriation Committee Public Hearing • Conservation Commission again discusses, continues hearing on Lake Maspenock weed management • Board of Health roundup: Nursing finances discussed; post-COVID initiatives continue • Moderna 50+ Vaccine Clinic at Senior Center • Main  Street Corridor Project – Weekly Update • Follow 2023 Budget and 2022 Annual town hall and Election • REMINDER: Youth & Family Services finalizes plans for program on youth mental health, suicide prevention • REMINDER: Upper Charles Trail Project Public Workshop: Scheduled for April 13, 2022
---
Know Your Vote – eHop Spotlight Forum 
SAVE THE DATE: MONDAY, APRIL 25, 2022 AT 7 PM
Get your questions answered from our Town officials before the Annual Town Meeting! 
eHop's Spotlight Forum on Town Meeting at HCAM Studios and Live-streaming on YouTube here:
https://youtu.be/TycEjUmAXEU
 and on
HCAM-TV (Comcast 8 / Verizon 30). Residents are encouraged to submit questions before or during the forum by email (
knowyourvote@ehop.org
), via Facebook (
@ehop01748
), or by commenting on the YouTube Livestream. Share this event with neighbors and friends in Hopkinton.
Hopkinton Appropriation Committee Public Hearing
The Hopkinton Appropriation Committee will hold a Public Hearing on the Draft FY 2023 Budget on April 13, 2022 at 6:00 PM – This will be a virtual event on Zoom. Members of the community may offer opinions or ask questions about the Town's draft fiscal year 2023 budget, which will be considered at the May 2nd, 2022 Annual Town Meeting.
Conservation Commission again discusses, continues hearing on Lake Maspenock weed management
At Tuesday night's meeting, the Conservation Commission again decided to continue its public hearing on the Hopkinton Department of Public Works' request to have a "toolbox of options" to manage the invasive weed growth in Lake Maspenock.
The hearing has generated a lot of interest due to the fact that one of the "tools" is the use of herbicides, a plan that previously was voted down by the Conservation Commission as well as Town Meeting after numerous residents expressed concerns.
Board of Health roundup: Nursing finances discussed; post-COVID initiatives continue
They still have to approve it when a final version comes back from the town's legal counsel, and they already have approved the Town Meeting article, but Board of Health members Monday night voiced support of a revolving account for the Health Department's nursing division.
The 53 1/2 expense revolving account, allowed under Massachusetts General Law, would create a separate account for the nursing side of the Health Department, according to Health Director Shaun McAuliffe and Public Health Nurse Simone Carter, and would create more transparency.
Moderna 50+ Vaccine Clinic at Senior Center
Moderna 50+ Vaccine Clinic
Click here to Register or Call 508-497-9725
Main  Street Corridor Project – Weekly Update
What to Expect for the Week of April 4, 2022 to April 8, 2021
Continue Utility work along Main Street in front of the Fire Station and CVS
Delivery of Electric Materials
https://hopkintonmainstreet.com/
RELATED: Live Construction Video Feeds are available for the Main Street Corridor Project, check where crews are working and traffic / weather conditions before you leave your home or office.
Follow 2023 Budget and 2022 Annual town hall and Election 
2022 ANNUAL TOWN MEETING & FY23 BUDGET TIMELINE
TOWN ELECTION 2022 LIST OF CANDIDATES
OPENINGS ON BOARDS & COMMITTEES
REMINDER: Youth & Family Services finalizes plans for program on youth mental health, suicide prevention
Hopkinton Youth & Family Services announced that it will host a free program focused on youth mental health and suicide prevention on April 11 from 7-8:30 p.m. at the Hopkinton Center for the Arts.
"an evening to generate hope by bringing parents and caregivers together to learn action steps that communities can undertake to strengthen youth mental health and prevent suicide."
REMINDER: Upper Charles Trail Project Public Workshop: Scheduled for April 13, 2022
The Upper Charles Trail Committee (UCTC) will be conducting a public workshop on April 13 at the Hopkinton Senior Center.
When: Wednesday, April 13, 2022 from 5:00pm to 8:00pm
Where: Hopkinton Senior Center, 28 Mayhew Street
The goals of the workshop is to provide residents an opportunity to view and provide feedback on the proposed trail alignments evaluated by or presented to the UCTC to date.
The workshop will be hosted by town staff, and individual stations will be set up for residents to ask questions of Town staff and shared-use path design professionals.
Members of the Upper Charles Trail Committee will also be in attendance.
A Google Meeting Room will also be provided for those residents who may not be able to attend in person.
A host will be provided by the town to answer any questions in the remote meeting room.
RELATED: 
UCTC FAQ regarding issues related to Hayden Rowe crossings, private property impacts, Materials and construction costs.
Response to the Upper Charles Trail Committee's (UCTC's) FAQ Sheets From the Hopkinton Trails Club
---