Weekly News Update – 04/10/2022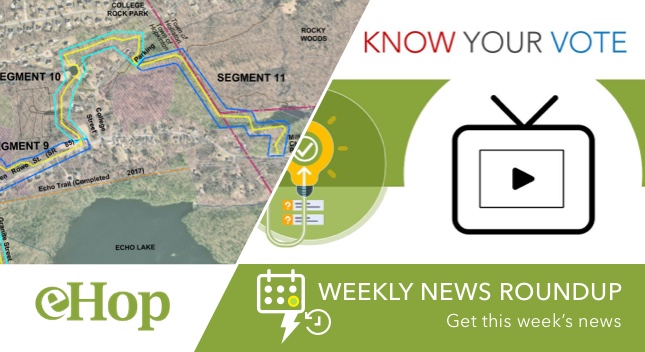 Know Your Vote – eHop Spotlight Forum • Main  Street Corridor Project – Weekly Update • School Committee ratifies contracts for teachers, custodians • UCTC prepares for public forum as residents continue to criticize Hayden Rowe trail proposal • Town shares details while critics rail about trail proposal • Select Board roundup: Board approves new police officers, administrative assistant • Women's Club to host Meet the Candidates Night April 27 • REMINDER: Youth & Family Services finalizes plans for program on youth mental health, suicide prevention • REMINDER: Upper Charles Trail Project Public Workshop: Scheduled for April 13, 2022
---
Know Your Vote – eHop Spotlight Forum 
SAVE THE DATE: MONDAY, APRIL 25, 2022 AT 7 PM
Get your questions answered from our Town officials before the Annual Town Meeting! 
eHop's Spotlight Forum on Town Meeting at HCAM Studios and Live-streaming on YouTube here:
https://youtu.be/TycEjUmAXEU
 and on
HCAM-TV (Comcast 8 / Verizon 30). Residents are encouraged to submit questions before or during the forum by email (
knowyourvote@ehop.org
), via Facebook (
@ehop01748
), or by commenting on the YouTube Livestream. Share this event with neighbors and friends in Hopkinton.
Main  Street Corridor Project – Weekly Update
What to Expect for the Week of April 11, 2022 to April 15, 2022
No Work Scheduled for the week and will resume following the Boston Marathon
https://hopkintonmainstreet.com/
RELATED: Live Construction Video Feeds are available for the Main Street Corridor Project, check where crews are working and traffic / weather conditions before you leave your home or office.
School Committee ratifies contracts for teachers, custodians
The School Committee at Wednesday's meeting ratified three-year contracts for the teachers and custodians unions and a one-year contract for the school physician. Superintendent Carol Cavanaugh said that using an interest-based model for negotiations proved successful and resulted in a more collaborative process.
The Hopkinton Teachers Association pact includes a 2.5 percent cost of living increase in the first year and a 2.75 percent increase in the second and third years.
SEPAC seeks parent involvement
In other business, the committee heard a presentation by Jen Halliday, chair of the Special Education Parent Advisory Council (SEPAC).
She noted that she is the sole person on the elected board now, largely because of COVID-19 when interest by parents fizzled out.
Enrollment numbers reviewed
During her report, Superintendent Cavanaugh highlighted some enrollment numbers at the youngest grades.
As of April 6, there are 210 children registered for kindergarten and 33 students to come out of the pre-K program for a total of 243.
UCTC prepares for public forum as residents continue to criticize Hayden Rowe trail proposal
At Wednesday's Upper Charles Trail Committee meeting, the committee talked about plans for next Wednesday's public forum and continued to hear from residents opposed to running a section of the trail along Hayden Rowe Street.
Resident Amy Groves asked what would be the impact if funding for the segment proposed to run behind Marathon School was voted down at Town Meeting this May. UCTC Chair Jane Moran responded, "Not much, really, because we would just continue to do our intake and continue to do our research and continue to answer all of the comments that we get from our public workshop."
UCTC Member Ken Parker said the fact that there is a vote at next month's Town Meeting about using Community Preservation Committee (CPC) funding for two proposed segments — including the controversial segment behind Marathon School — suggests that the committee is not as open to public input as is being suggested, as residents very soon will be forced to make a decision about a proposal the committee already has made.
RELATED RESOURCES & ARTICLES: 
Select Board roundup: Board approves new police officers, administrative assistant
At Tuesday night's meeting, the Select Board unanimously approved the hiring of two new police officers: Basit Dennis and Sean McKeon.
West Main Street traffic issue revisited
During public comment, resident Darlene Hayes appeared before the board and shared that she started an online petition to address the traffic situation at West Main Street in front of Cumberland Farms, the site of frequent accidents. She said the petition received 568 signers in three days.
Resident shares concerns about trail plan
Scott Knous introduced his organization, called Hopkinton for a Safe Upper Charles Trail. The Hayden Rowe Street resident expressed concern with the Upper Charles Trail Committee's push to have the Upper Charles Trail run along Hayden Rowe Street.
Misc.: Marathon wreaths presented to Greek council
At the start of Tuesday's meeting, Tim Kilduff introduced Costa Sideridis, who is president of the Alpha Omega Council in Boston. Kilduff showed off the gilded wreaths from Greece that will be presented to the Boston Marathon winners and organized a ceremony in which the Select Board presented the wreaths to Sideridis.
Women's Club to host Meet the Candidates Night April 27
The Hopkinton Women's Club will host the 34th annual Meet the Candidates Night on Wednesday, April 27, at 7 p.m. The event will be broadcast on HCAM from the cable  station's studio at 77 Main Street.
Residents are encouraged to attend and pose questions to citizens running for office in the May 16 Annual Town Election.
REMINDER: Youth & Family Services finalizes plans for program on youth mental health, suicide prevention
Hopkinton Youth & Family Services announced that it will host a free program focused on youth mental health and suicide prevention on April 11 from 7-8:30 p.m. at the Hopkinton Center for the Arts.
"an evening to generate hope by bringing parents and caregivers together to learn action steps that communities can undertake to strengthen youth mental health and prevent suicide."
REMINDER: Upper Charles Trail Project Public Workshop: Scheduled for April 13, 2022
The Upper Charles Trail Committee (UCTC) will be conducting a public workshop on April 13 at the Hopkinton Senior Center.
When: Wednesday, April 13, 2022 from 5:00pm to 8:00pm
Where: Hopkinton Senior Center, 28 Mayhew Street
---