Weekly News Update – 05/14/2023 – Town Election Edition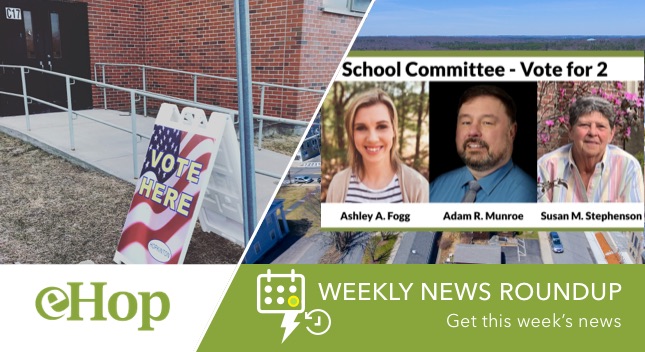 Town Election May 15, 2023 – Candidates & Ballot questions • MEET THE SCHOOL COMMITTEE CANDIDATES 2023 – Contested race • Open Space Preservation Commission proposes studying potential town purchase of Springwood property • ESBC chooses ground source heating for elementary school project • Who are the school resource officers in Massachusetts? A look at the role they play today 
---
TOWN ELECTION 2023 – CANDIDATES & BALLOT QUESTIONS
This year there is one contested race, and six ballot questions. Town Election is Monday, May 15, 2022 – Polls are open 7:00 AM – 8:00 PM Hopkinton Middle School Brown Gym, 88 Hayden Rowe St
Hopkinton Annual Town Election Specimen Ballot – May 15, 2023 (PDF)
MEET THE SCHOOL COMMITTEE CANDIDATES 2023 – Contested race
The School Committee is a contested race in the Town Election this year. There are three Candidates vying for two seats for a 3-year term on the School Committee. 
View School Committee Candidate Details
LEARN ABOUT THE SIX BALLOT QUESTIONS FOR 2023
There are six ballot questions at Town Election this year:
New sidewalk on Chestnut St. from Wild Road to Smith Road
New sidewalk between EMC Park and Fitch Avenue, connecting to Blueberry Lane
Fire Station 2 architectural and engineering design
Hopkinton Public School HVAC Renewal Work
Hopkins School Addition Design & Engineering
Paving of Pratt Way and the roadways within Evergreen and Mount Auburn Cemeteries
MEET THE CANDIDATES IN UNCONTESTED RACES FOR 2023
There are 14 candidates running for the 2023 Town Election in uncontested races.
View the Candidate Statements for Uncontested Races
Read the 2023 Candidate Q & A in the Hopkinton Independent
Watch Meet the Candidates Night 2023
Open Space Preservation Commission proposes studying potential town purchase of Springwood property
During the public comment period, abutter Sam Sader explained the history of the project, describing how a representative for BlueWave "essentially admitted that their end goal was really a solar farm." Sader said he has been in contact with property owner Michael Umina since that meeting and met with him several times recently. He noted that Umina told him last week that he would be amenable to selling the property to the town, spurring discussion about creating an ad hoc group of stakeholders to discuss the town's options.
School Committee reviews expansion needs at Hopkins School
Town Meeting recently approved an article asking to borrow $800,000 for a feasibility study for the proposed expansion of Hopkins School. That debt exclusion request will appear as a ballot question at the election on May 15. On Thursday, the School Committee discussed the reasons prompting this project request.
Superintendent Carol Cavanaugh said the $800,000 would fund a feasibility study through construction documents only. The impact on taxes for an average Hopkinton household would be $9, she said.
ESBC chooses ground source heating for elementary school project
In what was described as one of its most significant decisions, the Elementary School Building Committee on Tuesday voted to select an electric ground source heat pump system for the proposed Elmwood School replacement project.
It took discussion about both fiscal and environmental considerations to ultimately come to a decision.
Who are the school resource officers in Massachusetts? A look at the role they play today
All local school districts utilize school resource officers — be it a single officer for each school or officers splitting their time among various roles.
The role of the school resource officer varies over the course of the day. They provide a police presence in the school. They help develop security plans for the building. And they represent an option for students who feel a need to speak to a trusted adult. 
The standards for becoming a school resource officer are much different now than they were 20 years ago, Ashland Police Chief Cara Rossi said.
---
---