Preview of eHop Spotlight on Town Growth & Development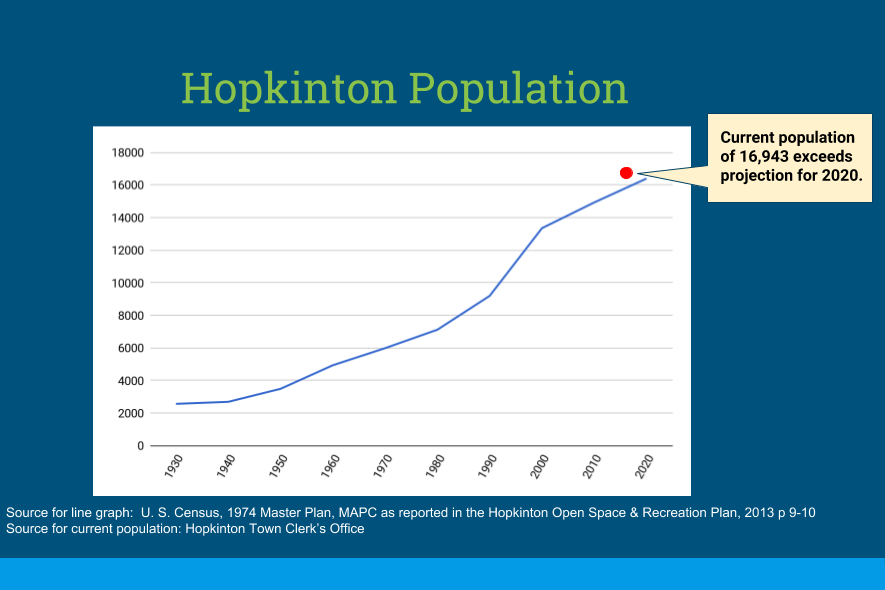 New Date: Thursday, March 22 at 7:00 PM
Hopkinton Center for the Arts, 98 Hayden Rowe St.
Join us for a public forum on Town Growth and Development on Thursday 3/22. The forum will provide a unique opportunity for residents and town leaders to listen and learn from each other in an open exchange of information and ideas. Much of the evening will be dedicated to Q&A beginning with a brief overview of recent and projected population growth, the impact on services, and information about how residents can engage in related discussions and decisions. The panel will include Elaine Lazarus, Director of Land Use and Town Operations, John Ferrari, Chairman of the Planning Board and the Open Space Preservation Commission, and Norman Khumalo, Town Manager.
Here is a preview of the some of the information to be discussed:
View the slideshow in a new window
Boards & Committees that Shape Land Use – Did You Know?
---